Phage Display optimized SS320 (MC1061 F') Electrocompetent Cells (DUOS) > 4 x 10e10 cfu/ug Add to Cart
| | |
| --- | --- |
| Cat#: | 60512-2-LU |
| Quantity: | 24 transformations (12 x 50 ul) |
| Price: | 458 € |
| Supplier: | Lucigen |
| Shipping: | Dry Ice |
User Manual
SS320 (also known as MC1061 F′) (and which are unique to our partner Lucigen) Electrocompetent Cells have the highest transformation efficiency (≥4 x 10e10 cfu/ug) available for phage display library screening, enabling you to create extremely large libraries.

Applications
• Phage display library construction and screening
• Antibody epitope mapping
• Peptide ligand identification
• Protein:Protein interaction identification
• Directed evolution of proteins
• Find tumor antigens, candidates for therapeutic antibodies, enzyme inhibitors, receptor agonists, etc.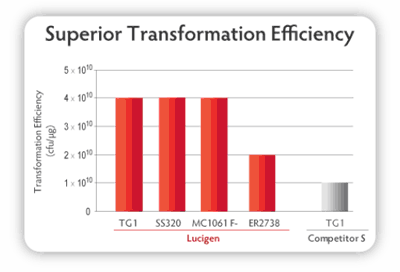 Transformation efficiency of Lucigen´s electrocompetent bacterial cells for phage display compared to competitor´s specification.
Related Links
Large Size of SS320 Electrocompetent Cells for Phage Display
TG1 Electrocompetent Cells for Phage Display
ER2738 Electrocompetent Cells for Phage Display
Ask us for a free sample combo (60500-0-LU:TG1, SS320, ER2738)