Phage Display optimized TG1 Electrocompetent Cells (DUOS) > 4 x 10e10 cfu/ug Add to Cart
| | |
| --- | --- |
| Cat#: | 60502-1-LU |
| Quantity: | 12 transformations (6 x 50 ul) |
| Price: | 308 € |
| Supplier: | Lucigen |
| Shipping: | Dry Ice |
User Manual
TG1 Electrocompetent Cells for phage display library screening have a very high transformation efficiency (≥4 x 10e10 cfu/ug), enabling you to create extremely large libraries.

Applications
• Phage display library construction and screening
• Antibody epitope mapping
• Peptide ligand identification
• Protein:Protein interaction identification
• Directed evolution of proteins
• Find tumor antigens, candidates for therapeutic antibodies, enzyme inhibitors, receptor agonists, etc.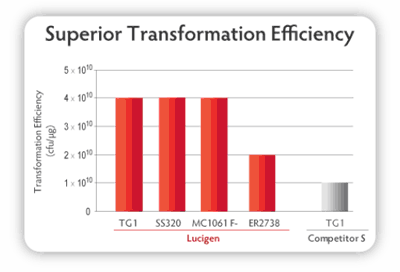 Transformation efficiency of Lucigen´s electrocompetent bacterial cells for phage display compared to competitor´s specification.
Related Links
Medium Size of TG1 Electrocompetent Cells for Phage Display
Large Size of TG1 Electrocompetent Cells for Phage Display
SS320 Electrocompetent Cells for Phage Display
ER2738 Electrocompetent Cells for Phage Display
Ask us for a free sample combo (60500-0-LU:TG1, SS320, ER2738)