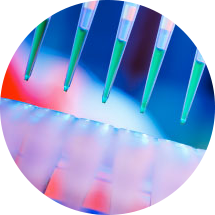 High-Quality ELISA Kits for Many Research Interests
4000 target analytes covering 15 different species
>3000 literature citations
Free analysis tool available
*Expires 31 May 2021

Quantitative, Sandwich-based, Glass Slide Antibody Arrays
130 kits available, targeting 10 species
Similar detection sensitivity as ELISA
Cytokine standards included
Only 50 µl sample needed to quantify up to 40 cytokines
No interference between capture antibodies
High-throughput compatible
Free analysis tool available
Semi-Quantitative, Sandwich-based, Glass Slide Antibody Arrays
Same array print as the corresponding Quantibody Array without standards.
**Expires 30 June 2021
Norgen RNA Purification Kits 10% OFF
Expires 30 June 2021
Accomplish bias-free RNA purification irrespective of size or GC content using spin column chromatography based on Norgen's silicon carbide resin separation matrix.
SARS-CoV-2 Variant Proteins 10% OFF
Expires 30 June 2021
Choose from our collection of ACROBiosystems SARS-CoV-2 variant proteins covering critical mutations such as K417N/T, E484K, N501Y and D614G on Spike protein and R203G, G204R and P13L on Nucleocapsid protein.
Selected AdvancedSeq Sanger Sequencing Products 20% OFF
Expires 31 July 2021
Use our cost-effective and high-quality SupreDye Cycle Sequencing Kits and PwrPOP P7 Polymer, powerful alternatives to the analogous ABI products.
BioCat Universal Agarose 30% OFF
Expires 30 June 2021
Rely on the highly pure molecular biology grade BioCat Universal Agarose for analysis of nucleic acids by gel electrophoresis and blotting.