Stellaris RNA FISH Customized Probe Sets
Stellaris RNA FISH Customized Probe Sets
Stellaris RNA FISH Customized Probe Sets
Design your own probe set to detect your RNA of interest
Stellaris RNA FISH is a RNA visualization method that allows simultaneous detection, localization, and quantification of individual RNA molecules at the cellular level in fixed samples using fluorescence microscopy. A set of Stellaris RNA FISH Probes is comprised of a pool of up to 48 unique probes, each labelled with a fluorophore, that collectively bind along an RNA target transcript to produce a diffraction limited spot.
How to order Stellaris RNA FISH Customized Probe Sets
Stellaris RNA FISH Customized Probe Sets can be designed against almost any RNA target to allow for visualization, localization, and quantification of individual mRNA transcripts.
To proceed with your order for Stellaris RNA FISH Customized Probe Sets, the corresponding target sequences are required. These can be provided using the following options:
1) If you have not yet designed the probe sets, please send us your target sequences (accession number and description of the target you are interested in) using our contact form and we will do the design for you.
2) Alternatively, you can quickly design Stellaris RNA FISH Probes possessing optimal binding properties for your target RNA sequence using LGC Biosearch Technologies' free, web-based Stellaris Probe Designer.
Please send the resulting sequences to info@biocat.com using the Custom Stellaris FISH Probes Order Form or choose the option to share your cart with us.
Stellaris Dyes
Please select the appropriate fluorophore that best matches the filter set of your fluorescence microscope, see table below.
For more information on dyes and multiplexing options, see the Stellaris Dyes and Modifications page.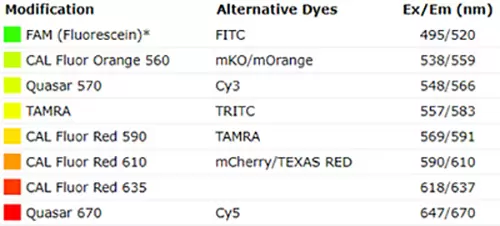 Please check out our Stellaris RNA FISH DesignReady Probe Sets for a large selection of professionally designed targets. We also recommend selecting a Positive Control (ShipReady) Probe Set to complement your experiment. RNA FISH Buffers are the perfect accompaniment to your experiment, allowing for even more robust RNA detection and analysis through reduced background signal.

Before getting started with your first experiments, please download the Getting Started Guide. You can also learn more about the technology by downloading the Stellaris RNA FISH white paper.