EpiMag HT (96-Well) Magnetic Separator Add to Cart
| | |
| --- | --- |
| Cat#: | Q10002-1-EP |
| Quantity: | 1 separator |
| Price: | 331 € |
| Supplier: | Epigentek |
| Shipping: | RT |
Data Sheet
The EpiMag HT (96-Well) Magnetic Separator is a magnetic stand (magnetic rack) that allows paramagnetic bead precipitation of liquid samples from various flat-bottom or U-bottom 96-well microplates (we recommend our EpiMag 96-Well Microplates for ideal compatibility). It can be used for isolation and purification of nucleic acids and proteins, immunoprecipitation, immunoassays (ELISA), cell sorting, and purification of biomolecules. A PCR adapter is also included for the option of using V-bottom semi-skirted/unskirted PCR microplates. This product has the following features and advantages:

• Ultra-Powerful NdFeB Magnets - High-grade neodymium iron boron rods allow for extremely fast separation times and minimal bead loss.
• Efficient Particle Washing - Vertical orientation of the magnetic field attracts and suspends magnetic particles to both the side as well as upwards from the bottom of the wells. Pipette tips can be inserted to the bottom of the well, ensuring thorough and efficient washing and removal of fluids.
• Maximum Sample Concentration - Samples can be efficiently recovered from 10 µl to 2 ml of liquid.
• Flexible Compatibility - Suitable for most magnetic beads or particles including magnetic iron oxide nanoparticles and magnetic agarose beads (e.g., EpiNext beads, AMPure XP, Axygen, etc). Compatible with all microtiter plates, including standard 96-well plates (0.25 to 0.3 ml wells) and deep well plates (1 to 2 ml) with U-bottom and flat-bottom well shapes. The included adapter also allows for use with various semi-skirted and unskirted PCR microplates (including V-bottom).
• Lightweight Handheld Design - Allows for easy repeated handling.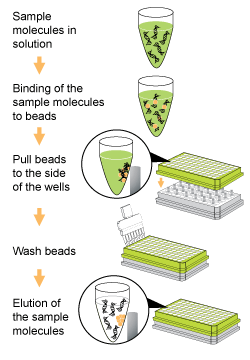 Product Description
The implementation of twenty-four extremely powerful magnetic rods made of neodymium-iron boron enables fast and easy magnetic separation. Each magnetic rod addresses four wells of a 96-well plate (or two vessels at a time while utilizing the included PCR adapter for PCR plates or tubes). With this magnetic separator, paramagnetic beads will be firmly pulled to the side of the plate wells, which ensures complete removal of the magnetic beads from the solution by a robot or with a multichannel pipette, minimizing sample loss.
Related Links
EpiMag 96-well Separator in Action
EpiMag 96-Well Microplate