cfPure Cell Free DNA Extraction Kit (magnetic bead-based, automatization-friendly) for isolating cfDNA from 100 ml human plasma/serum (100 x 1 ml or 10 x 10 ml, scalable) Add to Cart
| | |
| --- | --- |
| Cat#: | K5011610-BC |
| Quantity: | 1 kit |
| Price: | 511 € |
| Supplier: | BioChain |
| Shipping: | RT |
User Manual
• Cost Effective and automation – friendly
• Versatile: Bead based system is amenable to extraction from <1mL to >10mL serum or plasma – in single tubes or 24- to 96-well plates
• High Purity and Reproducibility: Extracted cfDNA is suitable for NGS, qPCR and other demanding applications

cfPure™ Cell Free DNA Extraction Kit is BioChain's new magnetic bead-based DNA extraction kit designed to isolate circulating cell free DNA (cfDNA) from human plasma and serum. The kit has a quick, simple, and automation friendly protocol that allows users to extract high quality cfDNA which is ready for use in downstream applications such as qPCR, NGS, and bisulfite sequencing.
The cfPure™ protocol is rapid and easy, allowing users to process several samples in an hour or less and making it ideal for biomarker screening. BioChain has developed its own silica-coated magnetic bead technology, which is designed to efficiently recover low molecular weight cfDNA during isolation.

Efficient purification of smaller DNA fragments

Cell free DNA offers a library of information for the non-invasive detection of cancer and prenatal genetic testing. cfDNA is present in the human blood at varying levels, from 1 to 100 ng per ml of plasma. The size of cfDNA is typically 100 bp to 500 bp in length (with most fragments being about 160-180 bp long), making traditional DNA extraction methods fail for this application. The key to successful analysis of cfDNA is to ensure efficient purification of smaller DNA fragments (100-500 bp). As Figure 1 shows, the cfPure™ Cell Free DNA Extraction Kit does efficiently recover these important small fragments.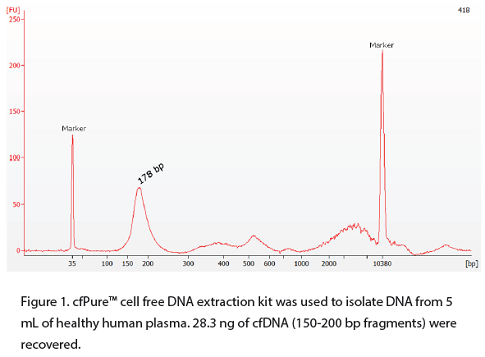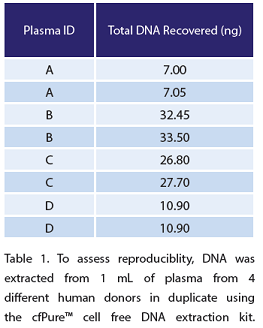 Automation-friendly and superior to other kits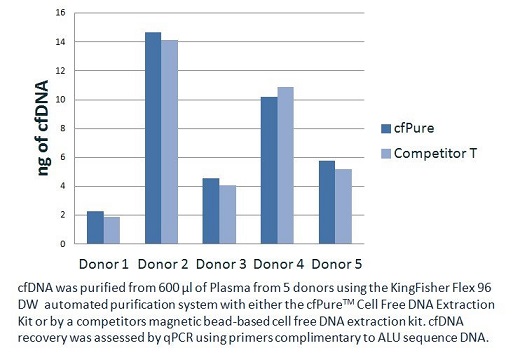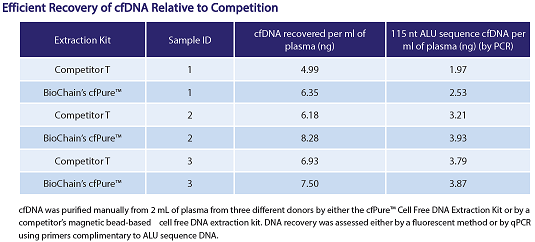 Related Links
Downloads
- Will open in new browser window