Total RNA Purification Kit for cultured animal cells, tissue samples, blood, plasma, serum, saliva, bacteria, yeast, fungi, plants and viruses - CE-marked (for IVD) Add to Cart
| | |
| --- | --- |
| Cat#: | Dx17200-NB |
| Quantity: | 50 preps |
| Price: | 328 € |
| Supplier: | Norgen |
| Shipping: | RT |
User Manual
• CE-IVD marked in accordance with EU Directive 98/79/EC
• Fits into in vitro diagnostic workflows
• Fast and easy processing using rapid spin-column format
• Isolate total RNA, from large rRNA down to microRNA (miRNA)
• No phenol or chloroform extractions
• Isolate high quality total RNA from a variety of sources
• RNA can be isolated and detected from as little as a single animal cell


Norgen's Total RNA Purification Kit Dx provides a rapid method for the isolation and purification of total RNA from tissue samples, blood, plasma, serum, bacteria, yeast, fungi and viruses for subsequent in vitro diagnostic use. The kit purifies all sizes of RNA, from large mRNA and ribosomal RNA down to microRNA (miRNA) and small interfering RNA (siRNA). The RNA is preferentially purified from other cellular components such as proteins, without the use of phenol or chloroform.

This kit is designed to be used with any downstream application employing enzymatic amplification or other enzymatic modifications of RNA followed by signal detection or amplification. Any diagnostic results generated using the RNA isolated with Norgen's Total RNA Purification Kit Dx in conjunction with an in vitro diagnostic assay should be interpreted with regard to other clinical or laboratory findings.

High Quality of Isolated RNA with Complete Size Range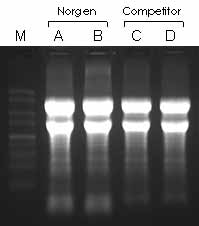 Unlike most competitor´s kits (lanes C and D), Norgen´s Total RNA Purification Kit (lane A and B) allows for the isolation of all sizes of RNA, from the very large RNA down to the microRNA. Lane M is Norgen´s RNA Ladder. Total RNA, large and small RNA species, can be seen in lanes A and B (Norgen).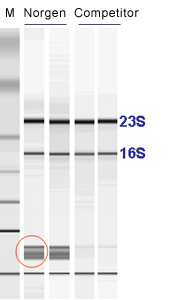 Total E. coli RNA analyzed on the Agilent®
2100 BioAnalyzer. Note the presence of small RNA
species (red circle) in the samples isolated via
Norgen´s kit and the absence of these RNA sp.
in the comptitor RNA preparation.



To minimize irregularities in diagnostic results, suitable controls for downstream applications should be used.

Norgen's Total RNA Purification Kit Dx is intended for use by professional users such as technicians, physicians and biologists experienced and trained in molecular biological techniques.

Norgen's Total RNA Purificaiton Kit Dx does not provide a diagnostic result. It is the sole responsibility of the user to use and validate the kit in conjunction with a downstream in vitro diagnostic assay.
Related Links
Saliva RNA Collection a. Preservation Devices (IVD)
2019-nCoV TaqMan RT-PCR Kit, E/RdRP genes (IVD)
2019-nCoV TaqMan RT-PCR Kit, N1/N2/RnaseP (IVD)
More Product Details