E. cloni EXPRESS BL21(DE3) Electrocompetent Cells (DUOS) > 5 x 10e9 cfu/ug Add to Cart
| | |
| --- | --- |
| Cat#: | 60300-2-LU |
| Quantity: | 24 transformations (12 x 50 ul) |
| Price: | 336 € |
| Supplier: | Lucigen |
| Shipping: | Dry Ice |
User Manual
High Efficiency Cloning & Expression in the same cell!
Lucigen's E. cloni EXPRESS BL21(DE3) Electrocompetent Cells, incorporating the proprietary E. cloni ultracompetent cell technology, are the first to offer high efficiency cloning and high level protein expression in the same cell.

As shown in Figure 1, cloning efficiencies are increased 25-1,000 fold relative to competitors' preparations of BL21 cells, which is essential for construction of complex expression libraries. The unprecedented transformation efficiency of EXPRESS Electrocompetent Cells (> 5 x 109 cfu/ug) eliminates the need for plasmid transfer from the cloning strain to the expression strain, saving days of work in a typical cloning and expression experiment (Figure 2).

EXPRESS BL21(DE3) strains contain the phage T7 RNA polymerase gene linked to the IPTG-inducible promoter, for use with any expression plasmid containing the T7 promoter (e.g., pET or pSMART®-cDNA vectors).
EXPRESS pLysS Cells also produce T7 lysozyme to repress low-level transcription from the T7 promoter prior to IPTG induction, helping to stabilize inserts coding for deleterious products.
EXPRESS pLysE Cells have a higher level of repression by T7 lysozyme, offering the greatest control over expression of inserts.

Because transformation efficiencies of the EXPRESS pLys electrocompetent strains are lower, EXPRESS BL21(DE3) Electrocompetent Cells are recommended for most applications, unless expression of potentially toxic cell products must be avoided.

All three E. cloni EXPRESS strains are also available as chemically competent cells. With a transformation efficiency of > 1 x 107 cfu/µg and very economical prices, EXPRESS Chemically Competent Cells offer the best value available for routine protein expression work.

Figure 1. Transformation efficiency comparison of commercially available BL21(DE3) competent cells.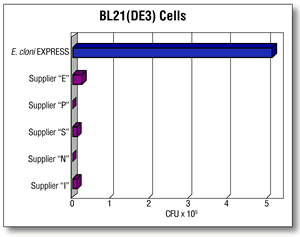 Figure 2. Comparison of cloning and protein expression procedures.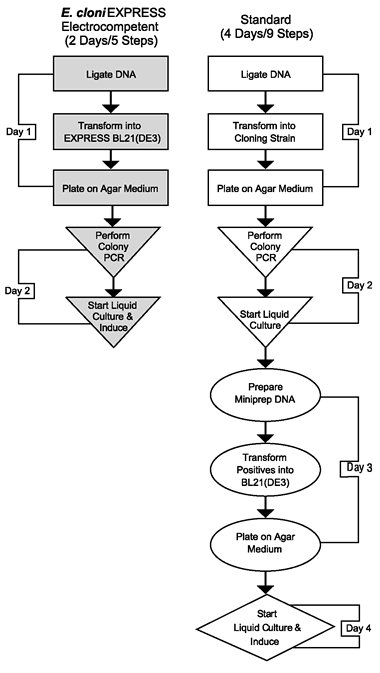 Advantages

* Clone and express in the same cell (EXPRESS Electrocompetent Cells)
* Highest yields of recombinants (EXPRESS Electrocompetent Cells)
* Construction of comprehensive expression libraries and stable cloning of genes
* Excellent results with any T7 expression vector
* Best value for routine protein expression (EXPRESS Chemically Competent Cells)
Related Links