Stool Nucleic Acid Collection, Preservation, and Transport Tubes Add to Cart
| | |
| --- | --- |
| Cat#: | 45660-NB |
| Quantity: | 50 tubes |
| Price: | 783 € |
| Supplier: | Norgen |
| Shipping: | RT |
User Manual





A rapid and simple method for the hassle-free collection, preservation and room temperature shipping of stool samples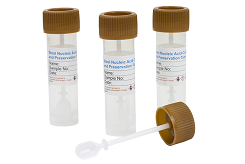 • Preserve microbiota profiles for unbiased, reproducible results
• User-friendly system to collect, preserve and transport stool samples
• Complete system including additional nitrile gloves, Fe-col® collection paper, alcohol swabs and instruction card in individual clamshell containers available (see link below)
• The preservative provides sample homogeneity eliminating sample variability
• No need to immediately process samples
• Preserve and transport safely DNA & RNA at ambient temperature
• Ship stool samples at room temperature: No cold shipping/storage needed - hassle-free and cost effective
• Isolate nucleic acids for any application including 16s NGS
• Robust preservation over a range of temperatures
• Customizable with various accessories for easy and safe collection
• Eliminates odor and renders samples safe and non-infectious
• Compatible with most DNA/RNA isolation methods
• Norgen Stool RNA and DNA Isolation Kits available (see links below)

Norgen's Stool Nucleic Acid Collection and Preservation Tubes are designed for the rapid preservation of nucleic acids from fresh stool specimens. The Stool Nucleic Acid Collection and Preservation Tubes contain Norgen's Stool Preservative in a liquid format. The user simply collects stool into the tubes (fill up to the line indicated in the label) and mixes gently until the stool is well submerged under the preservative. The Stool Preservative prevents the growth of Gram-negative and Gram-positive bacteria and fungi, and also inactivates viruses allowing the resulting non-infectious samples to be handled and shipped safely. In addition, the Stool Preservative eliminates the need to immediately process or freeze samples and allows the samples to be shipped to centralized testing facilities at ambient temperatures. The components of the Stool Preservative allow samples to be stored at room temperature for over 2 years for DNA and 7 days for RNA. To extend the stool RNA stability in the preservative, storage at -20°C or -70°C is recommended at the arrival to testing facilities until the RNA purification.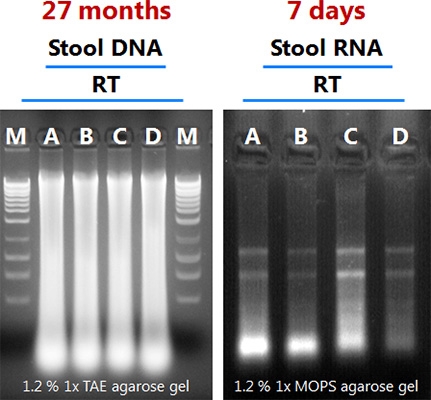 Figure 1. Integrity of Stool DNA and RNA Isolated from Preserved Stool Samples. DNA and RNA were isolated from 200 µL of preserved stool stored at room temperature at the indicated time points using Norgen´s Stool Nucleic Acid Isolation Kit (Cat# 45600-NB). Next, 10 µL from the 75 µL eluted nucleic acid was loaded onto a gel for visual analysis. High integrity stool DNA was isolated from preserved stool samples that were stored at room temperature for 27 months, and high integrity RNA was isolated from stool samples stored for 7 days at ambient temperature. Lane M is Norgen´s HighRanger 1 kb DNA Ladder (Cat. 11900-NB).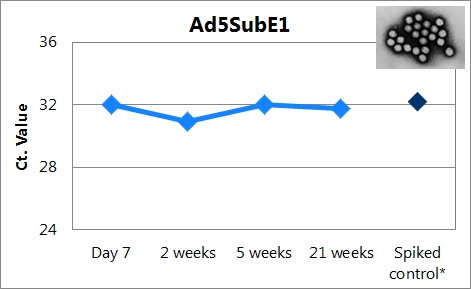 Figure 2. Monitoring the DNA stability of Adenovirus (Ad5subE1) Spiked into Preserved Stool Samples using TaqMan Real-Time PCR Assay. Preserved stool samples were spiked with 6 x 109 pf/mL of Adenovirus, and 200 µL samples were removed at the indicated time points. The stool DNA was then isolated using Norgen´s Stool DNA Isolation Kit (Cat# 27600-NB). Next, 2 µL of DNA template from each 50 µL of elution was used in a 20 µL PCR reaction to detect the Adenovirus DNA. The stool preservative was shown to stabilize Adenovirus DNA up to 21 weeks at ambient temperature, indicating that Norgen´s Stool Nucleic Acid Collection and Preservation Tubes provide a safe and convenient sample transportation system.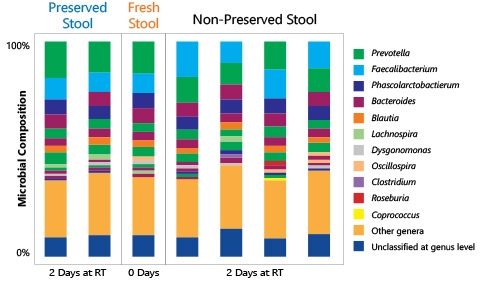 Figure 3. Hierarchical Clustering of Stool Samples at Phylum Level Under Different Storage Conditions. The microbial composition from the stool samples preserved in Norgens Stool Nucleic Acid Collection and Preservation Tubes (Cat. 45660-NB, 45630-NB) did not differ significantly to that of controls (fresh stool from Day 0 at RT) over a 2 day period while non-preserved stool samples showed a distance in the dendrogram from the original stool profile.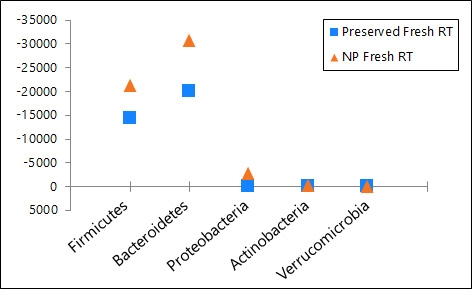 Figure 4. Difference In Top 5 Abundant Microorganisms at Phylum Level Compared to Fresh Stool (Day 0). Abundance of Firmicuties, Bacteroidetes and proteobacteria from the preserved stool sample was higher than non-preserved (NP) to the fresh stool after 2 days storage at RT, indicating that the originality of microorganism profile from the preserved are much closer to the fresh stool sample (Day 0).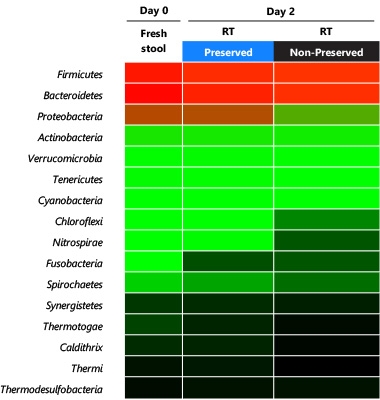 Figure 5. Relative Abundance of Bacterial Genera Between Preserved And Non-preserved Stool Sample Stored at RT For 2 Days. Preserved stool sample using Norgens Stool Nucleic Acid Collection and Preservation Tubes (Cat. 45660-NB, 45630-NB) showed closed relativeness to the fresh stool sample (Day 0).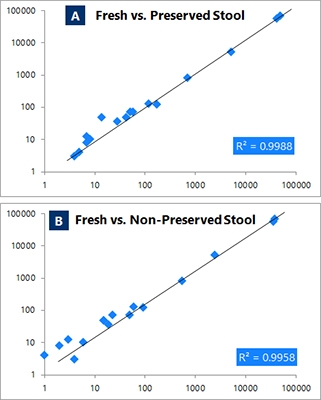 Figure 6. Correlation between duplicate bacterial metagenomic reads using (A) Fresh stool (day 0) and preserved stool at RT for 2 days and (B) Fresh stool (day 0) and non-preserved stool at RT for 2 days. A greater R2 was observed for Fresh stool (day 0) and preserved stool, suggestive of higher consistency between fresh stool sample and preserved stool sample
Related Links
Complete system with support items in individual containers
Stool Total RNA and Genomic DNA Isolation Kit
Stool Total RNA Purification Kit
Stool / Feces DNA (Host and Microbial DNA) Isolation Kit

Downloads
- Will open in new browser window