Total RNA Purification Kit for plants and fungi Add to Cart
Cat#:
31350-NB
Quantity:
100 preps
Price:

722 €




Special

649.80 € - valid until 31 December 2021

Supplier:
Norgen
Shipping:
RT
User Manual
• Extract total RNA, including virus & viroid RNA
• Robust lysis buffer for even challenging samples such as pine needle or grape leaf
• Isolate total RNA (including microRNA) without phenol
• Isolated RNA is of high quality, integrity and diversity
• Also available in 96-well format for high throughput applications

Norgen's Plant/Fungi Total RNA Purification Kit provides a rapid method for the isolation and purification of total RNA, including virus & viroid RNA, from a wide range of plants. Total RNA can be purified from fresh or frozen plant tissues, plant cells or filamentous fungi samples using this kit. All sizes of RNA are purified, from large mRNA and ribosomal RNA down to microRNA (miRNA) and small interfering RNA (siRNA). The procedure is rapid and convenient. Purification is based on spin column chromatography using Norgen's proprietary resin as the separation matrix. The RNA is preferentially purified from other cellular components, such as proteins, without the use of phenol or chloroform. The purified RNA is of the highest integrity, and can be used in a number of downstream applications including real time PCR, reverse transcription PCR, Northern blotting, RNase protection and primer extension, and expression array assays. This kit is available in two convenient sizes - 50 preps and 100 preps.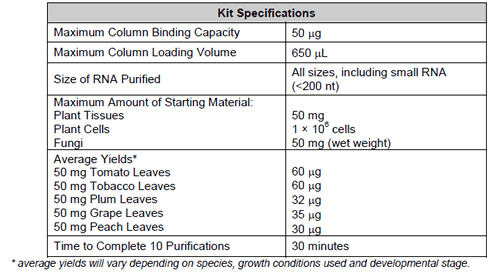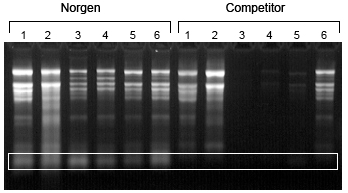 Figure 1. Isolation of High Quality RNA, even from Difficult Samples. RNA was isolated from 50 mg samples of apple (Lanes 1), peach (Lanes 2), grape (Lanes 3), pine needle (Lanes 4), strawberry (Lanes 5) and pear (Lanes 6) using Norgen's kit and a competitors kit. Norgen's kit allowed for the isolation of high-quality RNA from all the samples, including the difficult samples, while the competitor failed to isolate RNA from grape, pine needles and strawberry. Furthermore, only Norgen's kit was able to isolate the small RNA species (white box).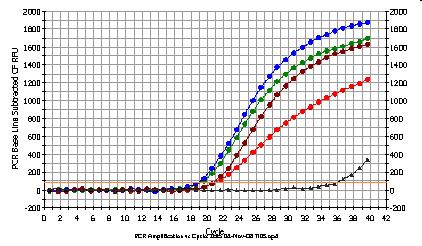 Figure 2. Detection of EF1-a using one step RT-qPCR from Challenging Plant Samples. Total RNA was isolated from 50 mg samples of apple (red), peach (green), pine needle (blue) and grape leaves (burgundy) using Norgen´s Plant/Fungi Total RNA Purification Kit. Three ul of the eluted 50 ul of RNA was used in an RT-qPCR reaction for the detection of EF1-a. EF1-a was detected from all samples, indicating that the RNA is of high quality and that the Plant/Fungi RNA Purification kit is highly sensitive for total RNA isolation.

Isolation of Plant and Fungal RNA from Challenging Samples
For the isolation of plant and fungal RNA from challenging samples using Norgen's Plant/Fungi RNA Purification Kit, see application notes (links below).
Plant leaf tissue: apple, peach, grape, pine needle, strawberry and pear
Wet fungi samples: Botrytis cinerea, Alternaria tenuissima, Rhizopus oryzae, Penicillium sp. and Fusarium oxysporum

Applications
• qRT-PCR
• Reverse transcription PCR
• Northern blotting
• RNAse protection
• Primer extension
• Expression array assays
• Next Generation Sequencing
• Pathogen detection including viroids
• miRNA array
• RNA-Seq
• Nanostring
• Fluidigm
• Droplet/Digital PCR

Related Links
96-well format
Trial Size Kit
50 rxn Size Kit