Water Total RNA and DNA Purification Kit - 0.22 um Add to Cart
| | |
| --- | --- |
| Cat#: | 26400-NB |
| Quantity: | 25 preps |
| Price: | 580 € |
| Supplier: | Norgen |
| Shipping: | RT |
User Manual
For convenient purification of RNA and DNA from microorganisms in water samples
• Rapid isolation of total DNA/RNA from microorganisms in non-turbid water samples – Only three buffers are required to complete isolation of total DNA and RNA from all microorganisms found in water, including bacteria, fungi and algae.
• Complete column purification - The RNA and DNA are both column purified simultaneously using the same column.
•Fast and easy processing - Rapid spin column format allows for the isolation of both RNA and DNA in under 45 minutes.
• Elution contains concentrated DNA and RNA without the need for further precipitation
• Complete RNA (including microRNA) without phenol
• Isolated RNA and DNA are of high quality and integrity for all downstream applications
• Available in 0.45 µm and 0.22 µm filter formats
•Isolate a diversity of RNA species, from large mRNA down to microRNA, without the use of phenol or chloroform

Norgen's Water RNA/DNA Purification Kit provides a convenient and rapid method for the detection of microorganisms from environmental water samples. The kit allows for the rapid isolation and purification of total RNA and DNA simultaneously from the microorganisms found in different types of water samples. The total RNA and DNA (including genomic DNA) are isolated from all the microorganisms found in the water, including bacteria, fungi and algae without the use of any inhibitory organic substances. The kit purifies genomic DNA, and all sizes of RNA, from large mRNA and ribosomal RNA down to microRNA (miRNA) and small interfering RNA (siRNA). The purified RNA and DNA are highly concentrated, and can be used directly in a number of downstream applications including real time PCR, reverse transcription PCR, Northern blotting, Southern blotting and sequencing reactions.

Purification is based on spin column chromatography using Norgen's proprietary resin as the separation matrix. Briefly, the microorganisms present in the water sample are collected using either a 0.22 µm Filter Column or a 0.45 µm Filter Column. The captured microorganisms are then lysed using a provided Bead Tube and Lysis Solution. Next, ethanol is added to the lysate and it is loaded onto a spin column. Under these conditions only the RNA and DNA will bind to Norgen's resin, while the proteins and other contaminants are removed in the flowthrough. Next, an optional step can be carried out in which the genomic DNA can be digested allowing for a more pure RNA sample to be isolated. Alternatively, the RNA can be digested resulting in a more pure genomic DNA sample. The bound nucleic acid is then washed to remove any impurities. Lastly, the purified RNA and/or DNA is eluted with the provided Elution Buffer or water.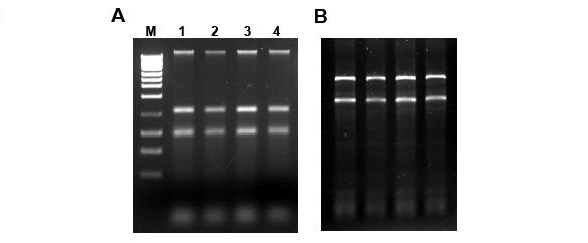 High Yield and Purity of RNA and DNA. Total RNA and DNA were simultaneously isolated from 50 mL of water sample containing 107 cfu/mL E.coli using Norgen's Water RNA/DNA Purification Kit and subsequently run on gels for visual analysis. Panel A shows 10 µL aliquots (no RNase treatment) of the 50 µL elutions run on a 1% TAE agarose gel. Genomic DNA and 16S and 23S rRNA bands were visable. Panel B shows 5 µL aliquots (on-column DNase was applied) of the elution run on a 1.5% formaldehyde agarose gel. 16S and 23S rDNA was seen without DNA contamination. From observing the gels it can be seen that the kit allows for the isolation and purification of high yields of concentrated and high quality RNA and DNA.






Detection of E. coli 16S rDNA by Real-Time PCR (SYBR Green). 50 mL water samples spiked with increasing amounts of E.coli were filtrated through the provided 0.45 µm water filter columns, and RNase-treated DNA was isolated from the filter by following Norgen's Water RNA/DNA Purification Kit manual. Next, 2 µL of DNA from the 50 µL elutions was mixed in 18 µL of total real-time PCR reaction master mix and real-time PCR was perfomed (95ºC for 3min and 40 cycles at 95 ºC for 15 sec. and 60 ºC for 30 sec.). All tested water samples containing different E.coli amounts were found to correspond to the real-time PCR results. E.coli was specifically detected by E. coli 16S rDNA primers down to 102 cfu/ml, indicating the quality of DNA and the efficiency of filtering system.