Endotoxin Removal Kit for DNA (Maxi) Add to Cart
| | |
| --- | --- |
| Cat#: | 21900-NB |
| Quantity: | 4 rxns |
| Price: | 199 € |
| Supplier: | Norgen |
| Shipping: | RT |
User Manual
* Transfection quality DNA within 20 minutes
* Reduces endotoxins to less than 0.1 EU/ug of DNA
* Provides up to 90% recovery of endotoxin-free DNA
* Available in mini and maxi formats

In case, you have a DNA solution which shows to have endotoxins, you can now purifiy it easily and efficiently: Norgen's Endotoxin Removal Kit (maxi) is designed for the rapid removal of endotoxins from up to 1 mg of previously purified DNA.
Endotoxins are cellmembrane components of Gram-negative bacteria such as E. coli. Endotoxins are released during the lysis step of plasmid purification and significantly reduce transfection efficiencies in endotoxin sensitive cell lines. Therefore, the removal of endotoxins from plasmid preparations is often necessary prior to the use of the DNA in downstream applications.
With Norgen's Endotoxin Removal Kit endotoxin levels are efficiently reduced to 0.1 EU/ ug.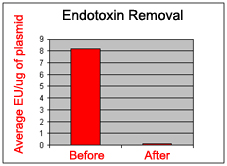 Efficient Endotoxin Removal.

Endotoxins are typically diminished to levels less than or equal to 0.1EU/ug of DNA with Norgen´s Endotoxin Removal Kit.










Purification is based on spin column chromatography using Norgen's proprietary resin as the separation matrix. The plasmid DNA is preferentially purified from the contaminating endotoxins with this kit. The first step in the process involves the addition of Binding Solution to the DNA sample. The sample is then placed into the top reservoir of the
column, and a small amount of Endotoxin Removal Solution is added. After a brief incubation, isopropanol is also added to the column and the solution is mixed and then spun in a microcentrifuge. Norgen's resin binds DNA in a manner that depends on ionic concentrations, thus only the plasmid DNA will bind to the column while the contaminating endotoxins will be removed in the flowthough. The bound DNA is then washed once with the provided wash buffer to remove any remaining impurities. Lastly, the endotoxin-free plasmid DNA is eluted with the elution buffer.


Endotoxin Removal Kits Benefits

Endotoxin-Free Plasmid - Less than or equal to 0.1 EU/ug of purified plasmid DNA.

Fast and easy processing - Rapid spin-column format allows for the processing of multiple samples in 20 to 30 minutes.

High Recovery - Recovery is greater than 90% of input.



Applications of Purified DNA

Transfection
PCR
Sequencing
Restriction Digestions
Downloads
- Will open in new browser window