COVID-19 Rapid Isothermal PCR Kit Add to Cart
| | |
| --- | --- |
| Cat#: | RT-LAMP-B-25-RB |
| Quantity: | 25 tests |
| Price: | 498 € |
| Supplier: | RayBiotech |
| Shipping: | Dry Ice |
User Manual
• Detects as few as 25 copies/µL of SARS-CoV-2 virus
• Results in 30 minutes (with extracted RNA)
• Only a heat block is required
• Results visual by eye
• Reagents to reduce DNA carry-over contamination included
• pH-independent


This kit from RayBiotech utilizes reverse transcription loop-mediated isothermal amplification (RT-LAMP), which amplifies SARS-CoV-2 RNA without the need for thermal cycling. This is accomplished using specialized primers that enable continuous amplification of nucleic acids at 60°C. RT-LAMP is faster than traditional RT-PCR with a colorimetric endpoint readout. Thus, detection of viral RNA can be performed by eye or with a plate reader capable of reading absorbance at 570 nm and 650 nm.

The kit uses six primer-probe sets specific to the SARS-CoV-2 gene encoding for the nucleocapsid protein. The regions selected for amplification do not share homology to nucleocapsid genes from any other coronaviruses.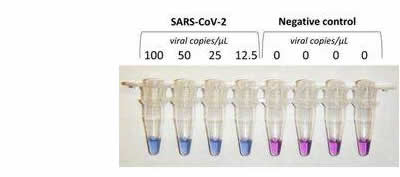 Fig.1. Absence of viral RNA is represented by a purple color (570 nm)(see picture above). The presence of viral RNA is represented by a blue color (650 nm). An OD ratio of 650 nm / 570 more than 1.0 indicates that SARS-CoV-2 viral RNA is present.




Related Links