BlazeTaq Probe One-Step SARS- CoV-2 Detection Kit without ROX dye (20ul x 1000rxns) Add to Cart
| | |
| --- | --- |
| Cat#: | QP204-GC |
| Quantity: | 1000 rxns |
| Price: | 3350 € |
| Supplier: | GeneCopoeia |
| Shipping: | Dry Ice |
User Manual
Next-generation solution for detection of active virus by RT-qPCR

• As few as 10 copies of the viral target sequences detectable
• Proprietary primer/probe designs enable detection of most SARS-CoV-2 strains
• BlazeTaq™ Antibody-modified polymerase, enables a faster hot start
• Inclusion of UDG and dUTP for fewer false positives
• Optional ROX dye ensures compatibility with virtually all qPCR instruments in use

GeneCopoeia´s BlazeTaq™ Probe One-Step SARS-CoV-2 Detection Kit is a next-generation solution designed for highly sensitive and accurate detection of SARS-CoV-2. This RT-qPCR-based kit, which uses hydrolysis probe technology similar to TaqMan®, is newly designed from the ground up with primers that detect the S (Spike) and N (nucleocapsid) genes of multiple strains of SARS-CoV-2.

Performance Data

A.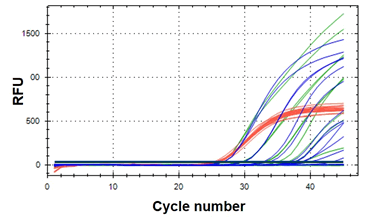 B.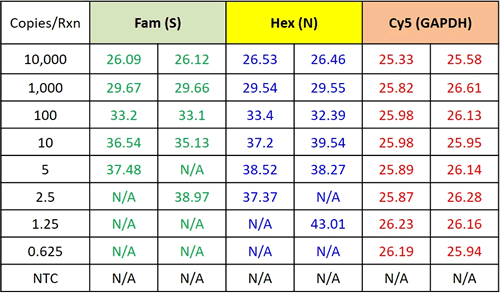 Figure 1. Performance of the BlazeTaq™ Probe One-Step SARS-CoV-2 Detection Kit.
A. Cycle curves plotted against relative fluorescence units (RFU). B. Ct values for ten-fold serial dilutions of the positive control template. S: Spike gene. N: Nucleocapsid gene. GAPDH: Human reference gene. NTC: No template control. N/A: No amplification. Reactions were performed in duplicate.