DriverMap Human Exome Targeted RNA Expression Profiling Service Add to Cart
| | |
| --- | --- |
| Cat#: | DMAP-CS-CT |
| Quantity: | NGS Profiling Data |
| Price: | Please inquire |
| Supplier: | Cellecta |
Please
contact us
for further information.
DriverMap™ Targeted Expression Profiling Service



• High-Throughput Capabilities:
Enables expression profiling data of all human genes in a single-tube reaction.

• Exquisite Sensitivity, Specificity & Reproducibility:
Allows low abundance transcripts to be identified to facilitate biomarker discovery with zero background.

• Large Dynamic Range:
Makes characterization of all major immune cell types, and detection of infiltrating immune cells possible.

• Advantages over RNAseq:
Significantly lower input material needed, much faster turn-around time, 10 x lower sequencing costs, no need for tedious bioinformatics analyses


Assay Methodology: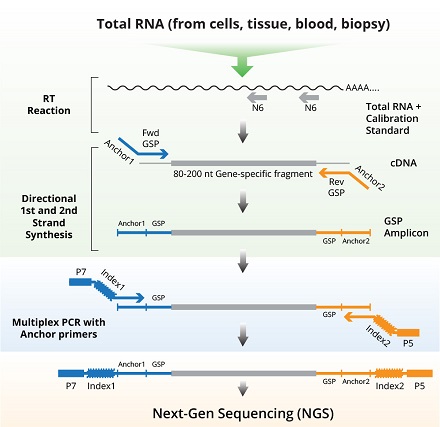 Cellecta's DriverMap™ service is a novel, comprehensive end-to-end, whole-genome targeted expression profiling solution intended for research applications. This quantitative, multiplex approach leverages the power of Next-Generation Sequencing (NGS) and PCR technologies to allow the researcher to obtain ultra-sensitive digital expression profiling data for all protein coding genes in the human genome.

For a sample report see link below.

As starting material you ideally provide 10 - 100 ng Total RNA. We also accept lower amounts as well as frozen tissue samples, tumor specimens, patient derived xenografts, blood etc. - please contact us for a quotation.

The DriverMap methodology is also available as a kit for using it in your own lab. See link below.
Related Links
Please contact us for a quotation
DriverMap Human Genome Wide Expression Profiling Kit

Downloads
- Will open in new browser window
DriverMap Advantages over RNAseq
DriverMap Report Sample
DriverMap Brochure