Exosome RNA Illumina NGS Sequencing and Analysis Service Add to Cart
| | |
| --- | --- |
| Cat#: | CSEQ400A-1-SBI |
| Quantity: | NGS Profiling Data (minimum 10M raw reads) and Bioinformatics Analysis |
| Price: | Please inquire |
| Supplier: | System Biosciences |
Please
contact us
for further information.
Complete service from biofluid to bioinformatics sequence analysis
• Send your serum, plasma, urine, spinal fluid, ascites fluid, cell media or other samples to BioCat
• Exosomes are isolated, complete RNA purified, followed by high-quality NGS library preparation at System Biosciences
• Illumina NGS is performed using exclusively the HiSeq instrument
• In-depth bioinformatics exoRNA data analysis is performed using the customized Maverix Biomics suite
• Receive comprehensive data back in about 10 weeks

Exosome RNA Next-Gen Sequencing Service:
Discover Novel Exosome RNA Biomarkers

The ExoNGS service provides the exosome researcher with a comprehensive, expert service to isolate and identify exosome-associated RNA biomarkers - leveraging the throughput and scalability of Illumina's HiSeq next-generation sequencing platform. This service is a complete turnkey solution that is tailored for researchers who are interested in identifying novel exosome RNA biomarkers or understanding the abundance of such biomarkers in the exosomes of their model cellular systems or patient biofluids.

Exosomes are 60 - 150 nm membrane vesicles secreted by most cell types in vivo and in vitro. Exosomes are found in blood, urine, amniotic fluid, malignant ascite fluids and contain distinct subsets of microRNAs, mRNAs, lncRNAs and other ncRNAs. The identity and abundance of these RNAs has been shown to be a valuable approach to discover sequence signatures for the diagnosis and prognosis of disease.
Biocat offers SBI´s unique next-generation exosome RNA sequencing service to accelerate your biomarker discoveries. SBI isolates the exosomes from serum, plasma, urine, tissue culture media, or other samples - for sample ínput requirements see figure 1 below. SBI then purifies the exosome RNA and builds high-quality Illumina NGS bar-coded libraries. The libraries are sequenced through Illumina´s HiSeq instrument for accurate sequence biomarker identification.
The sequence data is bioinformatically analyzed in depth using the customized Maverix Biomics Suite - you receive raw data as well as a comprehensive data analysis as shown in figure 2 below.


Fig. 1: Sample Input Requirements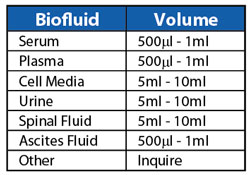 Fig. 2: Exosome RNA Sequence Data Analysis and Deliverables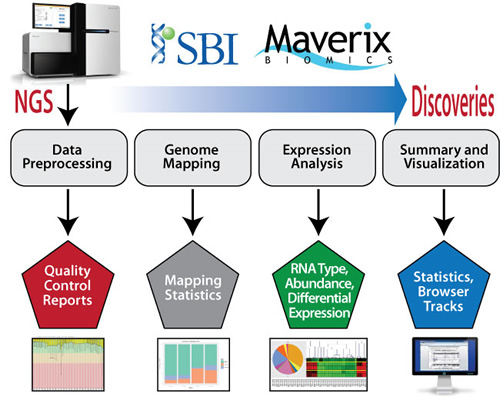 For multiple sample pricing please contact us (see link below) - and let us know how many samples you like to provide.
Related Links
Contact us to receive a quotation
Guided Tour: Maverix Biomics Exosome RNA-seq Analysis
Product Line Overview: Exosome Analysis
Exosome Mass Spectromery Analysis Services

Downloads
- Will open in new browser window
Exo NGS Service Brochure
Analysis Datasheet: Maverix Biomics Exosome RNA-seq Analysis
Brochure Exosome - Research, Products and Services