CRISPRtest Functional Cas9 Essential-Gene Knockout Assay for Human Cells, GFP/RFP Fluorescence (for 5 cell lines) Add to Cart
| | |
| --- | --- |
| Cat#: | CRTEST-GVO-CT |
| Quantity: | 1 kit |
| Price: | 971 € |
| Supplier: | Cellecta |
| Shipping: | Dry Ice |
| Please note: | Genetically modified organism (GVO), see General Terms. |
User Manual
Do you want to know if Cas9 is active in your cells? Cellecta's CRISPRtest™ method allows you to assess the level of Cas9 activity in your cell line using two pre-mixed lentiviral-packaged vectors, the first containing a green fluorescent protein (GFP) marker and gRNA sequence targeting an essential gene (PCNA) and the second containing a red fluorescent protein (RFP) marker and a non-targeting gRNA. Transduction of CRISPRtest virus into cells will result in a mixture of cells expressing GFP and cells expressing RFP. Upon cell growth in the presence of active Cas9, the ratio of GFP cells : RFP cells will decrease proportionally to Cas9 activity.

The CRISPRtest Functional Cas9 Activity Kit, currently for human cell lines only, is an easy-to-use, highly sensitive kit for measuring functional Cas9 activity in almost any human cell line. It is intended as a companion product for high-throughput CRISPR based genetic screening or generation of isogenic knockout cell lines.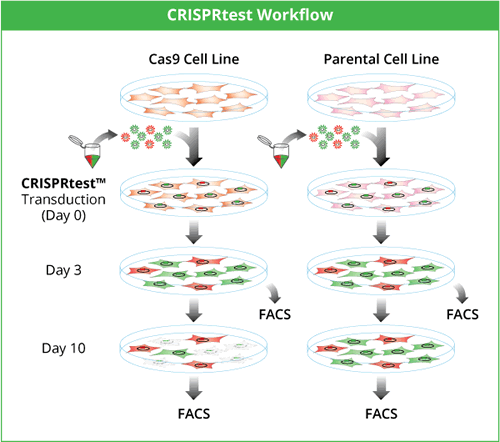 CRISPRtest workflow. Cas9 cell line and Parental cells are transduced with the CRISPRtest Virus. At Day 3 and Day 10 after transduction, a portion of the cells are analyzed by flow cytometry to determine GFP:RFP ratios. These ratios are then used to calculate the percentage knockout which is an assessment of Cas9 activity.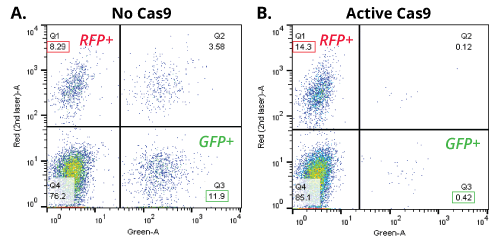 CRISPRtest experimental data, showing flow cytometry scatter plot analysis of GFP and RFP expressing cells at Day 10 in (A) Parental and (B) Cas9-expressing HEK 293 cells. The percentages of RFP-positive cells calculated in the GFP(-) RFP(+) quadrant Q1 and GFP-positive cells in the GFP(+) RFP(-) quadrant Q3 are used to calculate the percent knockout in the table below.







CRISPRtest results at Day 10. In Cas9-expressing HEK 293 cells, 98% of cells that received the gRNA targeting PCNA experienced gene knockout in both PCNA alleles.
Related Links
Lentiviral Packaging Plasmid Mix
LentiFuge Viral Concentration Reagent
CRISPR Cas9 Lentiviral gRNA Custom Constructs and Libraries
CRISPR Cas9 Lentiviral gRNA Cloning Vectors and Controls