BioCat Universal Agarose Add to Cart
Cat#:
AGA500-BCAT
Quantity:
500 g
Price:

240 €




Special

168.00 € - valid until 30 June 2021

Supplier:
BioCat
Shipping:
RT
Request Your Free BioCat Universal Agarose Sample!

User Manual
• Molecular Biology Grade
• Certified free of DNases and RNases
• No DNA binding
• High lot-to-lot consistency
• High separation properties and sharp band patterns
• Easy solubility without foaming
• Excellent optical transparency

BioCat Universal Agarose is ideal for routine separation analysis. It can be used for analytical and preparative nucleic acid gel electrophoresis and provides sharp resolution of fragments from 50 bp to 50,000 bp. Even at low concentrations the gel produced is very firm. BioCat Universal Agarose is highly pure and has no detectable DNase or RNase activity.
Please contact us for information on bulk and custom packaging.

Separation Range
DNA: approx. 0.05 kbp – 50 kbp
RNA: approx. 0.30 kb – 20 kb

Analytical Specifications
• Gelling temperature: ≤ 37 °C
• Melting temperature: ≤ 90 °C
• Electroendosmosis: ≤ 0.140
• Gel strength (1.5 %): ≥ 2300 g / cm2
• Sulphate content: ≤ 0.10 %
• Water content: ≤ 10.0 %

DNA separation using BioCat Universal Agarose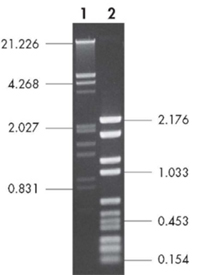 1% 1x TAE BioCat Universal Agarose gel showing separation of Lambda DNA digested with EcoR I/Hind III (1) and a mixture of pBR328 DNA digested with Bgl I and Hinf I, respectively (2). Fragment sizes in kbp.
Related Links