myTags FISH Probes for Cytogenetic Applications
myTags® are oligonucleotide probes for detection and visualization of complementary genomic targets in FISH and other applications.
Each myTags® library contains unique short oligonucleotide sequences used as molecular probes to detect the presence of genomic targets and locate their spatial and temporal position in cytogenetics research, such as RNA FISH probes. The short length of myTags molecular probes, 43-47nt, allows for quick and efficient penetration of cell barriers and a consistent melting temperature range enables using a single hybridization profile for multiplexed fluorescent in situ hybridization (FISH) assays.
Custom design process eliminates repetitive regions and boosts signal
Probes provided as unlabeled immortal (amplifiable) libraries or ready-to-use labeled probes
Experienced in-house design team of Daicel Arbor can identify probes for any FISH project
The proprietary bioinformatics design process at Daicel Arbor Biosciences uses custom genomic coordinates from assembled sequences for identification of hundreds to thousands of highly-specific molecular probe sequences for hybridization only to the intended targets. The scientific team has decades of experience designing custom probes for a wide variety of applications, including multi- or single locus/gene localization, chromosome painting, chromosomal indexing/barcoding, haplotyping, and more.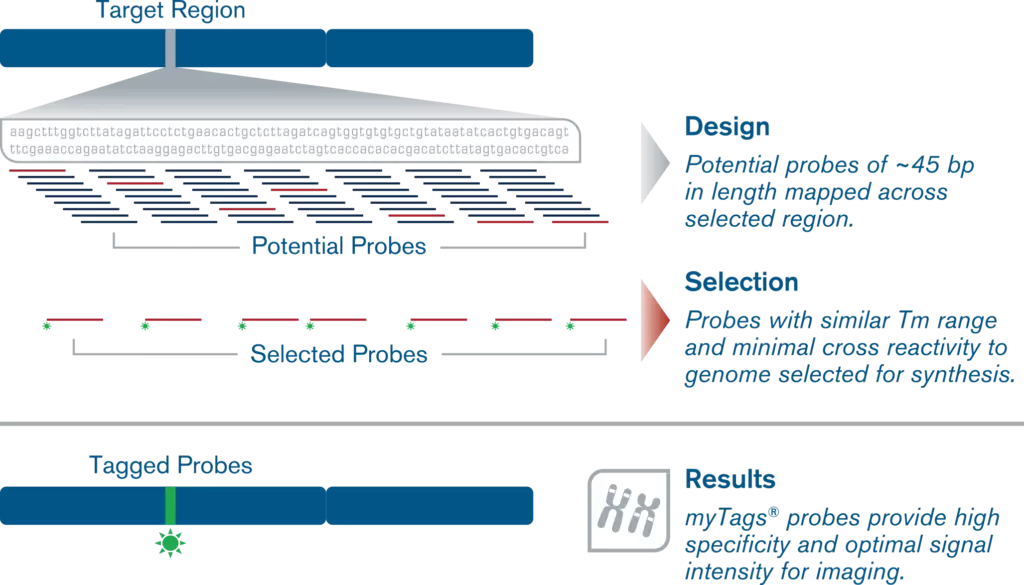 Unlike BAC probes, myTags probes collectively provide bright and reliable signal while minimizing or eliminating background signal associated with repetitive sequences and non-specific binding. A proprietary oligo synthesis technology is utilized to enable parallel synthesis of tens of thousands of different probe sequences in a single pool.
Oligos can be synthesized in a single or indexed synthesis format. For standalone orders and/or complex probe designs requiring up to 100k+ oligos, the Single Synthesis option provides maximum value. For smaller and/or multiple designs, the Indexed Synthesis option maximizes both flexibility and cost-effectiveness. Indexes are added to your myTags oligo pool during synthesis allowing to subsequently subdivide the pool ("deconvolution").
Regardless of the synthesis approach used, all unique probe sets are delivered individually and include individual final probe set pool composition verification via next-generation sequencing.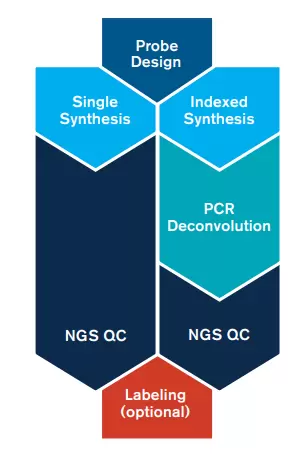 Every myTags Custom order includes expert probe design assistance for a wide variety of cytogenomics applications. You can choose to receive your individual probe pool(s) either as immortal amplifiable substrate(s) ready for labeling following the myTags labeling protocol, or pair with our flexible Labeling Service to receive ready-to-use probes for your experiments.
myTags FISH probes are successfully used in specialized cytogenetic applications such as:
3D DNA-FISH
Cryo-FISH
RNA-FISH
Chromosome painting for a variety of cell types.
SARS-CoV-2 Detection with myTags Expert FISH Probes
Besides the custom designed labeled and immortal probe sets Daicel Arbor Biosciences developed the premade myTags Expert SARS-CoV-2 probes. They were designed using genomic information of SARS-CoV-2 strain FDAARGOS_983 (Accn. MT246667.1). These probe sets are specific to the SARS-CoV-2 virus and will not hybridize significantly to any other circulating human coronaviruses. SARS-CoV-2 probes are provided at minimum yields of 100 pmol.