Primary Antibodies
Please enter your antigen, Uniprot ID or gene symbol in the search field above to browse our growing collection of >160,000 primary antibodies.
ProSci Immune Checkpoint Antibodies
ProSci's Risk-Free™ antibodies are developed with antigens expressed in mammalian cell lines, giving the most native post-translational modifications to the protein. Risk-Free™ antibodies are guaranteed to work for their approved applications.
Monoclonal PD-1 Antibodies
Monoclonal CTLA-4 Antibodies
Monoclonal PD-L1 Antibodies
Monoclonal PD-L2 Antibodies
Monoclonal CD80 Antibodies
Monoclonal TIGIT Antibodies
Monoclonal LIGHT Antibodies
Secondary Antibodies
Flow Cytometry Antibodies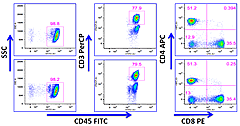 High-quality antibodies for flow cytometric phenotyping of lymphocytes.

Email Newsletter
Subscribe to the BioCat Email Newsletter and receive a 50 € voucher.