Red/ET Recombination
Easy subcloning and modification of BACs
Flexible generation of gene targeting/knockout constructs
Independent of restriction sites
No size limit
No unwanted mutations
Time saving - days instead of months
Homologous recombination allows the exchange of genetic information between two DNA molecules, regardless of size, in a precise, specific, and faithful manner, qualities that are optimal for DNA engineering. Gene Bridges' Red/ET recombination technology, also called recombineering, is based on homologous recombination involving a λ phage-derived protein pair, Redα/Redβ, and 50 bp homology regions. Since the sequence of the homology regions can be chosen freely, any position on a target molecule can be specifically altered.
The recombination process is strictly controlled due to an optimized design of the pRedET expression plasmid. The genes for the recombination proteins are under the control of an inducible promoter and the plasmid carries a temperature sensitive origin of replication for a convenient removal of the plasmid after recombination.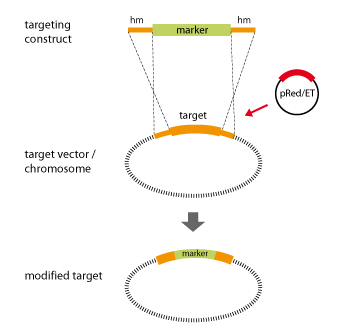 Red/ET Recombination
The central step in Red/ET recombination is the crossover step between a targeting construct containing homology arms (hm) and the target which can be a gene locus on the E. coli chromosome or any other stretch of DNA in a BAC or plasmid vector.
Red/ET recombination is a powerful tool for DNA subcloning, e.g. from BACs, as well as for DNA modifications like deletions/insertions/replacements and point mutations, overcoming the limitations of conventional methods.
The following Red/ET kits containing the pRedET expression plasmid and selection marker cassette template(s) required for the DNA modifications described are available:
In addition to establishing the Red/ET recombination technology in your own laboratory by using the kits above, you have the option to let the experts perform your project for you. Please contact us for more information regarding the service facility.
References
Zhang, Y. et al. (1998) A new logic for DNA engineering using recombination in E. coli. Nature 20:123-128.
Muyrers, J.P.P. et al. (1999) Rapid modification of bacterial artificial chromosomes by ET-recombination Nucleic Acids Research 27: 1555-1557.
Zhang, Y. et al. (2000) DNA cloning by homologous recombination in E. coli. Nature Biotechnology 18: 1314-1317.