RNP Delivery
Easily accessible genome editing by RNA-guided nucleases has transformed all disciplines of molecular biology, and especially the potential for development of therapeutics is tremendous. Major problems are the fidelity of the system (off-targets), and the efficiency and targeting to specific cell types.
Direct delivery of ribonucleoprotein (RNP) complexes increases fidelity, and also provides a certain degree of control, as it's transient and with no risk of integration into the cell genome.
Compared to DNA-based approaches, RNP delivery enables faster and more efficient genome editing, and it offers a powerful alternative for difficult cells.
Using Cas9 protein and gRNA complexes (RNP) is the preferred method due to less off-target effects and leaving no foot-print.
CRISPR RNP Delivery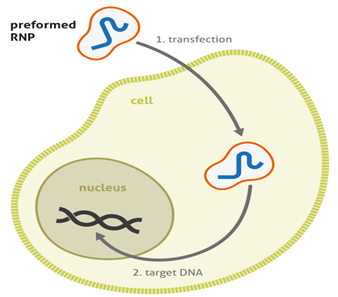 • No need to use the cell machinery
• CRISPR components directly active upon transfection
• Skips the assembly step in the cytosol
• Active endosome escape leading to high CRISPR RNP transfection efficiency
• Better control of the Cas9 activity