Protein & Peptide Delivery
BioPORTER Protein Delivery Reagent
• Efficient delivery of proteins into living cells
• Efficient delivery of different proteins, peptides (with pI < 5), and other macromolecules into a wide variety of cell types
• Fast and easy protocol
BioPORTER® Protein Delivery Reagent from Genlantis is a unique lipid formulation that allows direct translocation of proteins into living cells providing a quick and easy method to study protein function without the need for cloning and DNA transfection. The BioPORTER® Protein Delivery Reagent captures proteins and transports them inside the target cells. The delivered proteins retain their structure and function while leaving the transduced cells unharmed. The BioPORTER® Protein Delivery Reagent is especially useful when studying protein function in cells that are difficult to transfect using traditional DNA transfection reagents.
For references featuring the use of BioPORTER® Protein Delivery Reagent, see Citation Search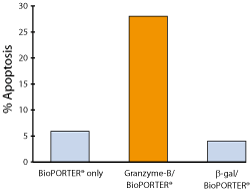 Induction of apoptosis by delivering Granzyme-B into Ki-Ras 267 cells with BioPORTER® Protein Delivery Reagent.
DeliverX Peptide Transfection Kits
• Peptide-based, non-endosomal delivery mechanism
• Efficient delivery of a wide variety of peptides into most cell types
• Versatile - form a single transfection complex and dilute to evaluate multiple peptide concentrations
• High cell viability at optimal delivery conditions
Delivery of peptides into cells has traditionally been difficult to accomplish, both in terms of efficiency and retaining normal cellular function post transfection. With the introduction of Panomics' DeliverX Peptide Transfection Kit based on MPG delivery technology, it is possible to reproducibly and easily deliver a wide variety of peptides into many cell types.
MPG delivery technology was developed at the Centre de Recherches en Biochimie Macromoléculaire (CNRS) in Montpellier (France) in the laboratory of Dr. F. Heitz and Dr. G. Divita. MPG technology uses virus-derived amphipathic peptides that directly interact with nucleic acid cargos to form nanoparticles (150-200 nm) capable of diffusing through plasma membranes and releasing their contents inside the cell. The mechanism of entry is receptor-independent, involves MPG/lipid membrane interactions and avoids the endocytic pathway, thereby preventing endosomal or lysosomal degradation of cargos.
Peptide transfection is being pursued for various applications including modulation of cell signaling pathways for basic research, as potential therapeutic agents and for the study of the consequences of pseudo up-regulation of specific cellular peptides.

Delivery of a Cdk2 peptide inhibitor to inhibit cell-cycle progression.
HeLa cells grown in a 96-well microplate were transfected with a Cdk2 peptide inhibitor using DeliverX Peptide Transfection Reagent and incubated for 48 hours.
A. Cells only.
B. DeliverX Peptide Transfection Reagent + negative control peptide.
C. DeliverX Peptide Transfection Reagent + Cdk2 peptide inhibitor.
| Description | Cat# | Size | Price | | |
| --- | --- | --- | --- | --- | --- |
| BioPORTER B-gal Control Protein | BGALCP01-GL | 10 ug | 163 € | DETAILS | Add to Cart |
| BioPORTER B-gal Control Protein | BGALCP06-GL | 6 x 10 ug | 483 € | DETAILS | Add to Cart |
| BioPORTER FITC Antibody Control | ABFITC01-GL | 10 ug | 163 € | DETAILS | Add to Cart |
| BioPORTER FITC Antibody Control | ABFITC06-GL | 6 x 10 ug | 539 € | DETAILS | Add to Cart |
| BioPORTER Protein Delivery Reagent | BP502401-GL | 24 transfections in one well of a 6-well plate | 464 € | DETAILS | Add to Cart |
| BioPORTER Protein Delivery Reagent | BP509604-GL | 96 transfections in one well of a 6-well plate | 1162 € | DETAILS | Add to Cart |
| BioPORTER Protein Delivery Reagent QuikEase Kit | BP502424-GL | 24 transfections (24 single-use vials) | 483 € | DETAILS | Add to Cart |
| BioPORTER Protein Delivery Reagent QuikEase Kit | BP509696-GL | 96 transfections (96 single-use vials) | 1419 € | DETAILS | Add to Cart |