microRNA Detection by circularization-based qRT-PCR
Accuracy through circularization: Discriminate low abundance small RNAs on SNP level
• Highest specificity and sensitivity
• Unmatched quantitative discrimination between miRNA isoforms with single nucleotide differences
• Quantitatively discriminates between small RNAs with an identical sequence but
differing terminal modifications
• Easy and cost-effective:
>> No small RNA enrichment necessary
>> Single tube assay
>> Use of single-dye qPCR mixes for detection
>> No chemically modified probes - e.g. TaqMan - or primers - e.g. LNA - are required
• Premade and customized miR-ID kits for total RNA & cell/tissue lysates
SomaGenics´ miR-ID® is a novel platform for detecting miRNA using a circularization-based RT-qPCR method. This technology allows SNP discrimination at any position in miRNAs and other small RNAs. miR-ID® is highly sensitive and uses affordable single-dye detection. The technology works well with all sample sources, including total RNA, cell lysates, and tissue lysates.
Read more about SomaGenics´ miR-ID® Technology:
RNA 17:365 (2011)
miR-ID: A novel, circularization-based platform for detection of microRNAs.
Pavan Kumar, Brian H. Johnston and Sergei A. Kazakov.
miR-ID® Technology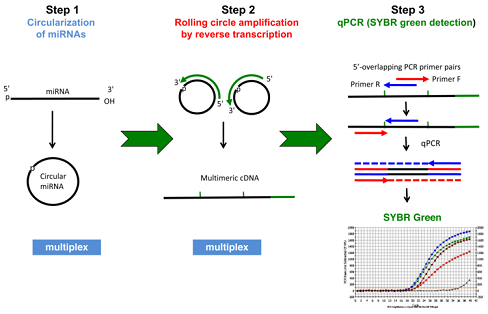 Circularization of linear miRNAs is followed by rolling circle amplification during the reverse transcription. The circularization step allows placement of RT primers at any location of each miRNA to optimize discriminating single nucleotide-polymorphisms (SNPs) at any location of the miRNAs.
Rolling-circle reverse transcription generates multimeric cDNAs. This method allows that primers that are entirely complementary to the miRNA sequence can be used for the real-time PCR, therefore increasing PCR specificity.
Detection of the real-time PCR signal is through SYBR chemistry.
miR-ID® is highly sensitive and specific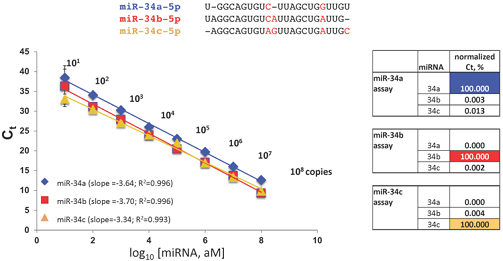 For example, the closely related miRNAs 34a, b, and c are well discriminated by miR-ID®. To determine the relative Ct values listed in the table, the difference in Ct values for the intended target and their related isoforms was converted into a linear percentage, with the fully matched reaction normalized to 100%. All non-specific detection is well below 1% for these assays.
The dilution curves indicate that all three assays have a dynamic detection range of 8 logs.
miR-ID® detects end-modified small RNAs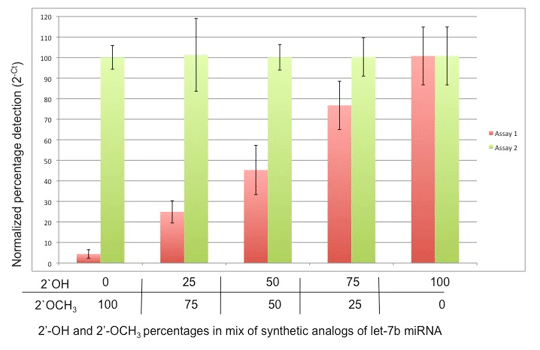 miR-ID® quantitatively discriminates between small RNAs with an identical sequence but differing terminal modifications. This is particularly useful in plant miRNAs, where discrimination between 2-O-methyl modified and unmodified miRNA is of considerable interest.
miR-ID® can quantitatively detect 2´ O-methyl modifications at the 3'-terminus of miRNAs. By selecting enzymes that circularize either both types of miRNAs (with 2'-OMe or 2'-OH forms on the 3'termini), shown in green, or 2'-OH forms only (shown in red), these two end-modifications can be distinguished. In this example, synthetic let-7b miRNAs with the two respective 3' termini were assayed and quantification with the enzyme circularizing both forms were set to 100%.
miR-ID® workflow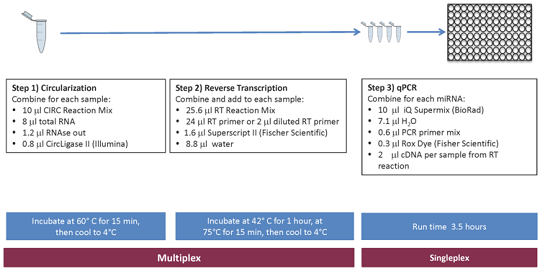 All steps up to quantitative PCR are performed in multiplex in a single tube
Product Citations
Li F et al. (2012)
MicroRNA regulation of plant innate immune receptors.
Proc Natl Acad Sci U S A. 109(5):1790-5.
Krysan K et al. (2014)
PGE2-Driven Expression of c-Myc and OncomiR-17-92 Contributes to Apoptosis Resistance in NSCLC.
Mol Cancer Res 12:765–74.
For detection and quantification of miRNA directly from biofluids like plasma or whole blood, customized miR-Direct® assays are available (see link below).
---
Related Links
miR-ID® Poster Presentation
Flyer miR-ID®
miR-Direct® Assays for miRNA Detection from biofluids

| Description | Cat# | Size | Price | | |
| --- | --- | --- | --- | --- | --- |
| miR-ID Custom qRT-PCR Assay for small RNAs from Total RNA/Cell and Tissue Lysates | 100-00000-SOM | 100 rxns | please inquire € | DETAILS | Add to Cart |
| miR-ID qRT-PCR Assay for RNU44 | 100-00009-SOM | 100 RT / 300 PCR rxns | 222 € | DETAILS | Add to Cart |
| miR-ID qRT-PCR Assay for cel-lin-4 | 100-00010-SOM | 100 RT / 300 PCR rxns | 222 € | DETAILS | Add to Cart |
| miR-ID qRT-PCR Assay for ath-miR159 | 100-00011-SOM | 100 RT / 300 PCR rxns | 222 € | DETAILS | Add to Cart |
| miR-ID qRT-PCR Assay for cel-miR-39 | 100-00012-SOM | 100 RT / 300 PCR rxns | 222 € | DETAILS | Add to Cart |
| miR-ID qRT-PCR Assay for hsa-let-7a-5p | 100-00015-SOM | 100 RT / 300 PCR rxns | 222 € | DETAILS | Add to Cart |
| miR-ID qRT-PCR Assay for hsa-let-7d-5p | 100-00016-SOM | 100 RT / 300 PCR rxns | 222 € | DETAILS | Add to Cart |
| miR-ID qRT-PCR Assay for hsa-let-7f-5p | 100-00086-SOM | 100 RT / 300 PCR rxns | 222 € | DETAILS | Add to Cart |
| miR-ID qRT-PCR Assay for hsa-let-7g-5p | 100-00017-SOM | 100 RT / 300 PCR rxns | 222 € | DETAILS | Add to Cart |
| miR-ID qRT-PCR Assay for hsa-let-7i-5p | 100-00087-SOM | 100 RT / 300 PCR rxns | 222 € | DETAILS | Add to Cart |
| miR-ID qRT-PCR Assay for hsa-miR-100-5p | 100-00089-SOM | 100 RT / 300 PCR rxns | 222 € | DETAILS | Add to Cart |
| miR-ID qRT-PCR Assay for hsa-miR-103a-3p | 100-00061-SOM | 100 RT / 300 PCR rxns | 222 € | DETAILS | Add to Cart |
| miR-ID qRT-PCR Assay for hsa-miR-106a-5p | 100-00018-SOM | 100 RT / 300 PCR rxns | 222 € | DETAILS | Add to Cart |
| miR-ID qRT-PCR Assay for hsa-miR-106b-5p | 100-00073-SOM | 100 RT / 300 PCR rxns | 222 € | DETAILS | Add to Cart |
| miR-ID qRT-PCR Assay for hsa-miR-107 | 100-00074-SOM | 100 RT / 300 PCR rxns | 222 € | DETAILS | Add to Cart |
| miR-ID qRT-PCR Assay for hsa-miR-10a-5p | 100-00019-SOM | 100 RT / 300 PCR rxns | 222 € | DETAILS | Add to Cart |
| miR-ID qRT-PCR Assay for hsa-miR-10b-5p | 100-00020-SOM | 100 RT / 300 PCR rxns | 222 € | DETAILS | Add to Cart |
| miR-ID qRT-PCR Assay for hsa-miR-1202 | 100-00102-SOM | 100 RT / 300 PCR rxns | 222 € | DETAILS | Add to Cart |
| miR-ID qRT-PCR Assay for hsa-miR-122-5p | 100-00021-SOM | 100 RT / 300 PCR rxns | 222 € | DETAILS | Add to Cart |
| miR-ID qRT-PCR Assay for hsa-miR-125a-5p | 100-00022-SOM | 100 RT / 300 PCR rxns | 222 € | DETAILS | Add to Cart |
| miR-ID qRT-PCR Assay for hsa-miR-125b-5p | 100-00023-SOM | 100 RT / 300 PCR rxns | 222 € | DETAILS | Add to Cart |
| miR-ID qRT-PCR Assay for hsa-miR-126-3p | 100-00024-SOM | 100 RT / 300 PCR rxns | 222 € | DETAILS | Add to Cart |
| miR-ID qRT-PCR Assay for hsa-miR-126-5p | 100-00025-SOM | 100 RT / 300 PCR rxns | 222 € | DETAILS | Add to Cart |
| miR-ID qRT-PCR Assay for hsa-miR-127-3p | 100-00069-SOM | 100 RT / 300 PCR rxns | 222 € | DETAILS | Add to Cart |
| miR-ID qRT-PCR Assay for hsa-miR-128-3p | 100-00026-SOM | 100 RT / 300 PCR rxns | 222 € | DETAILS | Add to Cart |
| miR-ID qRT-PCR Assay for hsa-miR-1307-3p | 100-00103-SOM | 100 RT / 300 PCR rxns | 222 € | DETAILS | Add to Cart |
| miR-ID qRT-PCR Assay for hsa-miR-130a-3p | 100-00097-SOM | 100 RT / 300 PCR rxns | 222 € | DETAILS | Add to Cart |
| miR-ID qRT-PCR Assay for hsa-miR-141-3p | 100-00027-SOM | 100 RT / 300 PCR rxns | 222 € | DETAILS | Add to Cart |
| miR-ID qRT-PCR Assay for hsa-miR-142-3p | 100-00028-SOM | 100 RT / 300 PCR rxns | 222 € | DETAILS | Add to Cart |
| miR-ID qRT-PCR Assay for hsa-miR-143-3p | 100-00029-SOM | 100 RT / 300 PCR rxns | 222 € | DETAILS | Add to Cart |
| miR-ID qRT-PCR Assay for hsa-miR-143-3p/0/+1 | 100-00029a-SOM | 100 RT / 300 PCR rxns | 222 € | DETAILS | Add to Cart |
| miR-ID qRT-PCR Assay for hsa-miR-143-3p/-1/0 | 100-00029b-SOM | 100 RT / 300 PCR rxns | 222 € | DETAILS | Add to Cart |
| miR-ID qRT-PCR Assay for hsa-miR-143-3p/-1/+1 | 100-00029c-SOM | 100 RT / 300 PCR rxns | 222 € | DETAILS | Add to Cart |
| miR-ID qRT-PCR Assay for hsa-miR-144-3p | 100-00096-SOM | 100 RT / 300 PCR rxns | 222 € | DETAILS | Add to Cart |
| miR-ID qRT-PCR Assay for hsa-miR-145-5p | 100-00030-SOM | 100 RT / 300 PCR rxns | 222 € | DETAILS | Add to Cart |
| miR-ID qRT-PCR Assay for hsa-miR-146a-5p | 100-00031-SOM | 100 RT / 300 PCR rxns | 222 € | DETAILS | Add to Cart |
| miR-ID qRT-PCR Assay for hsa-miR-146b-5p | 100-00013-SOM | 100 RT / 300 PCR rxns | 222 € | DETAILS | Add to Cart |
| miR-ID qRT-PCR Assay for hsa-miR-148a-3p | 100-00032-SOM | 100 RT / 300 PCR rxns | 222 € | DETAILS | Add to Cart |
| miR-ID qRT-PCR Assay for hsa-miR-148b-3p | 100-00098-SOM | 100 RT / 300 PCR rxns | 222 € | DETAILS | Add to Cart |
| miR-ID qRT-PCR Assay for hsa-miR-151a-3p | 100-00099-SOM | 100 RT / 300 PCR rxns | 222 € | DETAILS | Add to Cart |
| miR-ID qRT-PCR Assay for hsa-miR-155-5p | 100-00033-SOM | 100 RT / 300 PCR rxns | 222 € | DETAILS | Add to Cart |
| miR-ID qRT-PCR Assay for hsa-miR-15a-5P | 100-00067-SOM | 100 RT / 300 PCR rxns | 222 € | DETAILS | Add to Cart |
| miR-ID qRT-PCR Assay for hsa-miR-15b-5p | 100-00034-SOM | 100 RT / 300 PCR rxns | 222 € | DETAILS | Add to Cart |
| miR-ID qRT-PCR Assay for hsa-miR-16-5p | 100-00035-SOM | 100 RT / 300 PCR rxns | 222 € | DETAILS | Add to Cart |
| miR-ID qRT-PCR Assay for hsa-miR-17-5p | 100-00036-SOM | 100 RT / 300 PCR rxns | 222 € | DETAILS | Add to Cart |
| miR-ID qRT-PCR Assay for hsa-miR-18a-3p | 100-00075-SOM | 100 RT / 300 PCR rxns | 222 € | DETAILS | Add to Cart |
| miR-ID qRT-PCR Assay for hsa-miR-18a-5p | 100-00076-SOM | 100 RT / 300 PCR rxns | 222 € | DETAILS | Add to Cart |
| miR-ID qRT-PCR Assay for hsa-miR-191-5p | 100-00037-SOM | 100 RT / 300 PCR rxns | 222 € | DETAILS | Add to Cart |
| miR-ID qRT-PCR Assay for hsa-miR-1913 | 100-00104-SOM | 100 RT / 300 PCR rxns | 222 € | DETAILS | Add to Cart |
| miR-ID qRT-PCR Assay for hsa-miR-192-5p | 100-00077-SOM | 100 RT / 300 PCR rxns | 222 € | DETAILS | Add to Cart |