CRISPR Cas9 Multiplex Guide RNA Cloning Kits
PrecisionX™ Multiplex gRNA Cloning KitCreate CRISPR/Cas9 constructs with multiple gRNAs simultaneously for better genome editing
• Save time and reagents - no need to clone separate constructs bearing different gRNAs
• Simple two-step PCR and "fusion" reaction to generate multi-cistronic gRNA expression constructs
• Compatible with all types of Cas9/gRNA expression vectors containing H1 or U6 promoters
• Ideal for Cas9 Nickase applications requiring expression of two gRNAs simultaneously for precise targeting
• Enables precise deletion of defined genomic segments and control of multi gene regulation - Genome manipulation made simple
Our partner SBI has developed a revolutionary cloning kit in order to facilitate the cloning of gRNAs into CRISPR/Cas9 vectors, the PrecisionX Multiplex gRNA Cloning Kit (Cat# CAS9-GRNA-KIT-SBI).
This system allows for the cloning of multiple gRNAs into any Cas9/gRNA all-in-one expression vector or gRNA cloning vector of the customer´s choice, including SBI´s PrecisionX Cas9/gRNA SmartNuclease plasmids and lentivectors. The Multiplex gRNA Cloning Kit is also compatible with the most popular Cas9/gRNA cloning vectors developed in labs across the world, such as pX330, pX335, pX458, and pX459.
How the Multiplex gRNA Cloning Kit Works
The PrecisionX™ Multiplex gRNA Cloning Kit provides the H1 and U6 promoter blocks to easily build multiple gRNA cassettes. In step 1, primers with overlapping ends containing the desired guide RNA (designed by user) and the scaffold-promoter block (from the kit) are combined in a PCR reaction to generate the PCR amplicon containing both gRNAs. Secondly, the PCR amplicon created in step 1 is combined with the fusion reaction mix along with the linearized destination expression vector for seamless construction. The cloning process is extremely efficient and the kit can be adapted to two or more gRNAs in a single fusion reaction. A schematic of the assembly workflow is shown below.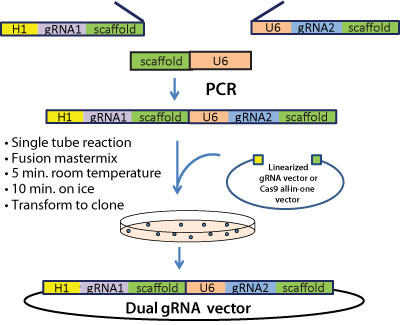 Use the Multiplex gRNA Cloning Kit to clone multiple gRNAs into a single Cas9/gRNA vector for powerful genome editing!
The kit is available as a single product as well as in combination with different Guide RNA Cas9 all-in-one vectors from SBI.
For more information about SBI´s vectors see link below.
---
Related Links
CRSISPR/Cas9 SmartNuclease Guide RNA Vectors from SBI
Product Citations and Technical References
Sample Data for Dual gRNA Cloning
Sample Data for Quad-Plex gRNA Cloning

---
PDF-Downloads
- Will open in new browser window
| Description | Cat# | Size | Price | | |
| --- | --- | --- | --- | --- | --- |
| PrecisionX Multiplex gRNA Cloning Kit | CAS9-GRNA-KIT-SBI | 10 rxn | 480 € | DETAILS | Add to Cart |
| PrecisionX Multiplex gRNA Cloning Kit with SmartNickase Vector (untagged): EF1-T7-hspCas9-nickase-H1-gRNA (linearized plasmid DNA) | CAS750A-KIT-SBI | 10 rxn | 1135 € | DETAILS | Add to Cart |
| PrecisionX Multiplex gRNA Cloning Kit with SmartNickase Vector (untagged): CAG-T7-hspCas9-nickase-H1-gRNA (linearized plasmid DNA) | CAS770A-KIT-SBI | 10 rxn | 1135 € | DETAILS | Add to Cart |
| PrecisionX Multiplex gRNA Cloning Kit with SmartNickase Vector (untagged): CMV-T7-hspCas9-nickase-H1-gRNA (linearized plasmid DNA) | CAS790A-KIT-SBI | 10 rxn | 1135 € | DETAILS | Add to Cart |
| PrecisionX Multiplex gRNA Cloning Kit with SmartNuclease Vector (untagged): EF1-T7-hspCas9-H1-gRNA (linearized plasmid DNA) | CAS700A-KIT-SBI | 10 rxn | 1135 € | DETAILS | Add to Cart |
| PrecisionX Multiplex gRNA Cloning Kit with SmartNuclease Vector (untagged): CAG-T7-hspCas9-H1-gRNA (linearized plasmid DNA) | CAS720A-KIT-SBI | 10 rxn | 1135 € | DETAILS | Add to Cart |
| PrecisionX Multiplex gRNA Cloning Kit with SmartNuclease Vector (untagged): CMV-T7-hspCas9-H1-gRNA (linearized plasmid DNA) | CAS740A-KIT-SBI | 10 rxn | 1135 € | DETAILS | Add to Cart |