Expression-Ready cDNA Clones
MGC Premier Expression-Ready cDNA clones for Human, Mouse, Rat and Bovine genomes
Expression-Ready vector options combined with the highest quality full-length cDNA content provide the fastest path to a successful experiment. All MGC Premier Expression-Ready cDNA clones come with a 100% guarantee* for sequence integrity and expression of the cloned gene.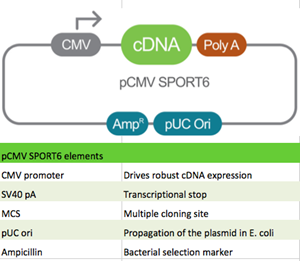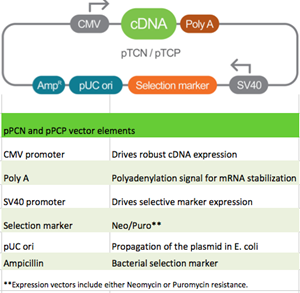 Choice of expression vectors: Select from three robust expression vectors with a choice of no or the two following mammalian selection markers:
• CMV: CMV promoter with no selectable marker (pCMV SPORT6)
• CMV-Neo: CMV promoter with a neomycin selectable marker (pTCN)
• CMV-Puro: CMV promoter with a puromycin selectable marker (pTCP)
These vectors provide a simple and effective expression system:
• Robust expression from the CMV promoter
• Guaranteed* expression
• Choice of commonly used selection markers
*The MGC premier Expression-ready cDNA vectors have been validated for expression. Expression of your target gene is guaranteed (as compared to control gene expression in your target cell line).
Delivery, Shipping and Storage
Turnaround time for expression-ready clones in pCMV SPORT 6 is 1-2 weeks, for clones in pTCP7/pTCN delivery takes about 5-6 weeks. Individual constructs are shipped as bacterial cultures of E. coli in LB-Lennox (low salt) broth with 8% glycerol on wet ice and should be stored at –80°C.
---
Related Links
Clone Search Tool
Overview: Full-Length cDNA Clones & Expression-Ready Clones

---
PDF-Downloads
- Will open in new browser window
| Description | Cat# | Size | Price | | |
| --- | --- | --- | --- | --- | --- |
| IMAGE / MGC Premier Expression-ready Cloning Vector pCMV SPORT6 (empty vector) | TCC1300-GVO-TRI | Glycerol Stock | 384 € | DETAILS | Add to Cart |
| IMAGE / MGC Premier Expression-ready Cloning Vector pTCP (empty vector) | TCC2000-GVO-TRI | Glycerol Stock | 384 € | DETAILS | Add to Cart |
| IMAGE / MGC premier Expression-ready Cloning Vector pTCN (empty vector) | TCC1000-GVO-TRI | Glycerol Stock | 384 € | DETAILS | Add to Cart |
| IMAGE / MGC (Mammalian Gene Consortium) Premier Expression-Ready cDNA Clone in pCMV SPORT6 (CMV expression vector without eukaryotic Selection Marker) (Human) | TCH1303-GVO-TRI | Glycerol Stock | 144 € | DETAILS | Add to Cart |
| IMAGE / MGC (Mammalian Gene Consortium) Premier Expression-Ready cDNA Clone in pCMV SPORT6 (CMV expression vector without eukaryotic Selection Marker) (Mouse) | TCM1304-GVO-TRI | Glycerol Stock | 144 € | DETAILS | Add to Cart |
| IMAGE / MGC (Mammalian Gene Consortium) Premier Expression-Ready cDNA Clone in pCMV SPORT6 (CMV expression vector without eukaryotic Selection Marker) (Rat) | TCR1305-GVO-TRI | Glycerol Stock | 144 € | DETAILS | Add to Cart |
| IMAGE / MGC (Mammalian Gene Consortium) Premier Expression-Ready cDNA Clone in pCMV SPORT6 (CMV expression vector without eukaryotic Selection Marker) (Bovine) | TCB1306-GVO-TRI | Glycerol Stock | 144 € | DETAILS | Add to Cart |
| IMAGE / MGC (Mammalian Gene Consortium) Premier Expression-Ready cDNA Clone Collection in pCMV SPORT6 (CMV expression vector without eukaryotic Selection Marker) (Human) | TCH3504-GVO-TRI | 6438 Clones covering 5499 genes | please inquire € | DETAILS | Add to Cart |
| IMAGE / MGC (Mammalian Gene Consortium) Premier Expression-Ready cDNA Clone Collection in pCMV SPORT6 (CMV expression vector without eukaryotic Selection Marker) (Mouse and Human) | TCH3505-GVO-TRI | 16446 Clones covering 13346 genes | please inquire € | DETAILS | Add to Cart |
| IMAGE / MGC (Mammalian Gene Consortium) Premier Expression-Ready cDNA Clone Collection in pCMV SPORT6 (CMV expression vector without eukaryotic Selection Marker) (Mouse) | TCM3504-GVO-TRI | 10008 Clones covering 7847 genes | please inquire € | DETAILS | Add to Cart |