Home
-> Norgen RNA Purification Kits
Competitor Comparison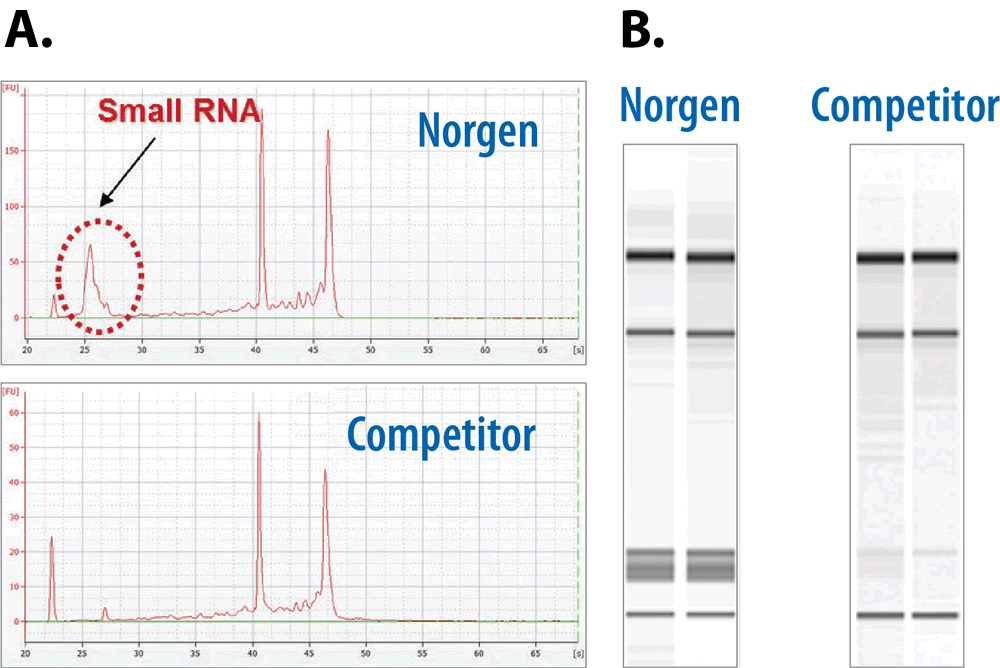 Click to enlarge
A. Recovery of true total RNA including microRNA from fibrous, hard-to-extract hamster muscle tissue using Norgen's Animal Tissue RNA Purification Kit.
B. Isolation of true total RNA including microRNA without phenol or chloroform using Norgen's Total RNA Purification Kit.
Stabilize and protect cellular RNA at room temperature in various samples including cultured cells, animal tissue, bacteria & fungi, soil, stool and plants.
Norgen RNA Purification Kits
RNA isolation kits for all types of samples
High quality & purity total RNA including microRNA
Cell-free circulating RNA and exosomal RNA
No phenol step required
High sensitivity down to very small inputs
Bias-free purification irrespective of size or GC content
Norgen's unique patented silicon carbide resin allows rapid purification of the full RNA spectrum without the use of phenol or chloroform. The resin provides superior affinity to the full size range of RNA molecules irrespective of GC content, resulting in bias-free large and small RNA (microRNA) purification with better linearity and sensitivity.
The purified RNA is of the highest integrity and can be used in a number of downstream applications. Provided in convenient spin column formats and 96-well plates, the Norgen RNA Purification Kits represent the gold standard for the isolation and purification of total RNA and microRNA from a variety of samples.
Total RNA Extraction and Purification (including microRNA)
| | | | | | |
| --- | --- | --- | --- | --- | --- |
| Total RNA Purification Kit for cultured animal cells, tissue samples, blood, plasma, serum, saliva, bacteria, yeast, fungi, plants and viruses | 17200-NB | 50 preps | 314 € | | DETAILS |
| Total RNA Purification Kit for cultured animal cells, tissue samples, blood, plasma, serum, saliva, bacteria, yeast, fungi, plants and viruses - Trial Size | 17240-NB | 4 preps | 27 € | | DETAILS |
| Total RNA Purification Kit for cultured animal cells, tissue samples, blood, plasma, serum, saliva, bacteria, yeast, fungi, plants and viruses | 37500-NB | 100 preps | 558 € | | DETAILS |
| Total RNA Purification PLUS Kit (Chromatography Columns and additional gDNA removal columns for rapid total removal of any residual genomic DNA) for mammalian cells and tissue, blood, plasma / serum, bacteria, yeast, fungi, plants, and more | 48300-NB | 50 preps | 384 € | | DETAILS |
| Total RNA Purification PLUS Kit (Chromatography Columns and additional gDNA removal columns for rapid total removal of any residual genomic DNA) for mammalian cells and tissue, blood, plasma / serum, bacteria, yeast, fungi, plants, and more | 48400-NB | 100 preps | 653 € | | DETAILS |
| Total RNA Purification Micro Kit for small input amounts of cultured animal cells, tissue samples, and microdissected samples including laser-capture microdissection (LCM) | 35300-NB | 50 preps | 486 € | | DETAILS |
| Total RNA Purification Plus Micro Kit for small input amounts of cultured animal cells, tissue samples, and microdissected samples including laser-capture microdissection (LCM) | 48500-NB | 50 preps | 490 € | | DETAILS |
| Total RNA Purification Maxi Kit for large amounts of mammalian cells and tissue, blood, bacteria, yeast, fungi, plants, and more | 26800-NB | 8 preps | 211 € | | DETAILS |
| Total RNA Purification Kit (96-well column chromatography) for mammalian cells and tissue, blood, plasma / serum, bacteria, yeast, fungi, plants, and viruses | 24300-NB | 2 plates/ 192 preps | 885 € | | DETAILS |
| Single Cell RNA Purification Kit for total RNA from small input amounts of cultured animal cells, sorted cells, and microdissected samples including laser-capture microdissection (LCM) | 51800-NB | 50 preps | 484 € | | DETAILS |
| Animal Tissue RNA Purification Kit for mammalian tissue | 25700-NB | 50 preps | 431 € | | DETAILS |
| Fatty Tissue RNA Purification Kit for mammalian tissue with high lipid content (adipose, brain) | 36200-NB | 25 preps | 264 € | | DETAILS |
| microRNA Purification Kit | 21300-NB | 25 preps | 294 € | | DETAILS |
Cytoplasmic and Nuclear RNA Purification (including microRNA)
| | | | | | |
| --- | --- | --- | --- | --- | --- |
| Cytoplasmic and Nuclear RNA Purification Kit | 21000-NB | 50 preps | 416 € | | DETAILS |
| Cytoplasmic and Nuclear RNA Purification Kit | 37400-NB | 100 preps | 732 € | | DETAILS |
Isolate RNA, microRNA, DNA and proteins from the same Sample
| | | | | | |
| --- | --- | --- | --- | --- | --- |
| RNA/DNA/Protein Purification Plus Kit | 47700-NB | 50 preps | 705 € | | DETAILS |
| RNA/DNA/Protein Purification Plus Micro Kit (for small input amounts) | 51600-NB | 50 preps | 813 € | | DETAILS |
| RNA/DNA/Protein Purification Plus Kit - 96 Well Format | 51700-NB | 1 plate | 860 € | | DETAILS |
| RNA/Protein Purification Plus Kit (includes columns for non-enzymatic gDNA removal ) | 48200-NB | 50 preps | 606 € | | DETAILS |
| RNA/DNA Purification Kit | 48700-NB | 50 preps | 611 € | | DETAILS |
| RNA/DNA Purification Micro Kit (for small input amounts) | 50300-NB | 50 preps | 796 € | | DETAILS |
Blood/Plasma/Serum Sample Preparation Kits
| | | | | | |
| --- | --- | --- | --- | --- | --- |
| Plasma/Serum RNA Purification Mini Kit (Spin Columns), 50 - 200 ul sample input | 55000-NB | 50 preps | 468 € | 421.20 € | DETAILS |
| Plasma/Serum RNA Purification Midi Kit (Spin Columns), 250 ul - 1.5 ml sample input | 56100-NB | 20 preps | 480 € | 432.00 € | DETAILS |
| Plasma/Serum RNA Purification Maxi Kit (Spin Columns), 2 - 5 ml sample input | 56200-NB | 10 preps | 291 € | 261.90 € | DETAILS |
| Plasma/Serum Exosome and Free-Circulating RNA Isolation Mini Kit | 59500-NB | 50 preps | 1495 € | 1345.50 € | DETAILS |
| Plasma/Serum Exosome and Free-Circulating RNA Isolation Midi Kit | 59600-NB | 25 preps | 1286 € | 1157.40 € | DETAILS |
| Plasma/Serum Exosome and Free-Circulating RNA Isolation Maxi Kit | 59700-NB | 15 preps | 992 € | 892.80 € | DETAILS |
| Plasma/Serum Circulating and Exosomal RNA Purification 96-well Kit (Slurry Format), 0.25 - 5 ml sample input | 29500-NB | 96 preps (1 plate) | 943 € | 848.70 € | DETAILS |
| Plasma/Serum Circulating and Exosomal RNA and DNA Purification Kit (Spin Columns) Mini, 10 - 200 ul sample input | 55200-NB | 50 preps | 646 € | 581.40 € | DETAILS |
| Preserved Blood RNA Purification Kit I (for use with Tempus Blood RNA Tubes) | 43400-NB | 50 preps | 551 € | | DETAILS |
| Preserved Blood RNA Purification Kit II (for use with PAXgene Blood RNA Tubes) | 43500-NB | 50 preps | 551 € | | DETAILS |
| Total RNA Purification Kit for Leukocytes | 21200-NB | 50 preps | 393 € | | DETAILS |
| Total RNA Purification Kit for Leukocytes (up to 3 ml of blood) | 21250-NB | 50 preps | 394 € | | DETAILS |
| Total RNA Purification Kit for Leukocytes, 96-well format | 37800-NB | 2 plates/192 preps | 908 € | | DETAILS |
FFPE RNA and microRNA Extraction and Purification
| | | | | | |
| --- | --- | --- | --- | --- | --- |
| FFPE Total RNA Purification Kit for Formalin Fixed Paraffin Embedded Tissue (includes DNAse) | 25300-NB | 50 rxns | 486 € | | DETAILS |
| FFPE Total RNA Purification Kit for Formalin Fixed Paraffin Embedded Tissue (includes DNAse) (96-well kit) | 25400-NB | 2 plates, 192 preps | 956 € | | DETAILS |
| FFPE Total RNA and Genomic DNA Purification Plus Kit (includes DNAse) - for Research Use | 54300-NB | 50 preps | 636 € | | DETAILS |
Urine RNA and microRNA Isolation and Purification
| | | | | | |
| --- | --- | --- | --- | --- | --- |
| Urine Cell-Free Circulating RNA Purification Mini Kit | 56900-NB | 50 preps | 469 € | 422.10 € | DETAILS |
| Urine Cell-Free Circulating RNA Purification Midi Kit | 57000-NB | 20 preps | 460 € | 414.00 € | DETAILS |
| Urine Cell-Free Circulating RNA Purification Maxi Kit | 57100-NB | 10 preps | 291 € | 261.90 € | DETAILS |
| Urine Exosome and Free-Circulating RNA Isolation Mini Kit | 59200-NB | 50 preps | 1495 € | 1345.50 € | DETAILS |
| Urine Exosome and Free-Circulating RNA Isolation Midi Kit | 59300-NB | 25 preps | 1339 € | 1205.10 € | DETAILS |
| Urine Exosome and Free-Circulating RNA Isolation Maxi Kit | 59400-NB | 15 preps | 1047 € | 942.30 € | DETAILS |
| Urine Exfoliated Cell Total RNA Purification Kit | 22550-NB | 25 preps | 283 € | 254.70 € | DETAILS |
| Urine microRNA Purification Kit | 29000-NB | 25 preps | 322 € | 289.80 € | DETAILS |
| Urine Total RNA Purification Maxi Kit (Slurry Format) | 29600-NB | 50/ 25 preps (5 ml/ 10 ml samples) | 603 € | 542.70 € | DETAILS |
| Urine Exosome Total RNA Isolation Kit | 47200-NB | 50 preps | 780 € | 702.00 € | DETAILS |
Plant and Environmental RNA and microRNA Isolation and Purification
| | | | | | |
| --- | --- | --- | --- | --- | --- |
| Total RNA Purification Kit for plants and fungi | 25800-NB | 50 preps | 368 € | | DETAILS |
| Total RNA Purification Kit for plants and fungi | 31350-NB | 100 preps | 680 € | | DETAILS |
| Total RNA Purification Kit for plants and fungi | 25850-NB | 250 preps | 1492 € | | DETAILS |
| Total RNA Purification Kit (96-well format) for plants and fungi | 31900-NB | 2 plates/192 preps | 918 € | | DETAILS |
| Plant Total RNA and Genomic DNA Purification Kit | 24400-NB | 50 preps | 324 € | | DETAILS |
| Plant microRNA Purification Kit | 54700-NB | 25 preps | 255 € | | DETAILS |
| Soil Total RNA Purification Kit | 27750-NB | 50 preps | 566 € | | DETAILS |
| Water Total RNA and DNA Purification Kit - 0.22 um | 26400-NB | 25 preps | 604 € | | DETAILS |
| Water Total RNA and DNA Purification Kit - 0.45 um | 26450-NB | 25 preps | 604 € | | DETAILS |
| Water Total RNA and DNA Purification Kit (no filters) | 26480-NB | 50 preps | 580 € | | DETAILS |
Clean-Up and Concentration of microRNA and Total RNA
| | | | | | |
| --- | --- | --- | --- | --- | --- |
| Total RNA Clean-Up and Concentration Kit | 23600-NB | 50 preps | 314 € | | DETAILS |
| Total RNA Clean-Up and Concentration Kit | 43200-NB | 100 preps | 580 € | | DETAILS |
| Total RNA Clean-Up and Concentration Kit (96 well Format) | 25100-NB | 2 plates/192 preps | 862 € | | DETAILS |
| CleanAll RNA and DNA Clean-Up and Concentration Micro Kit | 23800-NB | 50 preps | 302 € | | DETAILS |
| RNA Clean-Up and Concentration Micro-Elute Kit | 61000-NB | 50 preps | 376 € | | DETAILS |
| Oligo (Single and Double Stranded RNA and DNA Oligonucleotides) Clean-Up and Concentration Kit | 34100-NB | 50 preps | 222 € | | DETAILS |