TF Dual Marker Reporter Vectors with copGFP and Luciferase (Lentiviral)
• Transcriptional Response Elements (TREs) cloned in dual marker reporter vectors
• Sort responsive cells with GFP
• Measure activity with red firefly luciferase
• Create stable signaling pathway reporter cell lines
• Introduce reporters into difficult-to-transfect cell types, including primary and non-dividing mammalian cell lines
• Ready-to-use pre-packaged lentivirus or plasmid versions available
Eukaryotic gene expression is regulated by a wide variety of developmental and environmental stimuli. First, an extracellular signaling molecule binds to a specific receptor. The signal is then transmitted through a series of molecular cascades, which activate or deactivate specific transcription factors (TFs) that regulate gene expression. The expression of any given gene is controlled by multiple transcription factors, which in turn are modulated by multiple signal transduction pathways. Many of these signal transduction pathways converge at transcription factors that bind to specific transcriptional response elements (TREs) found in the promoters of various genes and modulate the transcription of these genes. The activation of a signal transduction pathway (e.g. by growth factors, drugs, etc.) can therefore be monitored by the expression level of the reporter gene controlled by a promoter containing these response elements.
These plasmid-based transcriptional reporter vectors can be delivered by transient transfection to the nucleus of target cells to monitor the activation of signal transduction pathways converging at a specific response element or you can order pre-packaged lentivirus to transduce nearly all cell types, even those that are difficult-to-transfect such as primary or non-dividing mammalian cells.
NEW PRODUCT ALERT!
pGreenFire 2.0 – signalling pathway reporters re-engineered for reliable stable cell line generation
The next generation of pGreenFire signalling pathway reporters is available now! SBI has upgraded these popular lentivectors with a clever design that enables reliable generation of stable cell lines and have also replaced the conventional luciferase reporter with red firefly luciferase, which opens up the possibility of performing a dual-spectral luciferase assay and delivers greater sensitivity for in vivoapplications than conventional luciferase.
pGreenFire Basics
Both pGreenFire 1.0 and 2.0 share a similar core functionality—transcriptional response elements (TREs) are placed upstream of a minimal CMV promoter (mCMV) and the pGreenFire luciferase-T2A-GFP co-expression cassette. In the absence of transcriptional activation, the mCMV promoter has negligible activity resulting in little- to no- luciferase activity or GFP fluorescence (Figure 1). However, upon activation of the TREs, such as in response to the addition of an inducer, the TREs plus the mCMV promoter drive expression of both luciferase and GFP in a dose-dependent fashion (Figure 1). The result is the ability to quantitatively measure pathway activation using luciferase activity or while imaging using GFP.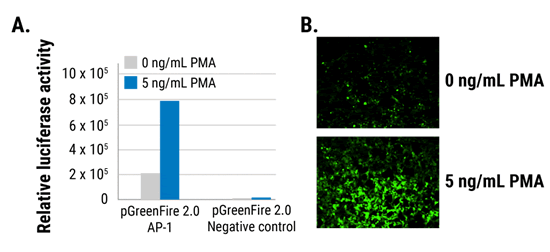 Figure 1. The pGreenFire 2.0 AP-1 Reporter efficiently and quantitatively reports on AP-1 activity in 293FT cells.
Relative luciferase activity (A) and GFP activity (B) both increase in response to PMA, an AP-1inducer. Induction is specific to the AP-1 transcription response elements as the pGreenFire 2.0 mCMV Negative Control displays very little luciferase activity regardless of the presence of inducer.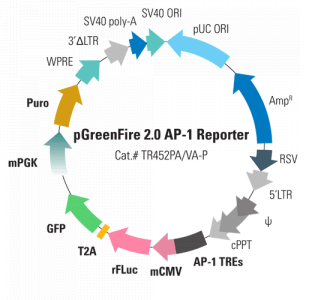 Why pGreenFire 2.0 Lentivectors are better than other signalling pathway reporters
What makes our next-gen pGreenFire 2.0 vectors even better than other TRE reporter vectors is the smart design, which adds in a constitutive selection cassette for stable cell line generation while minimizing interference from the upstream TRE. By using a weak/moderate mPGK promoter to drive the antibiotic selection marker (puromycin resistance) and carefully arranging the conditional reporter genes, the selection marker is reliably expressed without compromising conditional expression of rFLuc and GFP. This means that every pGreenFire 2.0 Lentivector can be used to create stable reporter cell lines.
pGreenFire1 Lentivector
A versatile HIV-based lentivector that co-expresses destabilized copGFP and Firefly Luciferase enabling the detection of both GFP signals as well as Luciferase for quantitative transcription activation reporter assays.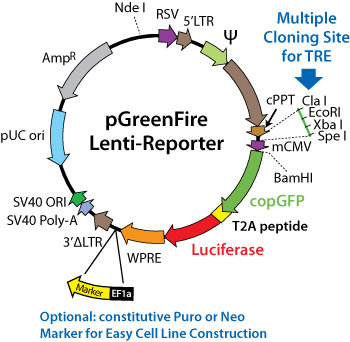 Features and Benefits of pGreenFire1 Lentivectors
• pGreenFire1 is a dual reporter vector and so has the advantage of being able to determine whether reporter activation has taken place by assessing both GFP and firefly luciferase levels.
• Firefly luciferase provides a familiar, well-established and quantitative assessment of transcription activation, while the GFP reporter enables non-destructive live cell imaging and sorting, e.g. by FACS.
• Minimal CMV (mCMV) basal promoter has extremely low activity in the absence of transcription response elements.
• Proviral reporters are integrated into normal chromatin and therefore provide a more accurate model for the study of transactivation and epigenetic effects.
• pGreenFire1 lentiviral reporters allow researchers to quickly and easily establish stable reporter cell lines using either their own transcriptional response elements or any of SBI's pre-made, pre-validated reporters.
• Stable reporter cell lines can be constructed in a matter of days and eliminate the need to transfect reporter plasmids for each experiment which reduces the well-to-well variability often seen with plasmid reporter transfection.
• No need to have a second reporter (eg Renilla luciferase or beta-galactosidase) to normalize transfection levels.
Example Data using the pGreenFire1-NF-kB Transcription Reporter Vector

293TN cells were transduced with the packaged pGF1-NFkB reporter virus. Two days later, the cells were split into 96 well plates and then treated with the indicated amount of TNF-a. Levels of NFkB activation was assessed 18 hours post-induction using epifluorescence microscopy.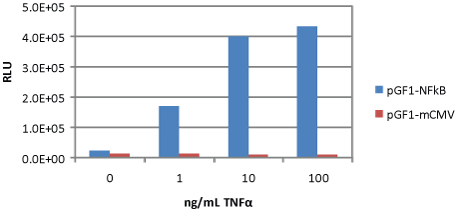 293TN cells were transduced with either the packaged pGF1-NFkB or pGF1-mCMV (negative control) reporter virus. Two days later, the cells were split into 96 well plates and then treated with the indicated amount of TNF-a. Levels of NFkB activation was quantitated 18 hours post-induction using a standard firefly luciferase assay
Control Constructs
A positive control construct with full CMV promoter, pGreenFire1-CMV (plasmid: TR011PA-1-SBI, pre-packaged virus: TR011VA-1-SBI), and a negative control construct with mCMV promoter, pGreenFire1-mCMV (plasmid: TR010PA-1-SBI, pre-packaged virus: TR010VA-1-SBI) are available separately.
| Description | Cat# | Size | Price | | |
| --- | --- | --- | --- | --- | --- |
| pGreenFire 2.0 for-CMV positive control plasmid (pGF2-CMV-rFluc-T2A-GFP-mPGK-Puro) | TR410PA-P-SBI | 10 ug | 765 € | DETAILS | Add to Cart |
| pGreenFire1-mCMV (pTRH1 mCMV dscGFP T2A Fluc) for cloning your own TREs or as negative transduction control (plasmid) | TR010PA-1-SBI | 10 ug | 686 € | DETAILS | Add to Cart |
| pGreenFire 2.0 for-CMV positive control virus (pGF2-CMV-rFluc-T2A-GFP-mPGK-Puro) | TR410VA-P-GVO-SBI | >2 x 10^6 IFUs | 765 € | DETAILS | Add to Cart |
| pGreenFire1-mCMV (pTRH1 mCMV dscGFP T2A Fluc) for cloning your own TREs or as negative transduction control (pre-packaged) | TR010VA-1-GVO-SBI | >2 x 10^6 IFUs | 830 € | DETAILS | Add to Cart |
| pGreenFire 2.0 for-mCMV negative control plasmid (pGF2-mCMV-rFluc-T2A-GFP-mPGK-Puro) | TR411PA-P-SBI | 10 ug | 765 € | DETAILS | Add to Cart |
| pGreenFire1-mCMV (pTRH1 mCMV dscGFP T2A Fluc EF1-Neo) for cloning your own TREs or as negative transduction control (plasmid) | TR010PA-N-SBI | 10 ug | 686 € | DETAILS | Add to Cart |
| pGreenFire 2.0 for-mCMV negative control virus (pGF2-mCMV-rFluc-T2A-GFP-mPGK-Puro) | TR411VA-P-GVO-SBI | >2 x 10^6 IFUs | 765 € | DETAILS | Add to Cart |
| pGreenFire1-mCMV (pTRH1 mCMV dscGFP T2A Fluc EF1-Neo) for cloning your own TREs or as negative transduction control (pre-packaged) | TR010VA-N-GVO-SBI | >2 x 10^6 IFUs | 830 € | DETAILS | Add to Cart |
| pGreenFire1-mCMV (pTRH1 mCMV dscGFP T2A Fluc EF1-Puro) for cloning your own TREs or as negative transduction control (plasmid) | TR010PA-P-SBI | 10 ug | 686 € | DETAILS | Add to Cart |
| Reporter Vector pGeenfire 2.0 for AP-1: reporter plasmid (pGF2-AP1-rFluc-T2A-GFP-mPGK-Puro) | TR452PA-P-SBI | 10 ug | 808 € | DETAILS | Add to Cart |
| pGreenFire1-mCMV (pTRH1 mCMV dscGFP T2A Fluc EF1-Puro) for cloning your own TREs or as negative transduction control (pre-packaged) | TR010VA-P-GVO-SBI | >2 x 10^6 IFUs | 830 € | DETAILS | Add to Cart |
| Reporter Vector pGeenfire 2.0 for AP-1: reporter virus (pGF2-AP1-rFluc-T2A-GFP-mPGK-Puro) | TR452VA-P-GVO-SBI | >2 x 10^6 IFUs | 808 € | DETAILS | Add to Cart |
| pGreenFire1-CMV as positive transduction control (plasmid) | TR011PA-1-SBI | 10 ug | 686 € | DETAILS | Add to Cart |
| Reporter Vector pGeenfire 2.0 for Estrogen response element (ERE): reporter plasmid (pGF2-ERE-rFluc-T2A-GFP-mPGK-Puro) | TR455PA-P-SBI | 10 ug | 808 € | DETAILS | Add to Cart |
| pGreenFire1-CMV as positive transduction control (pre-packaged) | TR011VA-1-GVO-SBI | >2 x 10^6 IFUs | 830 € | DETAILS | Add to Cart |
| Reporter Vector pGeenfire 2.0 for Estrogen response element (ERE): reporter virus (pGF2-ERE-rFluc-T2A-GFP-mPGK-Puro) | TR455VA-P-GVO-SBI | >2 x 10^6 IFUs | 808 € | DETAILS | Add to Cart |
| pGreenFire1 Control Pack- pGreenFire negative and positive control plasmids, only available with purchase of other pGF reporters | TR000PA-1-SBI | 10 ug each | 488 € | DETAILS | Add to Cart |
| Reporter Vector pGeenfire 2.0 for HIF-1: reporter plasmid (pGF2-HIF1-rFluc-T2A-GFP-mPGK-Puro) | TR426PA-P-SBI | 10 ug | 808 € | DETAILS | Add to Cart |
| Reporter Vector pGeenfire 2.0 for HIF-1: reporter virus (pGF2-HIF1-rFluc-T2A-GFP-mPGK-Puro) | TR426VA-P-GVO-SBI | >2 x 10^6 IFUs | 808 € | DETAILS | Add to Cart |
| Reporter Vector pGeenfire 2.0 for NFAT: reporter plasmid (pGF2-NFAT-rFluc-T2A-GFP-mPGK-Puro) | TR451PA-P-SBI | 10 ug | 808 € | DETAILS | Add to Cart |
| Reporter Vector pGeenfire 2.0 for NFAT: reporter virus (pGF2-NFAT-rFluc-T2A-GFP-mPGK-Puro) | TR451VA-P-GVO-SBI | >2 x 10^6 IFUs | 808 € | DETAILS | Add to Cart |
| Reporter Vector pGeenfire 2.0 for NFkB: reporter plasmid (pGF2-NF?B-rFluc-T2A-GFP-mPGK-Puro) | TR412PA-P-SBI | 10 ug | 808 € | DETAILS | Add to Cart |
| Reporter Vector pGeenfire 2.0 for NFkB: reporter virus (pGF2-NF?B-rFluc-T2A-GFP-mPGK-Puro) | TR412VA-P-GVO-SBI | >2 x 10^6 IFUs | 808 € | DETAILS | Add to Cart |
| Reporter Vector pGeenfire 2.0 for TCF/LEF: reporter plasmid (pGF2-TCF/LEF-rFluc-T2A-GFP-mPGK-Puro) | TR413PA-P-SBI | 10 ug | 808 € | DETAILS | Add to Cart |
| Reporter Vector pGeenfire 2.0 for TCF/LEF: reporter virus (pGF2-TCF/LEF-rFluc-T2A-GFP-mPGK-Puro) | TR413VA-P-GVO-SBI | >2 x 10^6 IFUs | 808 € | DETAILS | Add to Cart |
| Reporter Vector for c-Jun: GreenFire1-c-Jun (plasmid) | TR033PA-1-SBI | 10 ug | 830 € | DETAILS | Add to Cart |
| Reporter Vector for c-Jun: GreenFire1-c-Jun with EF1-Neo (plasmid) | TR033PA-N-SBI | 10 ug | 830 € | DETAILS | Add to Cart |
| Reporter Vector for c-Jun: GreenFire1-c-Jun with EF1-Puro (plasmid) | TR033PA-P-SBI | 10 ug | 830 € | DETAILS | Add to Cart |
| Reporter Vector for c-Jun: pGreenFire1-c-Jun (pre-packaged) | TR033VA-1-GVO-SBI | >2 x 10^6 IFUs | 830 € | DETAILS | Add to Cart |
| Reporter Vector for c-Jun: pGreenFire1-c-Jun with EF1-Neo (pre-packaged) | TR033VA-N-GVO-SBI | >2 x 10^6 IFUs | 830 € | DETAILS | Add to Cart |
| Reporter Vector for c-Jun: pGreenFire1-c-Jun with EF1-Puro (pre-packaged) | TR033VA-P-GVO-SBI | >2 x 10^6 IFUs | 830 € | DETAILS | Add to Cart |
| Reporter Vector for C/EBP: pGreenFire1-C/EBPalpha (plasmid) | TR040PA-1-SBI | 10 ug | 830 € | DETAILS | Add to Cart |
| Reporter Vector for C/EBP: pGreenFire1-C/EBPalpha (pre-packaged) | TR040VA-1-GVO-SBI | >2 x 10^6 IFUs | 830 € | DETAILS | Add to Cart |
| Reporter Vector for C/EBP: pGreenFire1-C/EBPalpha with EF1-Neo (plasmid) | TR040PA-N-SBI | 10 ug | 830 € | DETAILS | Add to Cart |
| Reporter Vector for C/EBP: pGreenFire1-C/EBPalpha with EF1-Neo (pre-packaged) | TR040VA-N-GVO-SBI | >2 x 10^6 IFUs | 830 € | DETAILS | Add to Cart |
| Reporter Vector for C/EBP: pGreenFire1-C/EBPalpha with EF1-Puro (plasmid) | TR040PA-P-SBI | 10 ug | 830 € | DETAILS | Add to Cart |
| Reporter Vector for C/EBP: pGreenFire1-C/EBPalpha with EF1-Puro (pre-packaged) | TR040VA-P-GVO-SBI | >2 x 10^6 IFUs | 830 € | DETAILS | Add to Cart |
| Reporter Vector for GAL4: pGreenFire1-Gal4 (plasmid) | TR017PA-1-SBI | 10 ug | 830 € | DETAILS | Add to Cart |
| Reporter Vector for GAL4: pGreenFire1-Gal4 (pre-packaged) | TR017VA-1-GVO-SBI | >2 x 10^6 IFUs | 830 € | DETAILS | Add to Cart |
| Reporter Vector for GAL4: pGreenFire1-Gal4 with EF1-Neo (plasmid) | TR017PA-N-SBI | 10 ug | 830 € | DETAILS | Add to Cart |
| Reporter Vector for GAL4: pGreenFire1-Gal4 with EF1-Neo (pre-packaged) | TR017VA-N-GVO-SBI | >2 x 10^6 IFUs | 830 € | DETAILS | Add to Cart |
| Reporter Vector for GAL4: pGreenFire1-Gal4 with EF1-Puro (plasmid) | TR017PA-P-SBI | 10 ug | 830 € | DETAILS | Add to Cart |
| Reporter Vector for GAL4: pGreenFire1-Gal4 with EF1-Puro (pre-packaged) | TR017VA-P-GVO-SBI | >2 x 10^6 IFUs | 830 € | DETAILS | Add to Cart |
| Reporter Vector for GAS: pGreenFire1-GAS (plasmid) | TR027PA-1-SBI | 10 ug | 830 € | DETAILS | Add to Cart |
| Reporter Vector for GAS: pGreenFire1-GAS (pre-packaged) | TR027VA-1-GVO-SBI | >2 x 10^6 IFUs | 830 € | DETAILS | Add to Cart |
| Reporter Vector for GAS: pGreenFire1-GAS with EF1-Neo (plasmid) | TR027PA-N-SBI | 10 ug | 830 € | DETAILS | Add to Cart |
| Reporter Vector for GAS: pGreenFire1-GAS with EF1-Neo (pre-packaged) | TR027VA-N-GVO-SBI | >2 x 10^6 IFUs | 830 € | DETAILS | Add to Cart |
| Reporter Vector for GAS: pGreenFire1-GAS with EF1-Puro (plasmid) | TR027PA-P-SBI | 10 ug | 830 € | DETAILS | Add to Cart |
| Reporter Vector for GAS: pGreenFire1-GAS with EF1-Puro (pre-packaged) | TR027VA-P-GVO-SBI | >2 x 10^6 IFUs | 830 € | DETAILS | Add to Cart |
| Reporter Vector for Gli: pGreenFire1-Gli with EF1-Neo (plasmid) | TR050PA-N-SBI | 10 ug | 830 € | DETAILS | Add to Cart |