Gel Shift Assays (EMSA) from Signosis
• No isotope required - sensitive HRP based chemiluminescent detection
• No probe preparation - biotin pre-labeled probes included in the kit
• Simple procedure – simple and straightforward assay
Transcription factors (TFs) are a group of cellular proteins that control gene expression. Once a TF is activated, it binds to its corresponding cis-element within promoter regions and mediates its target gene expression. Electrophoretic Mobility Shift Assay (EMSA) is a commonly used method for monitoring the activation of a TF in vitro.
Signosis´TF consensus sequences have been carefully selected based on well-known publications. They are used as biotinylated probe for detecting TF activity in human, mouse and rat nuclear extract samples. Each Signosis EMSA Kit is a ready to go kit including all reagents including the pre-labeled probe set as well as transfer membranes.
When the TF of interest is activated, it binds to the biotin-labeled probe, which is designed based on the consensus sequence of the TF binding. When the formed complex is subject to electrophoresis, it runs slower than the free probe, which can be easily distinguished. Two or more samples can be compared by the shift assays and quantitative differences can be determined by the density of the shifted band.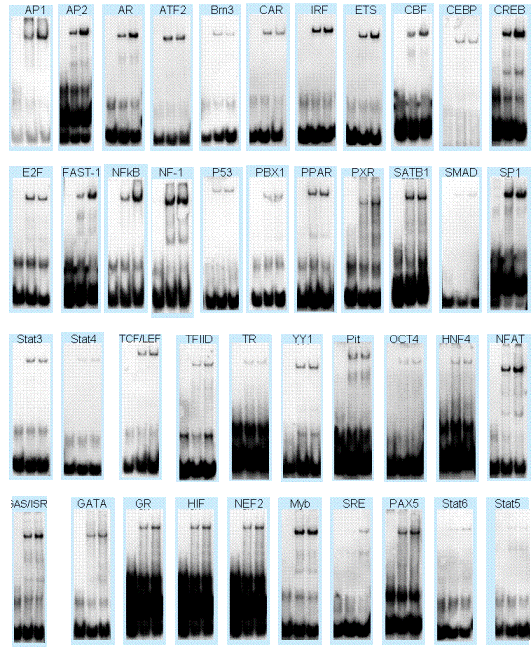 EMSA assays of nuclear extracts of HeLa control and PMA-treated HeLa.
Lane1: Probe only; Lane: 2 HeLa; Lane 3: PMA-treated HeLa
---
Related Links
User Manual
Nuclear Extraction Kit

| Description | Cat# | Size | Price | | |
| --- | --- | --- | --- | --- | --- |
| EMSA Kit - Gel Shift Kit without probe | GS-0000-SO | 30 rxns | 464 € | DETAILS | Add to Cart |
| AP1 EMSA Kit - Gel Shift Kit for AP1 protein (JUN/FOS) | GS-0001-SO | 30 rxns | 484 € | DETAILS | Add to Cart |
| AP2 EMSA Kit - Gel Shift Kit for AP2 protein | GS-0002-SO | 30 rxns | 484 € | DETAILS | Add to Cart |
| AP3 EMSA Kit - Gel Shift Kit for AP3 protein | GS-0082-SO | 30 rxns | 484 € | DETAILS | Add to Cart |
| AP4 EMSA Kit - Gel Shift Kit for AP4 protein | GS-0083-SO | 30 rxns | 484 € | DETAILS | Add to Cart |
| AR EMSA Kit - Gel Shift Kit for Androgen receptor | GS-0003-SO | 30 rxns | 484 € | DETAILS | Add to Cart |
| ATF2 EMSA Kit - Gel Shift Kit for Activating transcription factor 2 | GS-0004-SO | 30 rxns | 484 € | DETAILS | Add to Cart |
| Brn-3 EMSA Kit - Gel Shift Kit for POU domain, class 4, transcription factor 1 | GS-0005-SO | 30 rxns | 484 € | DETAILS | Add to Cart |
| C/EBP EMSA Kit - Gel Shift Kit for CCAAT/enhancer binding protein (C/EBP),alpha | GS-0006-SO | 30 rxns | 484 € | DETAILS | Add to Cart |
| CAR EMSA Kit - Gel Shift Kit for Nuclear receptor subfamily 1, group I, member 3 | GS-0007-SO | 30 rxns | 484 € | DETAILS | Add to Cart |
| CBF EMSA Kit - Gel Shift Kit for CCAAT/enhancer binding protein (C/EBP), zeta | GS-0008-SO | 30 rxns | 484 € | DETAILS | Add to Cart |
| CDP EMSA Kit - Gel Shift Kit for Cut-like homeobox 1, CCAAT displacement protein | GS-0009-SO | 30 rxns | 484 € | DETAILS | Add to Cart |
| COUP-TF EMSA Kit - Gel Shift Kit for Nuclear receptor subfamily 2, group F, member 1 | GS-0084-SO | 30 rxns | 484 € | DETAILS | Add to Cart |
| CREB EMSA Kit - Gel Shift Kit for cAMP responsive element binding protein 1 | GS-0010-SO | 30 rxns | 484 € | DETAILS | Add to Cart |
| E2F-1 EMSA Kit - Gel Shift Kit for E2F transcription factor 1 | GS-0011-SO | 30 rxns | 484 € | DETAILS | Add to Cart |
| EGR EMSA Kit - Gel Shift Kit for Early growth response | GS-0012-SO | 30 rxns | 484 € | DETAILS | Add to Cart |
| ELK EMSA Kit - Gel Shift Kit for Member of ETS oncogene family | GS-0013-SO | 30 rxns | 484 € | DETAILS | Add to Cart |
| ER EMSA Kit - Gel Shift Kit for Estrogen receptor | GS-0014-SO | 30 rxns | 484 € | DETAILS | Add to Cart |
| Ets EMSA Kit - Gel Shift Kit for V-ets erythroblastosis virus E26 oncogene homolog 1 | GS-0015-SO | 30 rxns | 484 € | DETAILS | Add to Cart |
| FAST-1(FOXH1) EMSA Kit - Gel Shift Kit for Forkhead box H1 | GS-0016-SO | 30 rxns | 484 € | DETAILS | Add to Cart |
| FOXA1 EMSA Kit - Gel Shift Kit for Homeobox A1 | GS-0063-SO | 30 rxns | 484 € | DETAILS | Add to Cart |
| FoxC1 EMSA Kit - Gel Shift Kit for Homeobox C1 | GS-0062-SO | 30 rxns | 484 € | DETAILS | Add to Cart |
| FOXD3 EMSA Kit - Gel Shift Kit for Forkhead box D3 | GS-0055-SO | 30 rxns | 484 € | DETAILS | Add to Cart |
| FOXG1 EMSA Kit - Gel Shift Kit for FOXbox G1 | GS-0076-SO | 30 rxns | 484 € | DETAILS | Add to Cart |
| FOXO1 (FKHR) EMSA Kit - Gel Shift Kit for FOXbox O1 | GS-0075-SO | 30 rxns | 484 € | DETAILS | Add to Cart |
| FREAC-2 (FOXF2) EMSA Kit - Gel Shift Kit for Forkhead-related activator 2 | GS-0095-SO | 30 rxns | 484 € | DETAILS | Add to Cart |
| GAS/ISRE EMSA Kit - Gel Shift Kit for IFN-stimulated response element | GS-0017-SO | 30 rxns | 484 € | DETAILS | Add to Cart |
| GATA EMSA Kit - Gel Shift Kit for GATA transcription factor | GS-0018-SO | 30 rxns | 484 € | DETAILS | Add to Cart |
| Gfi-1 EMSA Kit - Gel Shift Kit for Growth factor independent 1 | GS-0077-SO | 30 rxns | 484 € | DETAILS | Add to Cart |
| Gli-1 EMSA Kit - Gel Shift Kit for GLI zinc finger transcription factor | GS-0072-SO | 30 rxns | 484 € | DETAILS | Add to Cart |
| GR/PR EMSA Kit - Gel Shift Kit for Glucocorticoid receptor | GS-0019-SO | 30 rxns | 484 € | DETAILS | Add to Cart |
| HEN(NSCL-1) EMSA Kit - Gel Shift Kit for Helix-loop-helix protein 1 | GS-0094-SO | 30 rxns | 484 € | DETAILS | Add to Cart |
| HIF1 EMSA Kit - Gel Shift Kit for Hypoxia inducible factor | GS-0021-SO | 30 rxns | 484 € | DETAILS | Add to Cart |
| HNF-1 EMSA Kit - Gel Shift Kit for Hepatocyte Nuclear Factor 1 | GS-0093-SO | 30 rxns | 484 € | DETAILS | Add to Cart |
| HNF-4 EMSA Kit - Gel Shift Kit for Hepatocyte nuclear factor 4 | GS-0022-SO | 30 rxns | 484 € | DETAILS | Add to Cart |
| HOX4C EMSA Kit - Gel Shift Kit for HOX4C homobox | GS-0085-SO | 30 rxns | 484 € | DETAILS | Add to Cart |
| HOXA-5 EMSA Kit - Gel Shift Kit for Homeobox A5 | GS-0061-SO | 30 rxns | 484 € | DETAILS | Add to Cart |
| HSF EMSA Kit - Gel Shift Kit for Heat shock transcription factor 1 | GS-0054-SO | 30 rxns | 484 € | DETAILS | Add to Cart |
| IRF EMSA Kit - Gel Shift Kit for Interferon regulatory factor | GS-0023-SO | 30 rxns | 484 € | DETAILS | Add to Cart |
| KLF4 EMSA Kit - Gel Shift Kit for Kruppel-like factor 4 | GS-0090-SO | 30 rxns | 484 € | DETAILS | Add to Cart |
| MEF2 EMSA Kit - Gel Shift Kit for Myocyte enhancer factor 2 | GS-0024-SO | 30 rxns | 484 € | DETAILS | Add to Cart |
| Myb EMSA Kit - Gel Shift Kit for V-myb myeloblastosis viral oncogene homolog | GS-0025-SO | 30 rxns | 484 € | DETAILS | Add to Cart |
| Myc-Max EMSA Kit - Gel Shift Kit for V-myc myelocytomatosis viral oncogene | GS-0026-SO | 30 rxns | 484 € | DETAILS | Add to Cart |
| MyoD EMSA Kit - Gel Shift Kit for Myogenic differentiation 1 | GS-0064-SO | 30 rxns | 484 € | DETAILS | Add to Cart |
| MZF EMSA Kit - Gel Shift Kit for Zinc finger type transcription factor MZF | GS-0086-SO | 30 rxns | 484 € | DETAILS | Add to Cart |
| NF-1 EMSA Kit - Gel Shift Kit for Nuclear factor 1 | GS-0027-SO | 30 rxns | 484 € | DETAILS | Add to Cart |
| NF-E2 EMSA Kit - Gel Shift Kit for Nuclear factor (erythroid-derived 2) | GS-0029-SO | 30 rxns | 484 € | DETAILS | Add to Cart |
| NFAT EMSA Kit - Gel Shift Kit for Nuclear factor of activated T-cells | GS-0028-SO | 30 rxns | 484 € | DETAILS | Add to Cart |
| NFkB EMSA Kit - Gel Shift Kit for Nuclear factor of kappa light polypeptide gene | GS-0030-SO | 30 rxns | 484 € | DETAILS | Add to Cart |
| Nkx2-5 EMSA Kit - Gel Shift Kit for Homeobox protein Nkx-2.5 | GS-0065-SO | 30 rxns | 484 € | DETAILS | Add to Cart |