Protein Extraction Kits (Spin Column based)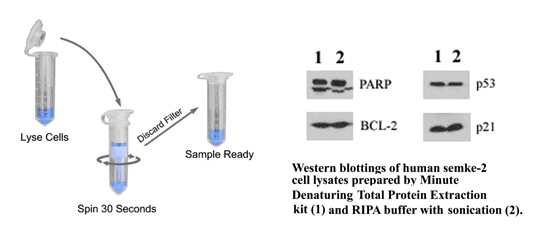 The Minute™ series of patented protein extraction kits developed by Invent
Biotechnologies, Inc. are excellent tools for rapid and easy protein extraction/isolation
from a variety of species including but not limited to mammalian, marine animals, insects, plants
and bacteria.
Super-rapid and easy protocol
Spin column format:
No sonication and freeze-thaw cycles
Wide range of volumes: 20 µl to 500 µl
High protein yield>: 2-4 mg/ml
Full range of protein representation
Tested for suspension and adherent cells as
well as tissue samples
Unlike any other protein extraction kit in the market, these next generation protein extraction kits employ optimized buffer systems coupled with state of the art proprietary filter cartridge technologies (spin column) for total protein extraction, cell fractionation, and membrane protein isolation. The kits offer numerous advantages over other competing products in terms of speed, ease of use and performance.
The Minute™ Applications:
• Protein trafficking/translocation
• Protein-protein interaction
• Protein modification
• Signal transduction
• Daily protein analysis