Quantibody Arrays (Glass Based) including Standards
20% OFF*

Quantibody Arrays until 31 July 2019

*Not valid for high-density Quantibody Arrays

• Glass-based antibody arrays with cytokine standards included

• High specificity and reproducibility

• Similar detection sensitivity as ELISA

• Less than 50 µl sample required

• Up to 40 cytokines per array and 16 arrays per slide

• High-throughput compatible

• Customized Arrays available

•

RayBio Quantibody Array Target Lists

•

Array Picker - Antibody Array Selection Tool Quantify up to 1,000 cytokines in one experiment

Quantibody array is an array-based multiplex sandwich ELISA system for simultaneous quantitative measurement the concentration of multiple cytokines in serum, plasma, CSF, cell lysate, conditioned media and other body fluid. It combines the advantages of the high detection specificity / sensitivity of ELISA and the high throughput of the arrays. Like a traditional sandwich-based ELISA, it uses a pair of cytokine-specific antibodies for detection. A capture antibody is first bound to the glass surface. After incubation with the sample, the target cytokine is trapped on the solid surface.

A second biotin-labeled detection antibody is then added, which can recognize a different isotope of the target cytokine. The cytokine-antibody-biotin complex can then be visualized through the addition of the streptavidin-labeled fluorescent dye using a laser scanner. Unlike the traditional ELISA, Quantibody products use array format. By arraying multiple cytokine specific capture antibodies onto a glass support, multiplex detection of cytokines in one experiment is made possible.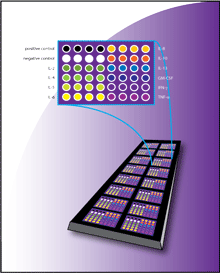 In detail, one standard glass slide is spotted with 16 wells of identical cytokine antibody arrays. Each antibody, together with the positive and negative control is arrayed in quadruplicate. The slide comes with a holder that includes a 16-well removable gasket that allows for the processing of up to 16 samples on one slide. Four slide holders can be nested into a tray, which matches a standard microplate and allows for automated robotic high-throughput process of 64 arrays simultaneously.
For cytokine quantification, the array specific cytokine standards, whose concentration has been predetermined, are provided to generate a five-point standard curve of each cytokine. In a real experiment, standard cytokines and samples will be assayed in each array simultaneously through a sandwich ELISA procedure. By comparing signals from unknown samples to the standard curve, the unknown cytokine concentration in the samples will be determined.
Analysis Software Tool
The Q-Analyzer®, a software tool created specifically for the Quantibody array, will plot the standard curve for each analyte in addition to performing background subtraction/normalization. After imaging the slide with a laser scanner and extracting the densitometry values, protein quantification can be performed with virtually any ELISA analysis software. However, the array-specific Q-Analyzer® tool facilitates the process. Instead of tedious calculation of each analyte, the user can rapidly plot all the standard curves simultaneously in both linear regression and log-log models. The program removes outlier spots for greater accuracy, and then outputs the unknown sample concentrations automatically.
Please contact us for more information
---
Related Links
Matching G-Series Multi-sample Antibody Arrays
How many samples can be processed on 1 slide?
Custom Quantibody Array: Let us know the Cytokines of Choice

Description
Cat#
Size
Price
Quantibody Bovine Cytokine Array Q1 (10 antibodies)
QAB-CYT-1-1-RB
8 Sample Kit

Special


381.60 €
DETAILS
Add to Cart
Quantibody Bovine Cytokine Array Q1 (10 antibodies)
QAB-CYT-1-2-RB
22 Sample Kit

Special


679.20 €
DETAILS
Add to Cart
Quantibody Bovine Cytokine Array Q1 (10 antibodies)
QAB-CYT-1-4-RB
50 Sample Kit

Special


1182.40 €
DETAILS
Add to Cart
Quantibody Bovine Cytokine Array Q2 (10 antibodies)
QAB-CYT-2-1-RB
8 Sample Kit

Special


381.60 €
DETAILS
Add to Cart
Quantibody Bovine Cytokine Array Q2 (10 antibodies)
QAB-CYT-2-2-RB
22 Sample Kit

Special


679.20 €
DETAILS
Add to Cart
Quantibody Bovine Cytokine Array Q2 (10 antibodies)
QAB-CYT-2-4-RB
50 Sample Kit

Special


1182.40 €
DETAILS
Add to Cart
Quantibody Bovine Cytokine Array Q3 (10 antibodies)
QAB-CYT-3-1-RB
8 Sample Kit

Special


381.60 €
DETAILS
Add to Cart
Quantibody Bovine Cytokine Array Q3 (10 antibodies)
QAB-CYT-3-2-RB
22 Sample Kit

Special


679.20 €
DETAILS
Add to Cart
Quantibody Bovine Cytokine Array Q3 (10 antibodies)
QAB-CYT-3-4-RB
50 Sample Kit

Special


1182.40 €
DETAILS
Add to Cart
Quantibody Canine Cytokine Array Q1 (10 antibodies)
QAC-CYT-1-1-RB
8 Sample Kit

Special


381.60 €
DETAILS
Add to Cart
Quantibody Canine Cytokine Array Q1 (10 antibodies)
QAC-CYT-1-2-RB
22 Sample Kit

Special


679.20 €
DETAILS
Add to Cart
Quantibody Canine Cytokine Array Q1 (10 antibodies)
QAC-CYT-1-4-RB
50 Sample Kit

Special


1182.40 €
DETAILS
Add to Cart
Quantibody Canine Cytokine Array Q2 (10 antibodies)
QAC-CYT-2-1-RB
8 Sample Kit

Special


381.60 €
DETAILS
Add to Cart
Quantibody Canine Cytokine Array Q2 (10 antibodies)
QAC-CYT-2-2-RB
22 Sample Kit

Special


679.20 €
DETAILS
Add to Cart
Quantibody Canine Cytokine Array Q2 (10 antibodies)
QAC-CYT-2-4-RB
50 Sample Kit

Special


1182.40 €
DETAILS
Add to Cart
Quantibody Canine Cytokine Array Q3 (10 antibodies)
QAC-CYT-3-1-RB
8 Sample Kit

Special


381.60 €
DETAILS
Add to Cart
Quantibody Canine Cytokine Array Q3 (10 antibodies)
QAC-CYT-3-2-RB
22 Sample Kit

Special


679.20 €
DETAILS
Add to Cart
Quantibody Canine Cytokine Array Q3 (10 antibodies)
QAC-CYT-3-4-RB
50 Sample Kit

Special


1182.40 €
DETAILS
Add to Cart
Quantibody Canine Cytokine Array Q4 (10 antibodies)
QAC-CYT-4-1-RB
8 Sample Kit

Special


381.60 €
DETAILS
Add to Cart
Quantibody Canine Cytokine Array Q4 (10 antibodies)
QAC-CYT-4-2-RB
22 Sample Kit

Special


679.20 €
DETAILS
Add to Cart
Quantibody Canine Cytokine Array Q4 (10 antibodies)
QAC-CYT-4-4-RB
50 Sample Kit

Special


1182.40 €
DETAILS
Add to Cart
Quantibody Chicken Cytokine Array Q1 (10 antibodies)
QAG-CYT-1-1-RB
8 Sample Kit

Special


381.60 €
DETAILS
Add to Cart
Quantibody Chicken Cytokine Array Q1 (10 antibodies)
QAG-CYT-1-2-RB
22 Sample Kit

Special


679.20 €
DETAILS
Add to Cart
Quantibody Chicken Cytokine Array Q1 (10 antibodies)
QAG-CYT-1-4-RB
50 Sample Kit

Special


1182.40 €
DETAILS
Add to Cart
Quantibody Cytokine (Ovine) Array Q1
QAO-CYT-1-1-RB
8 Sample Kit

Special


381.60 €
DETAILS
Add to Cart
Quantibody Cytokine (Ovine) Array Q1
QAO-CYT-1-2-RB
22 Sample Kit

Special


679.20 €
DETAILS
Add to Cart
Quantibody Cytokine (Ovine) Array Q1
QAO-CYT-1-4-RB
50 Sample Kit

Special


1182.40 €
DETAILS
Add to Cart
Quantibody Cytokine (Rat) Array Q67
QAR-CAA-67-1-RB
8 Sample Kit
2281 €
DETAILS
Add to Cart
Quantibody Cytokine (Rat) Array Q67
QAR-CAA-67-2-RB
22 Sample Kit
4046 €
DETAILS
Add to Cart
Quantibody Cytokine (Rat) Array Q67
QAR-CAA-67-4-RB
50 Sample Kit
7135 €
DETAILS
Add to Cart
Quantibody Dolphin Cytokine Array Q1 (10 antibodies)
QAD-CYT-1-1-RB
8 Sample Kit

Special


381.60 €
DETAILS
Add to Cart
Quantibody Dolphin Cytokine Array Q1 (10 antibodies)
QAD-CYT-1-2-RB
22 Sample Kit

Special


679.20 €
DETAILS
Add to Cart
Quantibody Dolphin Cytokine Array Q1 (10 antibodies)
QAD-CYT-1-4-RB
50 Sample Kit

Special


1182.40 €
DETAILS
Add to Cart
Quantibody Equine Cytokine Array Q1 (10 antibodies)
QAE-CYT-1-1-RB
8 Sample Kit

Special


381.60 €
DETAILS
Add to Cart
Quantibody Equine Cytokine Array Q1 (10 antibodies)
QAE-CYT-1-2-RB
22 Sample Kit

Special


679.20 €
DETAILS
Add to Cart
Quantibody Equine Cytokine Array Q1 (10 antibodies)
QAE-CYT-1-4-RB
50 Sample Kit

Special


1182.40 €
DETAILS
Add to Cart
Quantibody Feline Cytokine Array Q1 (10 antibodies)
QAF-CYT-1-1-RB
8 Sample Kit

Special


381.60 €
DETAILS
Add to Cart
Quantibody Feline Cytokine Array Q1 (10 antibodies)
QAF-CYT-1-2-RB
22 Sample Kit

Special


679.20 €
DETAILS
Add to Cart
Quantibody Feline Cytokine Array Q1 (10 antibodies)
QAF-CYT-1-4-RB
50 Sample Kit

Special


1182.40 €
DETAILS
Add to Cart
Quantibody Gastric Cancer Human Biomarker Array Q1 (5 antibodies)
QAH-GCB-1-1-RB
8 Sample Kit

Special


206.40 €
DETAILS
Add to Cart
Quantibody Gastric Cancer Human Biomarker Array Q1 (5 antibodies)
QAH-GCB-1-2-RB
22 Sample Kit

Special


345.60 €
DETAILS
Add to Cart
Quantibody Gastric Cancer Human Biomarker Array Q1 (5 antibodies)
QAH-GCB-1-4-RB
50 Sample Kit

Special


609.60 €
DETAILS
Add to Cart
Quantibody Human Adhesion Molecule Array Q1 (17 antibodies)
QAH-CAM-1-1-RB
8 Sample Kit

Special


570.40 €
DETAILS
Add to Cart
Quantibody Human Adhesion Molecule Array Q1 (17 antibodies)
QAH-CAM-1-2-RB
22 Sample Kit

Special


1000.00 €
DETAILS
Add to Cart
Quantibody Human Adhesion Molecule Array Q1 (17 antibodies)
QAH-CAM-1-4-RB
50 Sample Kit

Special


1730.40 €
DETAILS
Add to Cart
Quantibody Human Angiogenesis Array 1000 (2 x 30 antibodies)
QAH-ANG-1000-1-RB
8 Sample Kit

Special


1617.60 €
DETAILS
Add to Cart
Quantibody Human Angiogenesis Array 1000 (2 x 30 antibodies)
QAH-ANG-1000-2-RB
22 Sample Kit

Special


2864.00 €
DETAILS
Add to Cart
Quantibody Human Angiogenesis Array 1000 (2 x 30 antibodies)
QAH-ANG-1000-4-RB
50 Sample Kit

Special


5045.60 €
DETAILS
Add to Cart
Quantibody Human Angiogenesis Array I (10 antibodies)
QAH-ANG-1-1-RB
8 Sample Kit

Special


265.60 €
DETAILS
Add to Cart
Quantibody Human Angiogenesis Array I (10 antibodies)
QAH-ANG-1-2-RB
22 Sample Kit

Special


452.00 €
DETAILS
Add to Cart