Multi-sample Antibody Arrays, glass-based, matching Quantibody Arrays
A new subgroup of G-Series Antibody Arrays developed by RayBiotech is offered. The catalog numbers of these arrays start with ´GS´ and they differ from the classic G-Series Arrays in a few important ways:
• Each capture antibody is printed in quadruplicate instead of duplicate, delivering higher precision.
• The arrays feature the same antibody panels used in Quantibody Arrays, allowing a seamless transition to the quantitative multiplex assay platform.
• All 16 wells are spotted as sub-arrays, delivering easy handling of 16 samples simultaneously while consuming low sample volumes (10 - 100 µl per array).
G-Series Array Priciple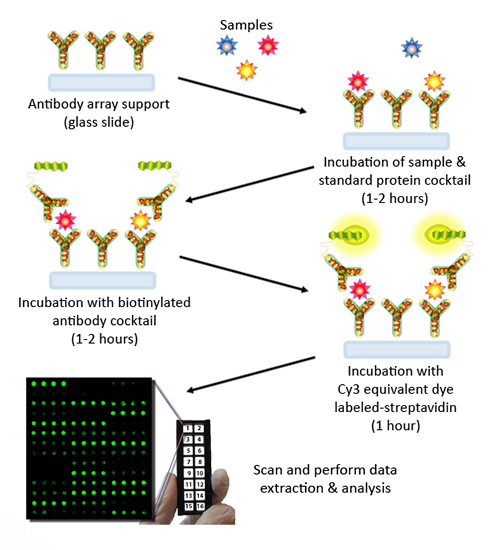 ---
Related Links
| Description | Cat# | Size | Price | | |
| --- | --- | --- | --- | --- | --- |
| Adhesion Molecule (Human) Antibody Array GS1, G Series, semi-quantitative, glass based (17 antibodies) | GSH-CAM-1-1-RB | 16 Sample Kit | 656 € | DETAILS | Add to Cart |
| Adhesion Molecule (Human) Antibody Array GS1, G Series, semi-quantitative, glass based (17 antibodies) | GSH-CAM-1-2-RB | 32 Sample Kit | 1146 € | DETAILS | Add to Cart |
| Adhesion Molecule (Human) Antibody Array GS1, G Series, semi-quantitative, glass based (17 antibodies) | GSH-CAM-1-4-RB | 64 Sample Kit | 1980 € | DETAILS | Add to Cart |
| Angiogenesis (Human) Antibody Array GS1, G Series, semi-quantitative, glass based (10 antibodies) | GSH-ANG-1-1-RB | 16 Sample Kit | 310 € | DETAILS | Add to Cart |
| Angiogenesis (Human) Antibody Array GS1, G Series, semi-quantitative, glass based (10 antibodies) | GSH-ANG-1-2-RB | 32 Sample Kit | 526 € | DETAILS | Add to Cart |
| Angiogenesis (Human) Antibody Array GS1, G Series, semi-quantitative, glass based (10 antibodies) | GSH-ANG-1-4-RB | 64 Sample Kit | 927 € | DETAILS | Add to Cart |
| Angiogenesis (Human) Antibody Array GS1000, G Series, semi-quantitative, glass based (2 x 30 antibodies) | GSH-ANG-1000-1-RB | 16 Sample Kit | 1900 € | DETAILS | Add to Cart |
| Angiogenesis (Human) Antibody Array GS1000, G Series, semi-quantitative, glass based (2 x 30 antibodies) | GSH-ANG-1000-2-RB | 32 Sample Kit | 3358 € | DETAILS | Add to Cart |
| Angiogenesis (Human) Antibody Array GS1000, G Series, semi-quantitative, glass based (2 x 30 antibodies) | GSH-ANG-1000-4-RB | 64 Sample Kit | 5911 € | DETAILS | Add to Cart |
| Angiogenesis (Human) Antibody Array GS2, G Series, semi-quantitative, glass based (30 antibodies) | GSH-ANG-2-1-RB | 16 Sample Kit | 1140 € | DETAILS | Add to Cart |
| Angiogenesis (Human) Antibody Array GS2, G Series, semi-quantitative, glass based (30 antibodies) | GSH-ANG-2-2-RB | 32 Sample Kit | 1990 € | DETAILS | Add to Cart |
| Angiogenesis (Human) Antibody Array GS2, G Series, semi-quantitative, glass based (30 antibodies) | GSH-ANG-2-4-RB | 64 Sample Kit | 3478 € | DETAILS | Add to Cart |
| Angiogenesis (Human) Antibody Array GS3, G Series, semi-quantitative, glass based (30 antibodies) | GSH-ANG-3-1-RB | 16 Sample Kit | 1140 € | DETAILS | Add to Cart |
| Angiogenesis (Human) Antibody Array GS3, G Series, semi-quantitative, glass based (30 antibodies) | GSH-ANG-3-2-RB | 32 Sample Kit | 1990 € | DETAILS | Add to Cart |
| Angiogenesis (Human) Antibody Array GS3, G Series, semi-quantitative, glass based (30 antibodies) | GSH-ANG-3-4-RB | 64 Sample Kit | 3478 € | DETAILS | Add to Cart |
| Bone Metabolism (Human) Antibody Array GS1, G Series, semi-quantitative, glass based (31 antibodies) | GSH-BMA-1-1-RB | 16 Sample Kit | 1175 € | DETAILS | Add to Cart |
| Bone Metabolism (Human) Antibody Array GS1, G Series, semi-quantitative, glass based (31 antibodies) | GSH-BMA-1-2-RB | 32 Sample Kit | 2054 € | DETAILS | Add to Cart |
| Bone Metabolism (Human) Antibody Array GS1, G Series, semi-quantitative, glass based (31 antibodies) | GSH-BMA-1-4-RB | 64 Sample Kit | 3593 € | DETAILS | Add to Cart |
| Bone Metabolism (Human) Antibody Array GS1000, G Series, semi-quantitative, glass based (31 + 10 antibodies) | GSH-BMA-1000-1-RB | 16 Sample Kit | 1322 € | DETAILS | Add to Cart |
| Bone Metabolism (Human) Antibody Array GS1000, G Series, semi-quantitative, glass based (31 + 10 antibodies) | GSH-BMA-1000-2-RB | 32 Sample Kit | 2318 € | DETAILS | Add to Cart |
| Bone Metabolism (Human) Antibody Array GS1000, G Series, semi-quantitative, glass based (31 + 10 antibodies) | GSH-BMA-1000-4-RB | 64 Sample Kit | 4063 € | DETAILS | Add to Cart |
| Bone Metabolism (Human) Antibody Array GS2, G Series, semi-quantitative, glass based (10 antibodies) | GSH-BMA-2-1-RB | 16 Sample Kit | 229 € | DETAILS | Add to Cart |
| Bone Metabolism (Human) Antibody Array GS2, G Series, semi-quantitative, glass based (10 antibodies) | GSH-BMA-2-2-RB | 32 Sample Kit | 381 € | DETAILS | Add to Cart |
| Bone Metabolism (Human) Antibody Array GS2, G Series, semi-quantitative, glass based (10 antibodies) | GSH-BMA-2-4-RB | 64 Sample Kit | 669 € | DETAILS | Add to Cart |
| Cancer (Human) Biomarker Array 1, G Series, semi-quantitative, glass based (18 antibodies) | GSH-CAN-1-1-RB | 16 Sample Kit | 770 € | DETAILS | Add to Cart |
| Cancer (Human) Biomarker Array 1, G Series, semi-quantitative, glass based (18 antibodies) | GSH-CAN-1-2-RB | 32 Sample Kit | 1352 € | DETAILS | Add to Cart |
| Cancer (Human) Biomarker Array 1, G Series, semi-quantitative, glass based (18 antibodies) | GSH-CAN-1-4-RB | 64 Sample Kit | 2344 € | DETAILS | Add to Cart |
| Cancer (Human) Discovery Array GS1 , G Series, semi-quantitative, glass based (20 antibodies) | GSH-CDA-1-1-RB | 16 Sample Kit | 770 € | DETAILS | Add to Cart |
| Cancer (Human) Discovery Array GS1 , G Series, semi-quantitative, glass based (20 antibodies) | GSH-CDA-1-2-RB | 32 Sample Kit | 1352 € | DETAILS | Add to Cart |
| Cancer (Human) Discovery Array GS1 , G Series, semi-quantitative, glass based (20 antibodies) | GSH-CDA-1-4-RB | 64 Sample Kit | 2344 € | DETAILS | Add to Cart |
| Cancer (Human) Discovery Array GS2 , G Series, semi-quantitative, glass based (40 antibodies) | GSH-CDA-2-1-RB | 16 Sample Kit | 1292 € | DETAILS | Add to Cart |
| Cancer (Human) Discovery Array GS2 , G Series, semi-quantitative, glass based (40 antibodies) | GSH-CDA-2-2-RB | 32 Sample Kit | 2263 € | DETAILS | Add to Cart |
| Cancer (Human) Discovery Array GS2 , G Series, semi-quantitative, glass based (40 antibodies) | GSH-CDA-2-4-RB | 64 Sample Kit | 3963 € | DETAILS | Add to Cart |
| Cancer (Human) Discovery Array GS3 , G Series, semi-quantitative, glass based (12 antibodies) | GSH-CDA-3-1-RB | 16 Sample Kit | 443 € | DETAILS | Add to Cart |
| Cancer (Human) Discovery Array GS3 , G Series, semi-quantitative, glass based (12 antibodies) | GSH-CDA-3-2-RB | 32 Sample Kit | 788 € | DETAILS | Add to Cart |
| Cancer (Human) Discovery Array GS3 , G Series, semi-quantitative, glass based (12 antibodies) | GSH-CDA-3-4-RB | 64 Sample Kit | 1364 € | DETAILS | Add to Cart |
| Cancer (Human) Discovery Array GS72 , G Series, semi-quantitative, glass based (72 antibodies) | GSH-CDA-72-1-RB | 16 Sample Kit | 2507 € | DETAILS | Add to Cart |
| Cancer (Human) Discovery Array GS72 , G Series, semi-quantitative, glass based (72 antibodies) | GSH-CDA-72-2-RB | 32 Sample Kit | 4387 € | DETAILS | Add to Cart |
| Cancer (Human) Discovery Array GS72 , G Series, semi-quantitative, glass based (72 antibodies) | GSH-CDA-72-4-RB | 64 Sample Kit | 7739 € | DETAILS | Add to Cart |
| Chemokine (Human) Antibody Array GS1, G Series, semi-quantitative, glass based (40 antibodies) | GSH-CHE-1-1-RB | 16 Sample Kit | 1292 € | DETAILS | Add to Cart |
| Chemokine (Human) Antibody Array GS1, G Series, semi-quantitative, glass based (40 antibodies) | GSH-CHE-1-2-RB | 32 Sample Kit | 2263 € | DETAILS | Add to Cart |
| Chemokine (Human) Antibody Array GS1, G Series, semi-quantitative, glass based (40 antibodies) | GSH-CHE-1-4-RB | 64 Sample Kit | 3963 € | DETAILS | Add to Cart |
| Chemokine (Mouse) Antibody Array GS1, G Series, semi-quantitative, glass based (25 antibodies) | GSM-CHE-1-1-RB | 16 Sample Kit | 962 € | DETAILS | Add to Cart |
| Chemokine (Mouse) Antibody Array GS1, G Series, semi-quantitative, glass based (25 antibodies) | GSM-CHE-1-2-RB | 32 Sample Kit | 1670 € | DETAILS | Add to Cart |
| Chemokine (Mouse) Antibody Array GS1, G Series, semi-quantitative, glass based (25 antibodies) | GSM-CHE-1-4-RB | 64 Sample Kit | 2911 € | DETAILS | Add to Cart |
| Cytokine (Bovine) Antibody Array GS1, G Series, semi-quantitative, glass based (10 antibodies) | GSB-CYT-1-1-RB | 16 Sample Kit | 445 € | DETAILS | Add to Cart |
| Cytokine (Bovine) Antibody Array GS1, G Series, semi-quantitative, glass based (10 antibodies) | GSB-CYT-1-2-RB | 32 Sample Kit | 790 € | DETAILS | Add to Cart |
| Cytokine (Bovine) Antibody Array GS1, G Series, semi-quantitative, glass based (10 antibodies) | GSB-CYT-1-4-RB | 64 Sample Kit | 1373 € | DETAILS | Add to Cart |
| Cytokine (Bovine) Antibody Array GS2, G Series, semi-quantitative, glass based (10 antibodies) | GSB-CYT-2-1-RB | 16 Sample Kit | 445 € | DETAILS | Add to Cart |
| Cytokine (Bovine) Antibody Array GS2, G Series, semi-quantitative, glass based (10 antibodies) | GSB-CYT-2-2-RB | 32 Sample Kit | 790 € | DETAILS | Add to Cart |