Antibody Arrays (Membrane Based) High Density
RayBio® Biotin Label-based Antibody ArraysSimultaneously detect the expression levels of up to 1000 human, 308 mouse or 90 rat proteins in cell culture supernatants
• High detection sensitivity, as low as pg/ml level
• Direct biotin labeling of proteins - no need of antibody pairs
• Accurate and reproducible
• Affordable, quick and simple to use
•
RayBio L-Series Antibody Array Target Lists
•
Array Picker - Antibody Array Selection Tool
Recent technological advances by RayBiotech have enabled the largest commercially available antibody array to date. With the L Series Antibody Array, researchers can now obtain a broad, panoramic view of protein expression in cell culture supernatants.
The expression levels of up to 1000 human, 308 mouse and 90 rat target proteins can be simultaneously detected, including cytokines, chemokines, adipokines, growth factors, angiogenic factors, proteases, soluble receptors, soluble adhesion molecules, and other proteins.
For antibody lists see individual products below.
An internal control is used to monitor the whole process including biotin-labeling.
How it works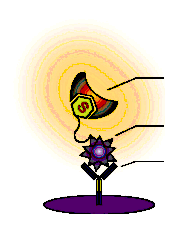 HRP-Streptavidin
Biotinylated sample
Capture antibody
The whole proteins in your sample are labeled by biotinylation of the primary amines. After dialysis the labeled proteins are incubated on the membrane array at room temperature. After incubation with HRP-Strepavidin, the signals can be visualized by chemoluminescence.
Assay Diagram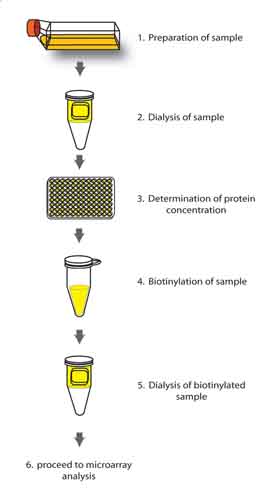 Kit Contents
RayBio® Biotin label-based antibody array membranes
D-Tube Dialyzer and Floating Rack
Biotin Labeling Reagents
Internal control
Stop Solution
HRP-Conjugated Streptavidin
Wash Buffers
Blocking Buffer
Chemoluminescent Substrate (Detection Buffers)
Analysis Software Tool
All RayBio antibody array kits are supported by an Excel-based analysis software tool for the automatic computation of the extracted numerical data obtained from the array image. Features include sorting, averaging, background subtraction, positive control normalization, and histogram graphing for easy visual comparison.
Please contact us for more information
References
1. Profiling of cytokine expression by biotin-labeled-based proteinarrays. Ying Lin, Ruochun Huang, Lipai Chen et al. Proteomics.2003, 3: 1750-1757.
2. Proteomic profiling of the cancer microenvironment by antibody arrays. Vladimir Knezevic, Chidchanok Leethanakul, Verena E. Bichsel et al. Proteomics 2001, 1, 1271–1278.
3. Antibody microarray profiling of human prostate cancer sera: Antibody screening and identification of potential biomarkers. Jeremy C. Miller, Heping Zhou, Joshua Kwekel, Robert Cavalloet al. The, Brian B. Haab. Proteomics. 2003, 3: 56-63.
4. Smad4 signalling in T cells is required for suppression of gastrointestinal cancer. Byung-Gyu Kim, Cuiling Li, WenhuiQiao, Mizuko Mamura, Barbara Kasperczak, Miriam Anver, Lawrence Wolfraim, Suntaek Hong, Elizabeth Mushinski, Michael Potter, Seong-Jin Kim, Xin-Yuan Fu, Chuxia Deng and John J. Letterio. Nature. 2006; Vol 441: 1015.
5. Connexin suppresses human glioblastoma cell growth by down-regulation of monocyte chemotactic protein 1, as discoveredusing protein array technology. Ruochun Huang, Ying Lin, Cheng C. Wang, Jacob Gano, Biaoyang Lin, Qian Shi, AltonBoynton, Jocelyn Burke, and Ruo-Pan Huang. Cancer Res. 2002;62:2806.
6. LPS induces the interaction of a transcription factor, LPS-induced TNF-a factor, and STAT6(B) with effects on multiple cytokines. Xiaoren Tang, Deborah Levy Marciano, Susan E. Leeman and Salomon Amar. PNAS. April 5, 2005 vol. 102 no. 14, 5132-5137.
7. HIV-1-mediated apoptosis of neuronal cells: Proximal molecular mechanisms of HIV-1-induced encephalopathy. Yan Xu, JosephKulkoshy, Roger j. Pomerantz. PNAS. 2004 May 4, 2004 Vol. 101 No. 18.
8. A novel method for high-throughput protein profiling fromconditioned media and patient's sera. Ruo-Pan Huang, RuochunHuang, Yan Fan, and Ying Lin. Ana. Biochem. 2001;294(1):55-62.
| Description | Cat# | Size | Price | | |
| --- | --- | --- | --- | --- | --- |
| Biotin Label Human Antibody Array (L Series) (Membrane-based, 493 antibodies) | AAH-BLM-2B-2-RB | 2 Sample Kit | 1208 € | DETAILS | Add to Cart |
| Biotin Label Human Antibody Array (L Series) (Membrane-based, 493 antibodies) | AAH-BLM-2B-4-RB | 4 Sample Kit | 2055 € | DETAILS | Add to Cart |
| Biotin Label Human Antibody Array I (L Series) (507 antibodies) | AAH-BLM-1B-2-RB | 2 Sample Kit | 1208 € | DETAILS | Add to Cart |
| Biotin Label Human Antibody Array I (L Series) (507 antibodies) | AAH-BLM-1B-4-RB | 4 Sample Kit | 2055 € | DETAILS | Add to Cart |
| Biotin Label Human Antibody Array I for Cell Culture Supernatant (L Series) (507 antibodies) | AAH-BLM-1A-2-RB | 2 Sample Kit | 1208 € | DETAILS | Add to Cart |
| Biotin Label Human Antibody Array I for Cell Culture Supernatant (L Series) (507 antibodies) | AAH-BLM-1A-4-RB | 4 Sample Kit | 2055 € | DETAILS | Add to Cart |
| Biotin Label Human Antibody Array L3 for Cell Culture Supernatant (L Series) (500 antibodies) | AAH-BLM-3A-2-RB | 2 Sample Kit | 1173 € | DETAILS | Add to Cart |
| Biotin Label Human Antibody Array L3 for Cell Culture Supernatant (L Series) (500 antibodies) | AAH-BLM-3A-2-RB | 4 Sample Kit | 1173 € | DETAILS | Add to Cart |
| Biotin Label Human Antibody Array L493 for Cell Culture Supernatant (L Series) (Membrane-based, 493 antibodies) | AAH-BLM-2A-2-RB | 2 Sample Kit | 1208 € | DETAILS | Add to Cart |
| Biotin Label Human Antibody Array L493 for Cell Culture Supernatant (L Series) (Membrane-based, 493 antibodies) | AAH-BLM-2A-4-RB | 4 Sample Kit | 2055 € | DETAILS | Add to Cart |
| Biotin Label Human Cytokine Antibody Array (L Series) (Membrane-based, 1000 antibodies) | AAH-BLM-1000B-2-RB | 2 Sample Kit | 2083 € | DETAILS | Add to Cart |
| Biotin Label Human Cytokine Antibody Array (L Series) (Membrane-based, 1000 antibodies) | AAH-BLM-1000B-4-RB | 4 Sample Kit | 3641 € | DETAILS | Add to Cart |
| Biotin Label Human Cytokine Antibody Array for Cell Culture Supernatant (L Series) (Membrane-based, 1000 antibodies) | AAH-BLM-1000A-2-RB | 2 Sample Kit | 2083 € | DETAILS | Add to Cart |
| Biotin Label Human Cytokine Antibody Array for Cell Culture Supernatant (L Series) (Membrane-based, 1000 antibodies) | AAH-BLM-1000A-4-RB | 4 Sample Kit | 3641 € | DETAILS | Add to Cart |