Antibody Arrays (Membrane Based)
Cytokine Antibody ArraysProfile the expression of multiple cytokines at the protein level
• Simultaneous detection of multiple proteins
• High specificity (sandwich antibody pair used)
• High sensitivity (pg/ml levels)
• No dedicated equipment required; compatible with any chemiluminescent imaging system
• Easy to use, no training required
• Results can be obtained in 1 day
•
RayBio C-Series Antibody Array Target Lists
•
Array Picker - Antibody Array Selection Tool
With Cytokine Antibody Arrays, you can simultaneously detect multiple cytokines from a variety of sources, including serum, conditioned media, plasma, and cell/tissue lysates. While cDNA arrays give information about levels of gene expression, Cytokine Antibody Arrays detect the levels of active secreted cytokine proteins.
We offer Cytokine Antibody Arrays from our partner RayBio. All arrays can be purchased with different numbers of membranes.
Easy-to-use kit format! All Cytokine Antibody Array kits include
- Array membranes
- Biotinylated anti-cytokine antibodies
- Streptavidin-HRP conjugate
- Blocking & wash solutions
- HRP detection reagents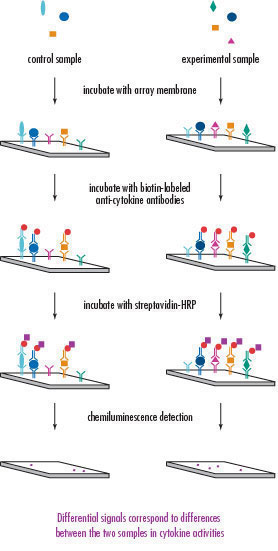 How it works
1) Incubate the sample with the array membrane to permit cytokine binding to the immobilized antibodies on the arrays.
2) Detect the captured cytokines with a mixture of biotin-labeled anti-cytokine antibodies, creating an antibody "sandwich" around the bound cytokines.
3) Visualize active cytokines using streptavidin-HRP. Detection can be performed using chemiluminescence detection with X-ray film or imaging systems. All reagents for HRP-based chemiluminescent detection are included.
On top of a variety of multi cytokine arrays for human, mouse, and rat, theme specific human and mouse antibody arrays are available for the following areas:
Adipokines, angiogenesis, apoptosis, atherosclerosis, inflammation, matrix metallo proteinases, growth factors & chemokines.
For the composition of individual arrays see links below.
Analysis Software Tool
All RayBio antibody array kits are supported by an Excel-based analysis software tool for the automatic computation of the extracted numerical data obtained from the array image. Features include sorting, averaging, background subtraction, positive control normalization, and histogram graphing for easy visual comparison.
Please contact us for more information
Reference
Using the RayBio® Human Cytokine Antibody Array C Series 1000, 18 signaling proteins in blood plasma were identified:
Ray S.
et al.
(2007) Classification and prediction of clinical Alzheimer´s diagnosis based on plasma signaling proteins. Nature Medicine 13: 1359-1362.
---
Related Links
Custom Antibody Array: Let us know the Cytokines of Choice

| Description | Cat# | Size | Price | | |
| --- | --- | --- | --- | --- | --- |
| Acute Kidney Injury (AKI) (Human) C Series Antibody Array 1, membrane based (20 antibodies) | AAH-AKI-1-4-RB | 4 Sample Kit | 699 € | DETAILS | Add to Cart |
| Acute Kidney Injury (AKI) (Human) C Series Antibody Array 1, membrane based (20 antibodies) | AAH-AKI-1-8-RB | 8 Sample Kit | 1079 € | DETAILS | Add to Cart |
| Adipokine (Human) C Series Antibody Array 1, membrane based (62 adipokine antibodies) | AAH-ADI-1-2-RB | 2 Sample Kit | 495 € | DETAILS | Add to Cart |
| Adipokine (Human) C Series Antibody Array 1, membrane based (62 adipokine antibodies) | AAH-ADI-1-4-RB | 4 Sample Kit | 699 € | DETAILS | Add to Cart |
| Adipokine (Human) C Series Antibody Array 1, membrane based (62 adipokine antibodies) | AAH-ADI-1-8-RB | 8 Sample Kit | 1079 € | DETAILS | Add to Cart |
| AKI (Rat) C Series Antibody Array 1, membrane based (7 antibodies) | AAR-AKI-1-2-RB | 2 Sample Kit | 358 € | DETAILS | Add to Cart |
| AKI (Rat) C Series Antibody Array 1, membrane based (7 antibodies) | AAR-AKI-1-4-RB | 4 Sample Kit | 482 € | DETAILS | Add to Cart |
| AKI (Rat) C Series Antibody Array 1, membrane based (7 antibodies) | AAR-AKI-1-8-RB | 8 Sample Kit | 756 € | DETAILS | Add to Cart |
| AKT Pathway Phosphorylation (Human, Mouse) C Series Antibody Array 1, membrane based (18 antibodies) | AAH-AKT-1-2-RB | 2 Sample Kit | 399 € | DETAILS | Add to Cart |
| AKT Pathway Phosphorylation (Human, Mouse) C Series Antibody Array 1, membrane based (18 antibodies) | AAH-AKT-1-4-RB | 4 Sample Kit | 541 € | DETAILS | Add to Cart |
| AKT Pathway Phosphorylation (Human, Mouse) C Series Antibody Array 1, membrane based (18 antibodies) | AAH-AKT-1-8-RB | 8 Sample Kit | 849 € | DETAILS | Add to Cart |
| Angiogenesis (Human) C Series Antibody Array 1, membrane based (20 antibodies) | AAH-ANG-1-2-RB | 2 Sample Kit | 361 € | DETAILS | Add to Cart |
| Angiogenesis (Human) C Series Antibody Array 1, membrane based (20 antibodies) | AAH-ANG-1-4-RB | 4 Sample Kit | 489 € | DETAILS | Add to Cart |
| Angiogenesis (Human) C Series Antibody Array 1, membrane based (20 antibodies) | AAH-ANG-1-8-RB | 8 Sample Kit | 768 € | DETAILS | Add to Cart |
| Angiogenesis (Human) C Series Antibody Array 2, membrane based (23 antibodies) | AAH-ANG-2-2-RB | 2 Sample Kit | 361 € | DETAILS | Add to Cart |
| Angiogenesis (Human) C Series Antibody Array 2, membrane based (23 antibodies) | AAH-ANG-2-4-RB | 4 Sample Kit | 489 € | DETAILS | Add to Cart |
| Angiogenesis (Human) C Series Antibody Array 2, membrane based (23 antibodies) | AAH-ANG-2-8-RB | 8 Sample Kit | 768 € | DETAILS | Add to Cart |
| Angiogenesis (Mouse) C Series Antibody Array 1, membrane based (24 antibodies) | AAM-ANG-1-2-RB | 2 Sample Kit | 428 € | DETAILS | Add to Cart |
| Angiogenesis (Mouse) C Series Antibody Array 1, membrane based (24 antibodies) | AAM-ANG-1-4-RB | 4 Sample Kit | 607 € | DETAILS | Add to Cart |
| Angiogenesis (Mouse) C Series Antibody Array 1, membrane based (24 antibodies) | AAM-ANG-1-8-RB | 8 Sample Kit | 935 € | DETAILS | Add to Cart |
| Angiogenesis Antibody Array (Human) C Series, membrane based (Array 1 and 2) (43 antibodies) | AAH-ANG-1000-2-RB | 2 Sample Kit | 528 € | DETAILS | Add to Cart |
| Angiogenesis Antibody Array (Human) C Series, membrane based (Array 1 and 2) (43 antibodies) | AAH-ANG-1000-4-RB | 4 Sample Kit | 746 € | DETAILS | Add to Cart |
| Angiogenesis Antibody Array (Human) C Series, membrane based (Array 1 and 2) (43 antibodies) | AAH-ANG-1000-8-RB | 8 Sample Kit | 1152 € | DETAILS | Add to Cart |
| Apoptosis (Human) C Series Antibody Array 1, membrane based (43 antibodies) | AAH-APO-1-2-RB | 2 Sample Kit | 419 € | DETAILS | Add to Cart |
| Apoptosis (Human) C Series Antibody Array 1, membrane based (43 antibodies) | AAH-APO-1-4-RB | 4 Sample Kit | 570 € | DETAILS | Add to Cart |
| Apoptosis (Human) C Series Antibody Array 1, membrane based (43 antibodies) | AAH-APO-1-8-RB | 8 Sample Kit | 894 € | DETAILS | Add to Cart |
| Apoptosis (Human) Signaling Array C1 (19 antibodies) | AAH-APOSIG-1-2-RB | 2 Sample Kit | 469 € | DETAILS | Add to Cart |
| Apoptosis (Human) Signaling Array C1 (19 antibodies) | AAH-APOSIG-1-4-RB | 4 Sample Kit | 662 € | DETAILS | Add to Cart |
| Apoptosis (Human) Signaling Array C1 (19 antibodies) | AAH-APOSIG-1-8-RB | 8 Sample Kit | 1021 € | DETAILS | Add to Cart |
| Atherosclerosis (Human) C Series Antibody Array 1, membrane based (20 antibodies) | AAH-ATH-1-2-RB | 2 Sample Kit | 417 € | DETAILS | Add to Cart |
| Atherosclerosis (Human) C Series Antibody Array 1, membrane based (20 antibodies) | AAH-ATH-1-4-RB | 4 Sample Kit | 567 € | DETAILS | Add to Cart |
| Atherosclerosis (Human) C Series Antibody Array 1, membrane based (20 antibodies) | AAH-ATH-1-8-RB | 8 Sample Kit | 890 € | DETAILS | Add to Cart |
| Atherosclerosis (Mouse) C Series Antibody Array 1, membrane based (22 antibodies) | AAM-ATH-1-2-RB | 2 Sample Kit | 495 € | DETAILS | Add to Cart |
| Atherosclerosis (Mouse) C Series Antibody Array 1, membrane based (22 antibodies) | AAM-ATH-1-4-RB | 4 Sample Kit | 699 € | DETAILS | Add to Cart |
| Atherosclerosis (Mouse) C Series Antibody Array I, membrane based (22 antibodies) | AAM-ATH-1-8-RB | 8 Sample Kit | 1079 € | DETAILS | Add to Cart |
| Autophagy (Human) C Series Antibody Array 1, membrane based (20 autophagy antibodies) | AAH-ATG-1-2-RB | 2 Sample Kit | 485 € | DETAILS | Add to Cart |
| Autophagy (Human) C Series Antibody Array 1, membrane based (20 autophagy antibodies) | AAH-ATG-1-4-RB | 4 Sample Kit | 628 € | DETAILS | Add to Cart |
| Autophagy (Human) C Series Antibody Array 1, membrane based (20 autophagy antibodies) | AAH-ATG-1-8-RB | 8 Sample Kit | 852 € | DETAILS | Add to Cart |
| BMP Related Antibody Array 1 (Human) C Series, membrane based (16 antibodies) | AAH-BMP-1-2-RB | 2 Sample Kit | 384 € | DETAILS | Add to Cart |
| BMP Related Antibody Array 1 (Human) C Series, membrane based (16 antibodies) | AAH-BMP-1-4-RB | 4 Sample Kit | 522 € | DETAILS | Add to Cart |
| BMP Related Antibody Array 1 (Human) C Series, membrane based (16 antibodies) | AAH-BMP-1-8-RB | 8 Sample Kit | 820 € | DETAILS | Add to Cart |
| BMP Related Antibody Array 2 (Human) C Series, membrane based (8 antibodies) | AAH-BMP-2-2-RB | 2 Sample Kit | 309 € | DETAILS | Add to Cart |
| BMP Related Antibody Array 2 (Human) C Series, membrane based (8 antibodies) | AAH-BMP-2-4-RB | 4 Sample Kit | 417 € | DETAILS | Add to Cart |
| BMP Related Antibody Array 2 (Human) C Series, membrane based (8 antibodies) | AAH-BMP-2-8-RB | 8 Sample Kit | 654 € | DETAILS | Add to Cart |
| Bovine Chemokine Array C1 | AAB-CHE-1-2-RB | 2 Sample Kit | 416 € | DETAILS | Add to Cart |
| Bovine Chemokine Array C1 | AAB-CHE-1-4-RB | 2 Sample Kit | 530 € | DETAILS | Add to Cart |
| Bovine Chemokine Array C1 | AAB-CHE-1-8-RB | 2 Sample Kit | 760 € | DETAILS | Add to Cart |
| Bovine Cytokine Array C1 | AAB-CYT-1-2-RB | 2 Sample Kit | 555 € | DETAILS | Add to Cart |
| Bovine Cytokine Array C1 | AAB-CYT-1-4-RB | 4 Sample Kit | 724 € | DETAILS | Add to Cart |
| Bovine Cytokine Array C1 | AAB-CYT-1-8-RB | 8 Sample Kit | 1063 € | DETAILS | Add to Cart |