Antibody Arrays (Glass Based) High Density
• High detection sensitivity, as low as pg/ml level
• Direct biotin labeling of proteins - no need of antibody pairs
• Accurate and reproducible
• Affordable, quick and simple to use
•
RayBio L-Series Antibody Array Target Lists
•
Array Picker - Antibody Array Selection Tool
BioCat is pleased to offer High Density Antibody Arrays for screening purposes. Now you can compare the expression levels of up to 1000 proteins in your samples.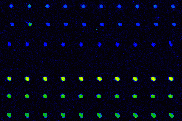 The Full Moon BioSystems Explorer Antibody Array as well as the RayBio High Density Antibody Arrays employ the direct labeling of proteins. The RayBio arrays are suitable for cell culture supernatants and serum proteins, whereas the Full Moon BioSystems Explorer Array can also be used for proteins from other body fluids and lysates from tissues or cells.
Please see individual products for antibody lists and array layout information.
The reagents for the Explorer Array need to be ordered separately (Antibody Array Assay Kit, incl. protein extraction buffers), whereas the RayBio arrays come as complete kits.
Analysis Software Tool
All RayBio antibody array kits are supported by an Excel-based analysis software tool for the automatic computation of the extracted numerical data obtained from the array image. Features include sorting, averaging, background subtraction, positive control normalization, and histogram graphing for easy visual comparison.
Please contact us for more information
| Description | Cat# | Size | Price | | |
| --- | --- | --- | --- | --- | --- |
| Full Moon BioSystems Antibody Array Assay Kit | KAS02-FM | 2 rxns | 458 € | DETAILS | Add to Cart |
| Full Moon BioSystems Antibody Array Assay Kit | KAS20-FM | 20 rxns | 3042 € | DETAILS | Add to Cart |
| Full Moon BioSystems Explorer Antibody Array (656 antibodies in duplicate) | ASB600-FM | 2 slides | 1047 € | DETAILS | Add to Cart |
| Full Moon BioSystems Signaling Explorer Antibody Array (1358 antibodies in duplicate) | SET100-FM | 2 slides | 1729 € | DETAILS | Add to Cart |
| Biotin Label Human Adipokine Antibody Array I, glass based (L Series) (182 antibodies) (RayBio) | AAH-BLG-ADI-1-2-RB | 2 Sample Kit | 690 € | DETAILS | Add to Cart |
| Biotin Label Human Adipokine Antibody Array I, glass based (L Series) (182 antibodies) (RayBio) | AAH-BLG-ADI-1-4-RB | 4 Sample Kit | 1163 € | DETAILS | Add to Cart |
| Biotin Label Human Antibody Array I, glass based (L Series) (507 antibodies) (RayBio) | AAH-BLG-1-4-RB | 4 Sample Kit | 1560 € | DETAILS | Add to Cart |
| Biotin Label Human Antibody Array I, glass based (L Series) (507 antibodies) (RayBio) | AAH-BLG-1-8-RB | 8 Sample Kit | 2746 € | DETAILS | Add to Cart |
| Biotin Label Human Antibody Array II (L Series) (Glass-based, 493 antibodies) (RayBio) | AAH-BLG-2-2-RB | 2 Sample Kit | 908 € | DETAILS | Add to Cart |
| Biotin Label Human Antibody Array II (L Series) (Glass-based, 493 antibodies) (RayBio) | AAH-BLG-2-4-RB | 4 Sample Kit | 1560 € | DETAILS | Add to Cart |
| Biotin Label Human Antibody Array III (L Series) (Glass-based, 500 antibodies) (RayBio) | AAH-BLG-3-4-RB | 4 Sample Kit | 1633 € | DETAILS | Add to Cart |
| Biotin Label Human Antibody Array III (L Series) (Glass-based, 500 antibodies) (RayBio) | AAH-BLG-3-8-RB | 8 Sample Kit | 2818 € | DETAILS | Add to Cart |
| Biotin Label Human Antibody Array IV (L Series) (Glass-based, 500 antibodies) (RayBio) | AAH-BLG-4-4-RB | 4 Sample Kit | 1633 € | DETAILS | Add to Cart |
| Biotin Label Human Antibody Array IV (L Series) (Glass-based, 500 antibodies) (RayBio) | AAH-BLG-4-8-RB | 8 Sample Kit | 2818 € | DETAILS | Add to Cart |
| Biotin Label Human Antibody Array L182 for Cell Culture Supernatant (L Series) (185 antibodies) | AAH-BLM-ADI-1A-2-RB | 2 Sample Kit | 970 € | DETAILS | Add to Cart |
| Biotin Label Human Antibody Array L182 for Cell Culture Supernatant (L Series) (185 antibodies) | AAH-BLM-ADI-1A-4-RB | 4 Sample Kit | 1485 € | DETAILS | Add to Cart |
| Biotin Label Human Antibody Array L182 for Serum, Plasma and Lysates (L Series) (185 antibodies) | AAH-BLM-ADI-1B-2-RB | 2 Sample Kit | 970 € | DETAILS | Add to Cart |
| Biotin Label Human Antibody Array L182 for Serum, Plasma and Lysates (L Series) (185 antibodies) | AAH-BLM-ADI-1B-4-RB | 4 Sample Kit | 1485 € | DETAILS | Add to Cart |
| Biotin Label Human Antibody Array L3 for Cell Culture Supernatant (L Series) (500 antibodies) | AAH-BLM-3A-4-RB | 4 Sample Kit | 2052 € | DETAILS | Add to Cart |
| Biotin Label Human Antibody Array L3 for Serum, Plasma and Lysates (L Series) (500 antibodies) | AAH-BLM-3B-2-RB | 2 Sample Kit | 1173 € | DETAILS | Add to Cart |
| Biotin Label Human Antibody Array L3 for Serum, Plasma and Lysates (L Series) (500 antibodies) | AAH-BLM-3B-4-RB | 4 Sample Kit | 2052 € | DETAILS | Add to Cart |
| Biotin Label Human Antibody Array L4 for Cell Culture Supernatant (L Series) (500 antibodies) | AAH-BLM-4A-2-RB | 2 Sample Kit | 1173 € | DETAILS | Add to Cart |
| Biotin Label Human Antibody Array L4 for Cell Culture Supernatant (L Series) (500 antibodies) | AAH-BLM-4A-4-RB | 4 Sample Kit | 2052 € | DETAILS | Add to Cart |
| Biotin Label Human Antibody Array L4 for Serum, Plasma and Lysates (L Series) (500 antibodies) | AAH-BLM-4B-2-RB | 2 Sample Kit | 1173 € | DETAILS | Add to Cart |
| Biotin Label Human Antibody Array L4 for Serum, Plasma and Lysates (L Series) (500 antibodies) | AAH-BLM-4B-4-RB | 4 Sample Kit | 1931 € | DETAILS | Add to Cart |
| Biotin Label Human Cytokine Antibody Array (L Series) (Glass-based, 1000 antibodies) (RayBio) | AAH-BLG-1000-4-RB | 4 Sample Kit | 2743 € | DETAILS | Add to Cart |
| Biotin Label Human Cytokine Antibody Array (L Series) (Glass-based, 1000 antibodies) (RayBio) | AAH-BLG-1000-8-RB | 8 Sample Kit | 4874 € | DETAILS | Add to Cart |
| Biotin Label Human Cytokine Antibody Array (L Series) (Glass-based, 1308 antibodies) (RayBio) | AAM-BLG-1308-4-RB | 4 Sample Kit | 3257 € | DETAILS | Add to Cart |
| Biotin Label Human Cytokine Antibody Array (L Series) (Glass-based, 1308 antibodies) (RayBio) | AAM-BLG-1308-8-RB | 8 Sample Kit | 5741 € | DETAILS | Add to Cart |
| Biotin Label Human Cytokine Antibody Array (L Series) (Glass-based, 2000 antibodies) (RayBio) | AAH-BLG-2000-4-RB | 4 Sample Kit | 4951 € | DETAILS | Add to Cart |
| Biotin Label Human Cytokine Antibody Array (L Series) (Glass-based, 2000 antibodies) (RayBio) | AAH-BLG-2000-8-RB | 8 Sample Kit | 8789 € | DETAILS | Add to Cart |
| Biotin Label Human Cytokine Antibody Array for Cell Culture Supernatant (L Series) (Membrane-based, 2000 antibodies) | AAH-BLM-2000A-2-RB | 2 Sample Kit | 3560 € | DETAILS | Add to Cart |
| Biotin Label Human Cytokine Antibody Array for Cell Culture Supernatant (L Series) (Membrane-based, 2000 antibodies) | AAH-BLM-2000A-4-RB | 4 Sample Kit | 6286 € | DETAILS | Add to Cart |
| Biotin Label Human Cytokine Antibody Array for Serum, Plasma and Lysates (L Series) (Membrane-based, 2000 antibodies) | AAH-BLM-2000B-2-RB | 2 Sample Kit | 3560 € | DETAILS | Add to Cart |
| Biotin Label Human Cytokine Antibody Array for Serum, Plasma and Lysates (L Series) (Membrane-based, 2000 antibodies) | AAH-BLM-2000B-4-RB | 4 Sample Kit | 6286 € | DETAILS | Add to Cart |
| Biotin Label Mouse Antibody Array L1 for Cell Culture Supernatant (L Series) (308 antibodies) | AAM-BLM-1A-2-RB | 2 Sample Kit | 1041 € | DETAILS | Add to Cart |
| Biotin Label Mouse Antibody Array L1 for Cell Culture Supernatant (L Series) (308 antibodies) | AAM-BLM-1A-4-RB | 4 Sample Kit | 1763 € | DETAILS | Add to Cart |
| Biotin Label Mouse Antibody Array L1 for Serum, Plasma and Lysates (L Series) (308 antibodies) | AAM-BLM-1B-2-RB | 2 Sample Kit | 1041 € | DETAILS | Add to Cart |
| Biotin Label Mouse Antibody Array L1 for Serum, Plasma and Lysates (L Series) (308 antibodies) | AAM-BLM-1B-4-RB | 4 Sample Kit | 1763 € | DETAILS | Add to Cart |
| Biotin Label Mouse Antibody Array I, glass based (L Series) (308 antibodies) (RayBio) | AAM-BLG-1-4-RB | 4 Sample Kit | 1315 € | DETAILS | Add to Cart |
| Biotin Label Mouse Antibody Array I, glass based (L Series) (308 antibodies) (RayBio) | AAM-BLG-1-8-RB | 8 Sample Kit | 2315 € | DETAILS | Add to Cart |
| Biotin Label Mouse Antibody Array II, glass based (L Series) (500 antibodies) (RayBio) | AAM-BLG-2-4-RB | 4 Sample Kit | 1622 € | DETAILS | Add to Cart |
| Biotin Label Mouse Antibody Array II, glass based (L Series) (500 antibodies) (RayBio) | AAM-BLG-2-8-RB | 8 Sample Kit | 2859 € | DETAILS | Add to Cart |
| Biotin Label Mouse Antibody Array III, glass based (L Series) (500 antibodies) (RayBio) | AAM-BLG-3-4-RB | 4 Sample Kit | 1622 € | DETAILS | Add to Cart |
| Biotin Label Mouse Antibody Array III, glass based (L Series) (500 antibodies) (RayBio) | AAM-BLG-3-8-RB | 8 Sample Kit | 2859 € | DETAILS | Add to Cart |
| Biotin Label Rat Antibody Array L1 for Cell Culture Supernatant (L Series) (90 antibodies) | AAR-BLM-1A-2-RB | 2 Sample Kit | 690 € | DETAILS | Add to Cart |
| Biotin Label Rat Antibody Array L1 for Cell Culture Supernatant (L Series) (90 antibodies) | AAR-BLM-1A-4-RB | 4 Sample Kit | 1163 € | DETAILS | Add to Cart |
| Biotin Label Rat Antibody Array L1 for Serum, Plasma and Lysates (L Series) (90 antibodies) | AAR-BLM-1B-2-RB | 2 Sample Kit | 690 € | DETAILS | Add to Cart |
| Biotin Label Rat Antibody Array L1 for Serum, Plasma and Lysates (L Series) (90 antibodies) | AAR-BLM-1B-4-RB | 4 Sample Kit | 1163 € | DETAILS | Add to Cart |
| Slide Incubation Chamber and Frame for use with RayBio Glass Slide Arrays | AA-FRAME-G16-RB | 1 slide incubation chamber (16 wells) + 1 frame | 55 € | DETAILS | Add to Cart |