Protein Expression Profiling
• Detect up to 656 proteins simultaneously
• Sensitivity and detection range greater than with ELISA
• Quick and adaptable to high-throughput format
Measuring protein expression levels rather than mRNA expression is a much more accurate reflection of active protein levels. BioCat is offering solutions enabling you to examine comparative expression profiles of up to 656 proteins in one experiment using Antibody Array technology.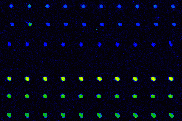 Antibody Arrays
are a cost effective and rapid method for analysis of multiple protein expression levels. Using antibody arrays enables you to rapidly, sensitively, and accurately identify the expression profiles of multiple proteins in several hours.
Glass based as well as membrane based premade antibody arrays are available in medium density for semiquantitative determinations as well as in high density for screening purposes. Quantibody Arrays for accurate protein quantitation are only available on glass.
Customized arrays according to your needs are also available.
For glass based antibody arrays a fluorescence scanner is needed, whereas membrane based antibody arrays do not require any special equipment.