Home
->
Proteomics
-> Protein Concentration, Buffer Exchange, Desalting
Protein Concentration, Buffer Exchange, Desalting
BioCat is pleased to offer new and unique kits for preparing proteins before running downstream proteomic applications including mass spectrometry, SDS-PAGE, isoelectric focusing, x-ray crystallography and NMR spectroscopy.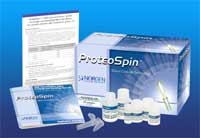 The
ProteoSpin™ Concentration, Buffer Exchange and Desalting Kits (CBED) from Norgen
provide a fast and simple procedure for concentration, buffer exchange and desalting of protein samples.
The kits are based on spin-column chromatography using Norgen's patented protein resin as an ion exchanger. Salts have poor affinities for Norgen's resin and are easily removed from the sample. The elution is performed with choices of several different buffer solutions. Each spin column can process 2 - 50 ug or up to 8 mg of protein from up to 5 mL of solution. A special version of the kit for concentration of urine proteins is also available.