GAT (Genomic Antibody Technology) Antibodies
With DNA immunization and protein antigen produced in vivo, these antibodies are ideal for applications that are sensitive to the epitopes of the target protein.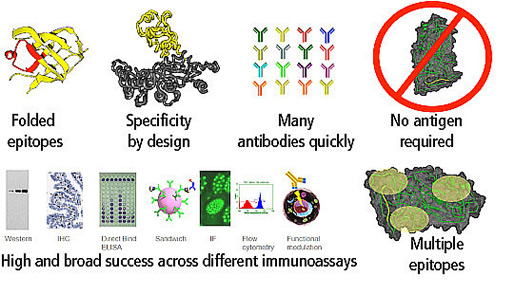 Genomic Antibody Technology® (GAT) offers numerous advantages to your antibody development. We create and use DNA antigens so that you do not need to supply protein or peptide material. Large regions of the target protein are selected allowing for multiple folded epitopes, and allows you to still target regions of interest. This translates into the generation of antibodies with a high and broad success across different immunoassay formats such as sandwich immunoassays and flow cytometry.
Genomic Antibody Technology is a complete process that takes you from protein sequence to the delivery of a purified antibody ready for use.
The Antibody immunization process uses DNA directly introduced into the host animal. The host animal makes the antigen in vivo. DNA immunization bypasses the need to make pure protein and maximizes the likelihood of producing and maintaining native structure.
DNA immunization allows for a greater probability in presenting native epitopes to the immune system. This is because; the antigen is expressed in the natural milieu of the cell conducive for folding, there are molecular chaperones to help fold proteins that have difficulty, and irrecoverable misfolded proteins are eliminated by the normal proteasome pathway.
Genomic Antibody Technology is a highly optimized form of DNA immunization. The successful application of DNA immunization requires the optimization of many diverse steps in order to consistently produce high titer. OriGene has systematically optimized DNA immunization.
---
PDF-Downloads
- Will open in new browser window
Paper Impact of Immunization Technology on AB Performance