Phage Display Techniques
Phage display technology allows expression of foreign peptides and proteins on the surface of filamentous bacteriophages. This methodology is used to identify peptide ligands for a wide variety of targets by screening for the ability to bind with high affinity and specificity. Phage display has become a cornerstone method to investigate molecular interactions involving protein surfaces.
Our partner Antibody Design Labs has developed a robust line of tools and kits to facilitate and streamline antibody development using phage display technology at every stage, including discovery, generation and engineering, see links above.
• Helper Phages
• Phage Vectors
• Phagemid Vectors
• Phage Competent Cells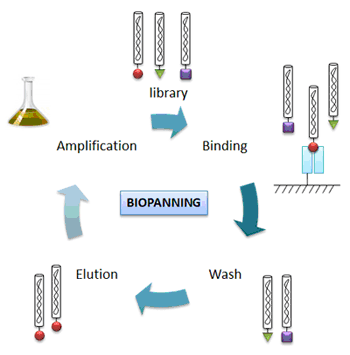 Phage Display Screening
Highest efficiency electrocompetent cells
for the generation of phage display libraries are also offered.
---
Related Links