Peptide Microarrays for Autoimmune Research
Easy to handle PEPperCHIP® microarrays allow the profiling of immune responses in blood sera linked with infection, immunization, autoimmune diseases or cancer in a uniquely flexible and cost-effective manner.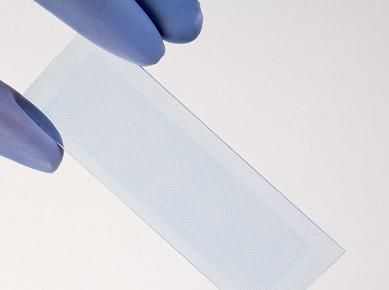 See individual array product details for information about represented antigens and array design
The PEPperCHIP® microarrays are compatible with most microarray scanners like the GenePix, Agilent and Innopsys readers or the Li-COR Odyssey Imaging System. For software-assisted image analysis of peptide microarray data we recommend PepSlide® Analyzer (PSA.001.001-PEP), but GenePix Pro® may also be used.
The PEPperCHIP® Control Staining Kits enable control assays with routinely implemented HA and Flag control peptides (PPC.002.001-PEP and PPC.003.001-PEP, see below).
---
Related Links
Peptide Microarrays feat. Infectious Diseases Antigens
Peptide Microarrays feat. Tumor Antigens
PepSlide® Analyzer Peptide Microarray Analysis Software
Overview Brochure: Peptide Microarrays & Services

| Description | Cat# | Size | Price | | |
| --- | --- | --- | --- | --- | --- |
| PEPperCHIP Lupus Microarray | SPC.043.001-PEP | 1 slide | 475 € | DETAILS | Add to Cart |