Histone Peptide Arrays
Covering 296 single and combinatorial modifications on histone H3, H4, H2A, or H2B
• Examine the selectivity and specificity of histone modification antibodies
• Analyze the specificity of histone binding proteins
• Identify substrates for histone-modifying enzymes
EpiCypher´s EpiTriton™ Histone Peptide Array platform is designed for rapid and high-throughput screening of effector protein, antibody and enzyme interactions with a comprehensive library of combinatorially-modified and biotinylated histone peptides immobilized on a streptavidin-coated glass slide. The peptides encompass 296 unique modifications on the four core histones (H2A, H2B, H3 and H4) and several histone variants. Every EpiTriton™ Histone Peptide Array contains more than 292 histone peptides spotted 18 times each for high quality detection and analysis of antibody or protein binding or enzyme activity. Extensive validation and purification of peptides is performed prior to histone peptide array printing to ensure the highest quality product for your studies.
• Unmatched quality and diversity
• Industry leading reproducibility (each batch controlled by a fluorescent tracer co-spotted with each peptide and performance validated using a histone binding effector protein with a known binding pattern)
• Highly pure modified histone peptides (Quality assured by HPLC and Mass Spec)
• Positive controls for epitope tags and primary antibodies included
• Three subarrays per slide, multichamber gasket for parallel experiments included
• Extensive PTM coverage incl. methylation, acetylation, phosphorylation as well as acyl family modifications (e.g. crotonyl, butyryl etc.)
• Biotinylated peptides also available as individual products
EpiTriton™ Histone Peptide Array Design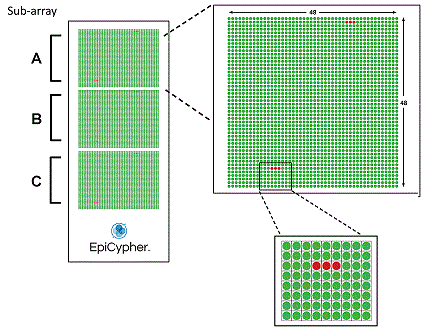 Each EpiCypher EpiTriton™ Histone Peptide Array contains 296 biotinylated histone peptides (20 amino acids in length or more) immobilized on a streptavidin-coated glass slide. Peptides are spotted as three identical sub-arrays, labeled A, B and C. Within each sub-array, each peptide is spotted twice in groups of 3 (red dots), for a total of 18 spots per peptide on each slide.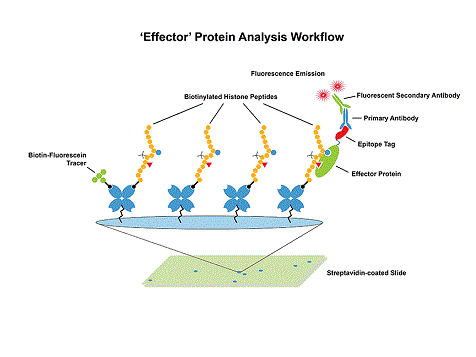 For detection of the interaction of an effector protein with peptides on the array as shown above, you need a primary antibody to the protein (or to an affinity tag) and a fluorescently-labeled (or HRP-conjugated for ECL detection) secondary antibody to the primary. This is much like the detection procedure employed in immunofluorescence miscroscopy.
For analysis of histone antibody specificity, you need a primary antibody to a histone modification and a labeled (fluorescent or HRP-conjugated) secondary antibody recognizing the primary antibody.
EpiTriton™ Histone Peptide Array Data: Histone Methyltransferase Enzyme Assay

A recombinant histone lysine 9 methyltransferase was used to methylate peptides on the EpiTriton™Histone Peptide Array. Left Panel (-KMT): No enzyme control. Right panel (+KMT): Enzyme applied to array.
Methylation was detected using an antibody recognizing H3K9me2. White boxes highlight H3K9 methylated peptides detected by the antibody prior to enzyme addition. New spots detected depict novel sites of H3K9me2 on the array. These results highlight the use of the EpiTriton™ Histone Peptide Array for use in detecting the substrate specificity of histone modifying enzymes.
---
Related Links
EpiTriton™ Annotated Peptide List
Individual biotinylated histone peptides

| Description | Cat# | Size | Price | | |
| --- | --- | --- | --- | --- | --- |
| EpiTriton Histone Peptide Array Version 1.0 | 11-4001-EPC | 1 slide | 399 € | DETAILS | Add to Cart |
| EpiTriton Histone Peptide Array Version 1.0 | 11-4005-EPC | 5 slides | 1454 € | DETAILS | Add to Cart |
| EpiTriton Multiwell Array Gasket | 11-3002-EPC | 1 gasket | 57 € | DETAILS | Add to Cart |