Custom Peptide Microarrays
• Up to 8,600 peptides of your choice on one standard glass slide
• Custom microarray slides available in any quantity you need
• For any application (epitope mapping, sera profiling, epitope discovery & more)
• Fast turnaround time (3 weeks)
• Very cost-effective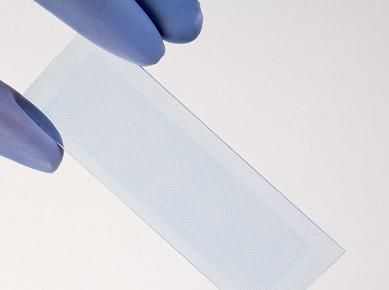 BioCat cooperates with PEPperPRINT which uses digital printing to produce custom high-content peptide microarrays in any quantity you need. You can even just order one chip very cost effectively.
The PEPperCHIP® microarrays can be applied for antibody characterization by epitope mapping and epitope permutation scans as well as peptide discovery and development. The peptide microarrays further allow the profiling of immune responses in blood sera linked with infection, immunization, autoimmune diseases or cancer in a uniquely flexible and cost-effective manner.
Custom PEPperCHIP® peptide microarrays contain up to 8,600 features per chip and cover virtually any content including antigens translated into overlapping peptides, custom peptide lists, randomly generated peptides as well as full and partial sequence permutations. Please contact us for further details and array design support (info@biocat.com).
Full epitope mapping services using antibodies or sera provided to us are also offered, see link below.
Depending on the content, each peptide microarray can contain up to 16 array copies for one-by-one assays with suited PEPperCHIP® Incubation Trays (see link below).
The PEPperCHIP® microarrays are compatible with most microarray scanners like the GenePix, Agilent and Innopsys readers or the Li-COR Odyssey Imaging System. For software-assisted image analysis of peptide microarray data we recommend PepSlide® Analyzer Software (PSA.001.001-PEP, see link below), but GenePix Pro® may also be used.
The PEPperCHIP® Staining Kit enables control assays with routinely implemented HA and Flag control peptides (PPC.002.001-PEP and PPC.003.001-PEP, see below).
PEPperCHIP® Standard Peptide Microarrays are provided for
autoimmune diseases
,
cancer research
,
infectious diseases
and
signature discovery
.
---
Related Links
Contact us to describe your project
Peptide Array based Epitope Mapping Services
PEPperCHIP® Incubation Trays
PepSlide® Analyzer Peptide Microarray Analysis Software

---
PDF-Downloads
- Will open in new browser window
Product Information Sheet: Custom Peptide Microarrays
Overview Brochure: Peptide Microarrays & Services

| Description | Cat# | Size | Price | | |
| --- | --- | --- | --- | --- | --- |
| Custom PEPperCHIP Peptide Microarray | PPC.001.001-PEP | 1 slide | 895 € | DETAILS | Add to Cart |
| Custom PEPperCHIP Peptide Microarrays | PPC.001.010-PEP | 10 slides | please inquire € | DETAILS | Add to Cart |
| Custom PEPperCHIP Peptide Microarrays | PPC.001.020-PEP | 20 slides | please inquire € | DETAILS | Add to Cart |