ProPlate Multiarray Slides Incubation Chamber System
ProPlate Multiarray Slide System
• Formation of up to 16 leak-proof wells on any slide surface
• Microtiter plate well spacing facilitates use with multichannel pipettes
• 7 x 7 mm square wells are ideal for high content arrays
• 15 - 350 µl well volumes accommodate small reagent and large wash volumes
• Rapid assembly and disassembly due to adhesive free, snap-clip design
• Ideal for cell, protein, and DNA microarrays
The ProPlate Multiarray Slide System integrates microscope slide-based array technology with automated microtiter plate processing. Sixteen individual arrays can be assayed per slide. Four slides fit into a tray, producing a modular plate with a standard microtiter plate footprint and well spacing allowing automated robotic processing of 64 arrays. Slides can be assembled easily for processing and disassembled quickly for reading with conventional chip readers due to adhesive free, snap-clip design. For improved hybridization efficiency, mixing can be achieved by sealing partially filled wells and rotating.

Snap-click design
for easy assembly and disassembly of slide
and ProPlate 16-well module.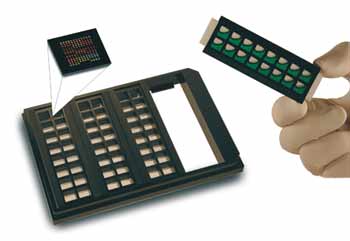 ProPlate Multiarray Slide System
One tray holds up to four 16-well modules providing a modular
plate with standard microtiter plate footprint.
The ProPlate Multiarray Slide System is available as single components or as sets containing three or four modules with 1, 2, 3, 4, 8, 16 or 64 wells, six or rather eight clips, one tray with cover, ten seal strips and one applicator.
---
Related Links
ProPlate Slide Module Measurements and Illustrations

---
PDF-Downloads
- Will open in new browser window
| Description | Cat# | Size | Price | | |
| --- | --- | --- | --- | --- | --- |
| ProPlate Tray and Cover Set for 4 Delrin Snap Clip Modules. Includes 10 Seal Strips and 1 Applicator | 204870-GR | 1 set | please inquire € | DETAILS | Add to Cart |