HybriWell Incubation Chambers
• Encloses specimens in a small reagent volume and eliminates evaporation
• Access ports in the chamber surface allow for the addition/removal of reactants
• Ports are easily sealed using adhesive seal tabs provided with each order
• Sealed chambers are watertight and ideally suited for waterbath incubations
• RNase free, hydrophobic surfaces will not trap or bind probes
• Disposable chamber removes cleanly and easily even after heating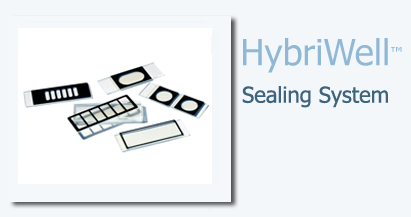 HybriWell seals securely to a microscope slide to eliminate evaporation when using a small reagent volume. HybriWells are recommended for most protein and nucleic acid assays. "Fluorescent Friendly" chambers are available for For Cy5 or Alexa Fluor 647 direct-labeled DNA probes.
Each package includes illustrated instructions for use, applicator and 200 adhesive port seals. Additional seal tabs are sold separately, see link below.
Customized versions with decreased or increased chamber depth are available on request.
---
Related Links
| Description | Cat# | Size | Price | | |
| --- | --- | --- | --- | --- | --- |
| HybriWell Incubation Chamber, 1 square well, 21 x 60 mm., depth 0.25 mm, vol. 275-320 ul (HBW6021) | 612105-GR | 100 seal chambers | 338 € | DETAILS | Add to Cart |
| HybriWell Incubation Chamber, Fluorescent Friendly, 1 square well, 22 x 40 mm., depth 0.25 mm, vol. 180-200 ul (HBW2240-FL) | 612201-GR | 100 seal chambers | 333 € | DETAILS | Add to Cart |