ELISA Assay Kits for Therapeutic Antibodies
Pharmacokinetics (PK) is a branch of science dedicated to the quantitative analysis of absorption, distribution, metabolism and excretion of drug molecules within the body of a living organism. All pre-clinical and clinical studies include the measurement of serum drug concentration, both in animals and in patients, at different points after drug administration. The result is an important indicator of the drugfs pharmacokinetic properties, and is pertinently relevant to dosing recommendations.
The booming market of biologic drugs, driven by a flurry of success with monoclonal antibodies, brings the need for standard high throughput assays to evaluate the content of mAbs in serum samples. Traditionally, the analyses are conducted by indirect ELISA, or with the help of anti-drug antibodies (ADA), each with its own pros and cons. ACROBiosystems have developed a series of assays based on the competitive ELISA method. The assay employs a biotinylated mAb against the same target as a tracer to compete with the unlabeled analyte, and uses the interaction between biotin and streptavidin for the eventual readout. This method does not rely on ADAs, and it also alleviates the background issue often occurred with the traditional assay format.
ACROBiosystems has launched kits for the studies of CTLA-4, PD-1, and HER-2, respectively, in both humans, and common experimental animals.
Low Background
The serum samples contain many factors that may potentially interfere with the indirect ELISA result. This is the major reason for the background issue (Fig. 1A). Therefore, a series of testing need to be performed to determine the minimum required dilution (MRD) before an experiment can be conducted. This can be time consuming and the results can vary. On the other hand, the competitive ELISA method we employed for our kit does not have a background issue. As shown in Fig 1B, dilutions up to 1:5 does not produce any background at all.

Fig. 1 Background comparison between indirect and competitive ELISA with samples of different dilutions.
A: Indirect ELISA; B: Competitive ELISA. (Serum sample from Cancer Institute & Hospital. Chinese Academy of Medical Sciences GCP Centre).
Application
The assay kits can be used for studies of any mAbs share similar binding domain as ACROBiosystems tracer biotinylated antibody.
For example, with the Anti-PD-1 mAb kit for human serum samples (Cat. No. EPH-V1), ACROBiosystems has successfully measured five different anti-PD1 mAbs that are either on the market already or being tested in clinical trials.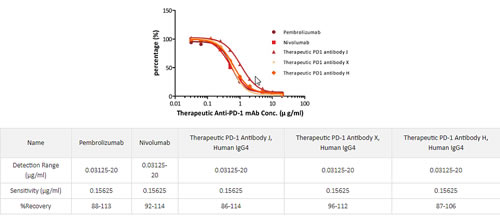 Fig. 2 Determination of serum drug concentration for five PD-1 therapeutic antibodies using PD-1 ELISA Kit.
High Batch-to-Batch Consistency
CROBiosystmes installs rigorous quality control program to ensure the lot-to-lot consistency of their products. Every batch of products are analyzed against internal standards using various analytical methods. The product will be released only if all standards are met.
High Stability
All kits components are analyzed for their stability using accelerated testing method. Based on the results shown in Fig. 3, the products can be stored at -80 for 4-6 months. The assay components are also tested after one or two freeze-thaw cycles. No significant activity loss was observed under either conditions.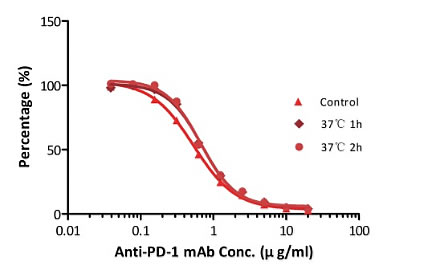 Fig. 3 ELISA using Anti-PD-1 h-mAb kit Human Serum (Cat. No. EPH-V1).
The samples were incubated at 37Ž for 2 hours after reconstitution. No significant loss of activity was observed.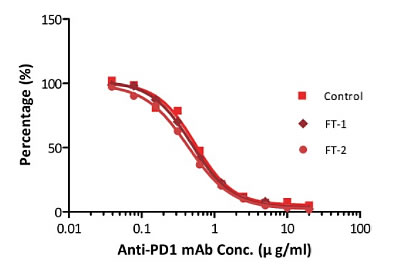 Fig. 4 ELISA using Anti-PD-1 h-mAb kit Human Serum (Cat. No. EPH-V1).
The samples were subjected to zero, one, and two rounds of freeze-thawing cycles, respectively. No significant loss of activity was observed.
| Description | Cat# | Size | Price | | |
| --- | --- | --- | --- | --- | --- |
| ELISA Assay Kit for Anti-HER-2 h-mAb in Human Serum | EHH-V1-480-AC | 480 tests | 1617 € | DETAILS | Add to Cart |
| ELISA Assay Kit for Anti-HER-2 h-mAb in Monkey Serum | EHC-V1-480-AC | 480 tests | 1235 € | DETAILS | Add to Cart |
| ELISA Assay Kit for Anti-HER-2 h-mAb in Mouse Serum | EHM-V1-480-AC | 480 tests | 1235 € | DETAILS | Add to Cart |
| ELISA Assay Kit for Anti-PD-1 h-mAb in Human Serum | EPH-V1-480-AC | 480 tests | 1672 € | DETAILS | Add to Cart |
| ELISA Assay Kit for Anti-PD-1 h-mAb in Human Serum | EPH-V1-96-AC | 96 tests | 492 € | DETAILS | Add to Cart |
| ELISA Assay Kit for Anti-PD-1 h-mAb in Monkey Serum | EPC-V1-480-AC | 480 tests | 1277 € | DETAILS | Add to Cart |
| ELISA Assay Kit for Anti-PD-1 h-mAb in Monkey Serum | EPC-V1-96-AC | 96 tests | 381 € | DETAILS | Add to Cart |
| ELISA Assay Kit for Anti-PD-1 h-mAb in Mouse Serum | EPM-V1-480-AC | 480 tests | 1277 € | DETAILS | Add to Cart |
| ELISA Assay Kit for Anti-PD-1 h-mAb in Mouse Serum | EPM-V1-96-AC | 96 tests | 381 € | DETAILS | Add to Cart |