Home
->
Proteomics
-> Chromophore Assisted Light Inactivation (CALI) of Proteins
Chromophore Assisted Light Inactivation (CALI) of Proteins
Precise Protein Inactivation in vivo by KillerRed or KillerOrange Internal Photosensitizer
• Light-induced production of reactive oxygen species
• Direct expression in cells, easy targeting to various subcellular compartments
• No exogenous chemical compounds required for chromophore maturation
• Not toxic before activation by light irradiation
• Recommended for selective light-induced protein inactivation and cell killing
Genetically-encoded photosensitizers KillerRed and KillerOrange represent fluorescent proteins of GFP family that generate reactive oxygen species (ROS) upon light irradiation with certain wavelengths: 540-590 nm for KillerRed and 450-540 nm for KillerOrange. The photosensitizers are not toxic before activation by light irradiation. KillerRed and KillerOrange can be used for selective light-induced killing of the cells. The level of cytotoxic effect and type of the cell death are dependent on the intracellular localization of the photosensitizers, their concentration, light intensity and time of irraditaion. The photosensitizers can be also applied for chromophore-assisted light inactivation (CALI) technology. Due to substantially different excitation spectra, KillerRed and KillerOrange can be potentially used together for separate control of cell populations or chimeric proteins, as well as for enhancing the phototoxic effect of irradiation with white light.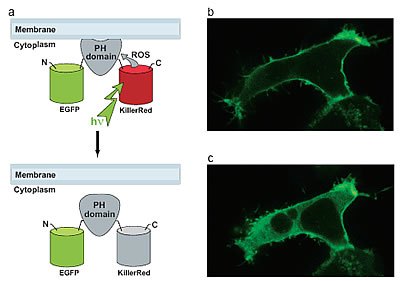 KillerRed-mediated light-induced inactivation of PLC delta-1 PH domain.
(A) Schematic outline of the experimental system; (B, C) confocal images of a cell expressing EGFP-PH-KillerRed triple fusion (EGFP green fluorescent signal) before (B) and after (C) 10-s irradiation with green light (63x objective, mercury lamp, 515-560 nm filter, 7W/cm2). Note considerable increase in cytoplasmic signal.
---
Related Links
Detailed KillerRed Features and Applications
Detailed KillerOrange Features and Applications
Selective Light-Induced Cell Killing by KillerRed
TurboGFP