Compound Libraries
• Validated biological and pharmacological activity
• Many compounds FDA-approved
• Structurally diverse and cell-permeable
• NMR- and HPLC-verified to ensure high purity
• Short delivery time
• Detailed specifications
• Custom compound library service
Bioactive Compound Screening Libraries developed by our partner TargetMol consist of thousands of small molecules with validated biological and pharmacological activities, covering a broad range of signal pathways and targets. These targets are key components in the fields of anti-cancer, epigenetics, apoptosis, autophagy, DNA damage, anti-virus, stem cell biology, etc. Some of the compounds are available only from TargetMol.
Applications
You can choose from more than 130 different premade compound libraries for:
• Drug screening - drug design and virtual screening, target validation, model establishment, high-throughput screening, structure optimization
• Pharmacological research - in vivo and in vitro testing of compounds to identify new uses for known drugs
• Signaling pathways - stem cell research, epigenetics, PTK, GPCR and MAPK signaling
• Cell research - pluripotent stem cell induction, cell inflammation, oncology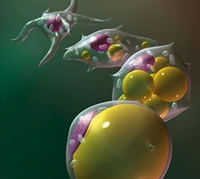 To ensure high relevance, seasoned biochemists chose each compound through an extensive and well-established data mining and literature search process. Complete documentation includes highlights activity descriptions, plate positions, physical information and a structural database (SD) file. We can re-supply individual bulk compounds from milligram to gram scale.
With the latest life science research developments, the compound libraries are upgraded from time to time to meet the scientists' requirements.
Customize your Library
The custom library service allows you to pick up individual compounds to create a custom library which meets your research goals.
Please contact us for a quote
and specify compounds, quantities, format (dry/solid or DMSO), plate map, and concentration.
Description
Cat#
Size
Price
Approved Drug Library, 2272 compounds
L1000-1-TM
100 ul

Special


9132.75 €
DETAILS
Add to Cart
Approved Drug Library, 2272 compounds
L1000-2-TM
250 ul

Special


17733.00 €
DETAILS
Add to Cart
Approved Drug Library, 2272 compounds
L1000-3-TM
1 mg

Special


17733.00 €
DETAILS
Add to Cart
FDA-approved Drug Library, 1403 compounds
L4200-1-TM
100 ul

Special


5805.00 €
DETAILS
Add to Cart
FDA-approved Drug Library, 1403 compounds
L4200-2-TM
250 ul

Special


10993.50 €
DETAILS
Add to Cart
FDA-approved Drug Library, 1403 compounds
L4200-3-TM
1 mg

Special


10993.50 €
DETAILS
Add to Cart
Anti-COVID-19 Compound Library, 2448 compounds
L1710-1-TM
100 ul

Special


18805.50 €
DETAILS
Add to Cart
Anti-COVID-19 Traditional Chinese Medicine Compound Library, 389 compounds
L6720-1-TM
100 ul

Special


5595.00 €
DETAILS
Add to Cart
Anti-COVID-19 Compound Library (CADD), 362 compounds
L1711-1-TM
100 ul

Special


5010.75 €
DETAILS
Add to Cart
3CLpro-Targeted compound library (CADD), 161 compounds
L1712-1-TM
100 ul

Special


2470.50 €
DETAILS
Add to Cart
ACE2-Targeted compound library (CADD), 462 compounds
L1713-1-TM
100 ul

Special


5487.75 €
DETAILS
Add to Cart
nsp15-Targeted compound library (CADD), 470 compounds
L1719-1-TM
100 ul

Special


5832.00 €
DETAILS
Add to Cart
nsp16-Targeted compound library (CADD), 281 compounds
L1715-1-TM
100 ul

Special


4040.25 €
DETAILS
Add to Cart
PLpro-Targeted compound library (CADD), 474 compounds
L1716-1-TM
100 ul

Special


5602.50 €
DETAILS
Add to Cart
RBD-Targeted compound library (CADD), 206 compounds
L1714-1-TM
100 ul

Special


3036.75 €
DETAILS
Add to Cart
RdRP-Targeted compound library (CADD), 464 compounds
L1717-1-TM
100 ul

Special


5487.75 €
DETAILS
Add to Cart
X-Domain-Targeted compound library (CADD)), 463 compounds
L1718-1-TM
100 ul

Special


5487.75 €
DETAILS
Add to Cart
Adrenergic Receptor compound library, 117 compounds
L2700-1-TM
100 ul

Special


1719.00 €
DETAILS
Add to Cart
Adrenergic Receptor compound library, 117 compounds
L2700-2-TM
250 ul

Special


2913.75 €
DETAILS
Add to Cart
Adrenergic Receptor compound library, 117 compounds
L2700-3-TM
1 mg

Special


2913.75 €
DETAILS
Add to Cart
Alkaloids Natural Compound Library, 228 compounds
L6110-1-TM
100 ul

Special


3573.00 €
DETAILS
Add to Cart
Alkaloids Natural Compound Library, 228 compounds
L6110-2-TM
250 ul

Special


5671.50 €
DETAILS
Add to Cart
Alkaloids Natural Compound Library, 228 compounds
L6110-3-TM
1 mg

Special


5671.50 €
DETAILS
Add to Cart
Angiogenesis related compound library, 378 compounds
L4800-1-TM
100 ul

Special


6246.00 €
DETAILS
Add to Cart
Angiogenesis related compound library, 378 compounds
L4800-2-TM
250 ul

Special


9094.50 €
DETAILS
Add to Cart
Angiogenesis related compound library, 378 compounds
L4800-3-TM
1 mg

Special


9094.50 €
DETAILS
Add to Cart
Anti-aging Compound Library, 1600 compounds
L8200-1-TM
100 ul

Special


15137.25 €
DETAILS
Add to Cart
Anti-aging Compound Library, 1600 compounds
L8200-2-TM
250 ul

Special


24939.75 €
DETAILS
Add to Cart
Anti-aging Compound Library, 1600 compounds
L8200-3-TM
1 mg

Special


24939.75 €
DETAILS
Add to Cart
Anti-cancer Active Compound library, 1164 compounds
L2160-1-TM
100 ul

Special


9623.25 €
DETAILS
Add to Cart
Anti-cancer Active Compound library, 1164 compounds
L2160-2-TM
250 ul

Special


15672.75 €
DETAILS
Add to Cart
Anti-cancer Active Compound library, 1164 compounds
L2160-3-TM
1 mg

Special


15672.75 €
DETAILS
Add to Cart
Anti-cancer approved drug library, 330 compounds
L2110-1-TM
100 ul

Special


4622.25 €
DETAILS
Add to Cart
Anti-cancer approved drug library, 330 compounds
L2110-2-TM
250 ul

Special


7379.25 €
DETAILS
Add to Cart
Anti-cancer approved drug library, 330 compounds
L2110-3-TM
1 mg

Special


7379.25 €
DETAILS
Add to Cart
Anti-cancer clinical compound library, 594 compounds
L2120-1-TM
100 ul

Special


8007.00 €
DETAILS
Add to Cart
Anti-cancer clinical compound library, 594 compounds
L2120-2-TM
250 ul

Special


12924.00 €
DETAILS
Add to Cart
Anti-cancer clinical compound library, 594 compounds
L2120-3-TM
1 mg

Special


12924.00 €
DETAILS
Add to Cart
Anti-cancer compound library, 3338 compounds
L2100-1-TM
100 ul

Special


23454.00 €
DETAILS
Add to Cart
Anti-cancer compound library, 3338 compounds
L2100-2-TM
250 ul

Special


36235.50 €
DETAILS
Add to Cart
Anti-cancer compound library, 3338 compounds
L2100-3-TM
1 mg

Special


36235.50 €
DETAILS
Add to Cart
Anti-cancer Drug library, 822 compounds
L2150-1-TM
100 ul

Special


8703.75 €
DETAILS
Add to Cart
Anti-cancer Drug library, 822 compounds
L2150-2-TM
250 ul

Special


14217.75 €
DETAILS
Add to Cart
Anti-cancer Drug library, 822 compounds
L2150-3-TM
1 mg

Special


14217.75 €
DETAILS
Add to Cart
Anti-cancer metabolism compound library, 237 compounds
L2130-1-TM
100 ul

Special


2638.50 €
DETAILS
Add to Cart
Anti-cancer metabolism compound library, 237 compounds
L2130-2-TM
250 ul

Special


4308.00 €
DETAILS
Add to Cart
Anti-cancer metabolism compound library, 237 compounds
L2130-3-TM
1 mg

Special


4308.00 €
DETAILS
Add to Cart
Anti-Cardiovascular disease Compound Library, 515 compounds
L5400-1-TM
100 ul

Special


5135.25 €
DETAILS
Add to Cart
Anti-Cardiovascular disease Compound Library, 515 compounds
L5400-2-TM
250 ul

Special


8169.75 €
DETAILS
Add to Cart
Anti-Cardiovascular disease Compound Library, 515 compounds
L5400-3-TM
1 mg

Special


8169.75 €
DETAILS
Add to Cart