TGEX Vector Series for the rapid transient expression of antibody molecules in suspension cells
A tool for rapid transient expression of antibodies
Phage display only produces phage clones. Between them and fully recombinant antibodies expressed in stable cell lines lies a grey zone where rapid access to free, recombinant molecules without purification & detection headaches can become a challenge. The TGEX transient expression vector series, see table below, has been designed to bridge this gap.
The TGEX Vector Backbone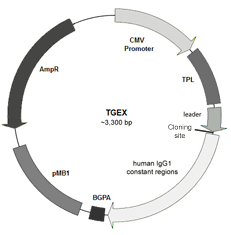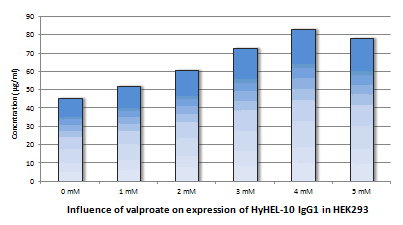 The TGEX™ backbone features a CMV promoter, the adenovirus tripartite leader sequence (TPL) (Logan 1984, Mariati 2010), a variable antibody domain leader sequence with its intron and convenient cloning sites to insert antibody variable regions. The constant regions are derived from the human IgG1 and kappa sequences. There is no selection marker and the overall small size of the vectors is optimized for transient transfection; expensive antibiotics to prepare large quantities of plasmid for transient transfections are not required. Using widely available cell lines and large scale transfection technologies (see manuals) yields of antibody between 10 mg/L and 100 mg/L in serum-free conditions are routinely achieved in the laboratory in just a few days.
Adapted to Multiple Antibody Formats
Full IgG, Fab fragments, Fc fusions, scFv-Fc fusion.

The TGEX-SCblue vector is designed for the conversion of scFv-bearing phage clones into scFv-Fc fusions for antibody validation after biopanning.
References
Logan, J., & Shenk, T. (1984). Adenovirus tripartite leader sequence enhances translation of mRNAs late after infection. Proceedings of the National Academy of Sciences of the United States of America, 81(12), 3655–9.
Mariati, Ho, S. C. L., Yap, M. G. S., & Yang, Y. (2010). Evaluating post-transcriptional regulatory elements for enhancing transient gene expression levels in CHO K1 and HEK293 cells. Protein Expression and Purification, 69(1), 9–15.
| Description | Cat# | Size | Price | | |
| --- | --- | --- | --- | --- | --- |
| TGEX-HC Human IgG1 Heavy Chain Cloning Vector | MX001-ADL | 10 ug | 620 € | DETAILS | Add to Cart |
| TGEX-LC Human Kappa Light Chain Cloning Vector | MX002-ADL | 10 ug | 620 € | DETAILS | Add to Cart |
| TGEX-HChis Human IgG1 Heavy Chain Cloning Vector with a C-terminal HIS tag for IMAC purification | MX005-ADL | 10 ug | 620 € | DETAILS | Add to Cart |
| TGEX-FH Human IgG1 Fab Heavy Chain Fragment Cloning Vector | MX004-ADL | 10 ug | 620 € | DETAILS | Add to Cart |
| TGEX-FC Human IgG1 Fc Fusion Cloning Vector | MX003-ADL | 10 ug | 620 € | DETAILS | Add to Cart |
| TGEX-SCblue scFv-Fc Fusion Cloning Vector (for the transfer of scFv from any PADL phagemid vector and expression as an scFv-Fc fusion) | MX006-ADL | 10 ug | 642 € | DETAILS | Add to Cart |
| TGEX-eGFP Control Vector for monitoring transfection efficiency during transient gene expression in mammalian cell suspensions culture | MX012-ADL | 10 ug | 561 € | DETAILS | Add to Cart |