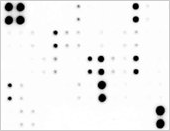 Screen and compare expression levels of many cytokines, growth factors and other proteins in a wide variety of sample types.
Simultaneous detection of up to 274 proteins
High specificity (sandwich antibody pair used)
High sensitivity (pg/ml levels)
Wide dynamic range
No dedicated equipment required
Free Antibody Array Analysis Tool
*Expires 31 August 2022
Saliva & Stool DNA/RNA Collection/Preservation and Isolation 10% OFF
Expires 31 August 2022
Preserve and safely transport saliva and stool samples at ambient temperature and isolate highest quality DNA & RNA.
PrecisionShuttle Vectors 20% OFF
Expires 30 September 2022
Use the PrecisionShuttle System for easy subcloning of an ORF from one tagged vector to another.
Selected OriGene Recombinant Proteins 30% OFF
Expires 30 September 2022
Find your target of interest in our large collection of high-quality recombinant proteins expressed in HEK293 cells, bacteria, yeast or insect cells.
BioCat Universal Agarose 30% OFF
Expires 30 September 2022
Rely on the highly pure molecular biology grade BioCat Universal Agarose for analysis of nucleic acids by gel electrophoresis and blotting.