Encyclo Plus PCR Kit (includes Polymerase Mix with Automated Hot Start Function) Add to Cart
| | |
| --- | --- |
| Cat#: | PK101-EV |
| Quantity: | 200 rxns (25 ul each) |
| Price: | 196 € |
| Supplier: | Evrogen |
| Shipping: | Dry Ice |
User Manual
• 5'>3' DNA polymerase activity with high processivity and yield
• Proofreading 3'>5' exonuclease activity
• Suitable for difficult templates up to 15 kb
• Automatic Hot Start
• TA Cloning Compatibility
• Recommended for MINT Full Length Enriched cDNA Synthesis and TRIMMER cDNA Normalization

Encyclo Plus PCR kit is intended for most PCR and primer extension applications. It is especially recommended for cDNA amplification because of optimal combination of high fidelity and processivity provided by Encyclo polymerase mix.

Evrogen Encyclo polymerase mix produces high yields of PCR products from a wide variety of templates and is suitable for difficult templates, long PCR (up to 15 kb) from phage lambda DNA, and cloning.

The kit includes three reaction buffers optimized for superior performance of the Encyclo polymerase mix in different applications (successful amplification of long DNA templates, direct loading on agarose gels and efficient amplification of "difficult" (e.g.>65%GC) templates).

Figure 1 demonstrates successful performance of the Encyclo PCR kit for amplification of long DNA templates. PCR amplification of total cDNA is shown in Figure 2.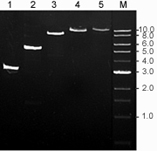 Figure 1. PCR amplification of phage DNA fragments (lanes 1-5: 2.9 kb, 5 kb, 8 kb, 10 kb and 15 kb) using "Encyclo PCR kit". M: 50 ng of DNA size markers (1 kb DNA ladder).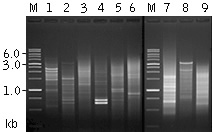 Figure 2. PCR amplification of first-strand cDNA samples (prepared from total RNA from different tissues) using Encyclo Plus PCR kit: 1 – mouse liver; 2 – mouse skeletal muscle; 3 – mouse brain; 4 – human leucocytes; 5 – human lung; 6 – human skeletal muscle; 7 – mosquito grub; 8 – copepod Pontella sp.; 9 – tomato Lycopersicon esculentum. M – 1 kb DNA size marker.

Product Use Limitations: Encyclo PCR kit is intended for research purposes only.

Endnotes: PCR is the subject of patents issued in certain countries. The purchase of this kit does not include a license to perform PCR. However, many researchers may not be required to obtain a license. Other investigators may already have a license to perform PCR through use of a thermal cycler with the appropriate label license.
Related Links
MINT Full Length Enriched cDNA Synthesis
cDNA Normalization Kits